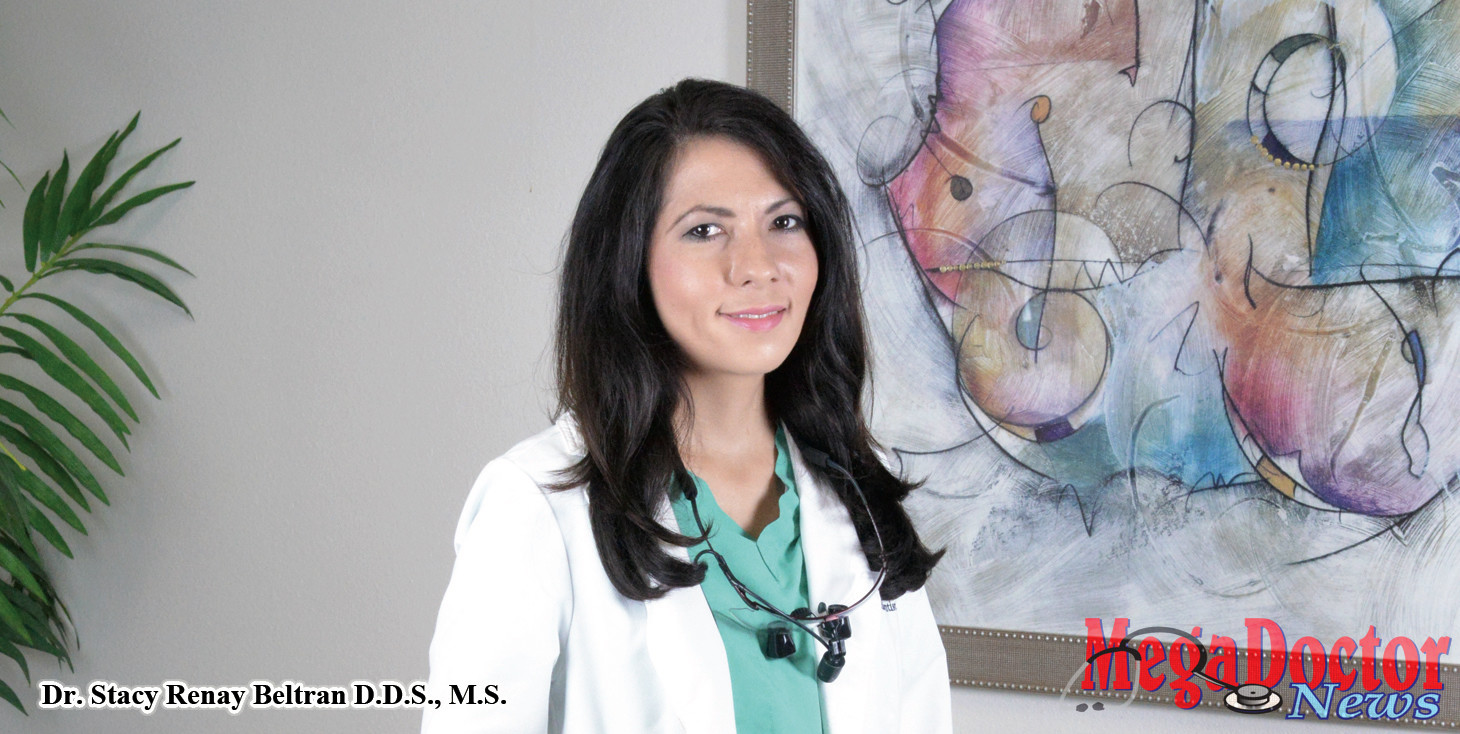 - Advertisement -

By Roberto Hugo Gonzalez, Publisher
Dr. Stacy Renay Beltran D.D.S., M.S., Periodontist, and Surgeon, is a professional making a real difference in people's lives. She has devoted her life to becoming a periodontist, training in a field of medicine that is fundamental to saving patient's teeth.
According to the American Academy of Periodontology, there ae many forms of periodontitis, a gum infection that can damage the gums and then lead to destruction of the tooth and loss. The most common ones include Aggressive periodontitis, Chronic periodontitis, Periodontitis as a manifestation of systemic diseases and Necrotizing periodontal disease. If you have this condition, it could be a serious situation for any person that does not make the necessary changes in proper hygiene and for sure, fails to make arrangements to see a doctor expert in this field.
This month, we have the pleasure to feature Dr. Beltran, and we have learned a lot. Now, we hope to convey her message to our readers.
She specializes in the prevention, diagnosis, and treatment of periodontal diseases. In September of 2014, she established Pure Perio & Implant Dentistry, an independent company that operates from the offices of RGV Endodontics in Edinburg and Harlingen, Texas. I know that you will enjoy this article.
What an Event! Yes, I mean the 3-day "Get Healthy Mega Clinic" event. You have to read several articles in this issue that tell the story from the perspective of volunteer doctors who donated their time and expertise to more than 1,600 patients.
The Free Clinic provided Medical, Dental and Vision Healthcare Services to the uninsured, under-insured and the underserved members of the Rio Grande Valley. Dr. Dona Cooper spearheaded this monumental effort. Thank you, Dr. Cooper, and Thank you to all the volunteers that helped in this event.
- Advertisement -

A Big Thumbs up for Doctors Hospital at Renaissance. The Hospital has received the Get With The Guidelines®-Heart Failure Silver Plus Quality Achievement Award for implementing specific quality improvement measures outlined by the American Heart Association/American College of Cardiology Foundation's secondary prevention guidelines for patients with heart failure.
Mega Doctor News is proud to have participated in the Hidalgo-Starr County Medical Society Alliance anniversary. The entity founded in 1923 celebrated ninety-three years of existence. Read more inside this issue and get to know many of the pillars of medicine in the Rio Grande Valley.
Smiling for a Family Photo Can Help a Needy Child with Cleft Lip to Smile for the First Time. What a great idea that we all should embrace.
Rio Grande Valley residents and families are invited to have a family portrait taken – and while smiling for their photo, they will be helping a needy child with a cleft lip deformity to smile for the first time.
The unique "Celebration of Smiles" charity event will kick off at the award-winning and nationally-recognized Harlingen Medical Center on Saturday, July 30, at 10 a.m.  The fundraiser is designed to provide free surgeries to underprivileged children in Mexico who were born with a cleft lip, a condition in which the child's face is deformed between his or her mouth and nose.
There is more in this issue, also learn about Marian Bliss Blake, a professional photographer who will be taking the photos at the "Celebration of Smiles" charity event.
I know that you will enjoy this issue!   MDN