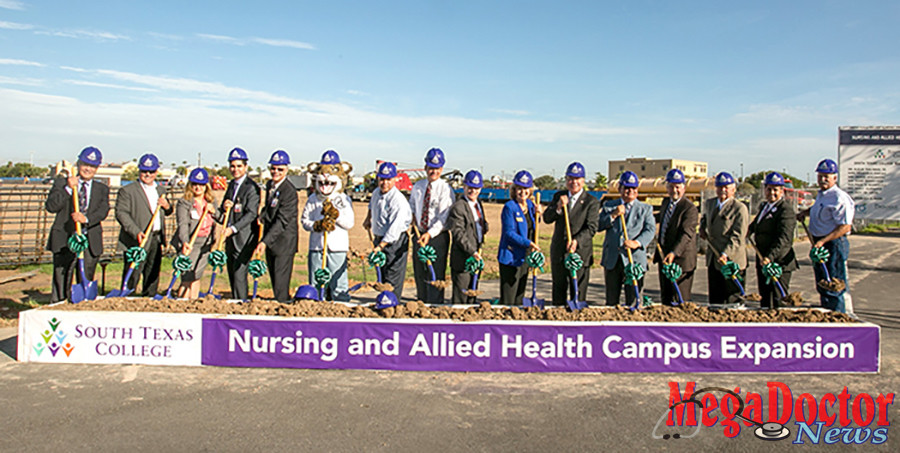 Mega Doctor News – 
MCALLEN, TX (August 17, 2016) – Since its inception, South Texas College has always been a game changer, according to McAllen Mayor Jim Darling.
As a keynote speaker at a groundbreaking for STC's newest facility, the Mayor said the college has made a habit of changing and upgrading for the betterment of its citizens and their kids, which improves their chances to receive an excellent education and a great job in the community.
Another significant milestone for the college will come soon when it opens the doors to thousands of prospective nursing and allied health professionals to get the education they need to make a difference in the medical field they choose.
By officially ushering in the construction of a $24 million expansion at its Dr. Ramiro R. Casso Nursing and Allied Health Campus in McAllen, the college has made a commitment that will impact the region for generations to come.
"This new facility is going to be a major step forward for preparing future nurses and a wide variety of allied health professionals," said STC President Dr. Shirley Reed. "We all know it's critical to the Valley and to all our well-being. Our goal when the day is done is we are here to prepare safe, competent, compassionate and culturally sensitive nurses and allied health professionals for the Valley."
STC welcomed dignitaries, media and the public to a groundbreaking ceremony on Wednesday morning. In attendance at the event was state Sen. Juan "Chuy" Hinojosa, McAllen Mayor Darling, Pharr Mayor Ambrosio Hernandez, McAllen Economic Development Corporation President and CEO Keith Patridge, McAllen Chamber President Steve Ahlenius and representatives from the office of Congressman Henry Cuellar.
Also in attendance at the event was ERO Architect Principle-In-Charge Eli Ochoa and D. Wilson Construction CEO Bill Wilson.
Representing the STC Board of Trustees at the event was Board Chair Dr. Alejo Salinas Jr., Chair of the Facilities Committee Gary Gurwitz and Chair of Finance Paul R. Rodriguez.
STC was also proud to welcome Sylvia Casso-Elizondo and Lydia Casso-Tummel, daughters of the late Dr. Ramiro Casso as well as faculty and students from the Nursing and Allied Health campus.
"It's a privilege to stand before you and acknowledge that we are undergoing a tremendous project at this campus," said STC Board Chairman Dr. Salinas. "We are very proud of everything that has happened. We can't in any way forget the participation on behalf of the City of McAllen for everything we have done here. If it were not for the city we would not be constructing out here or have the aggressive programs we have at this campus and other campuses."
Construction is taking place on land donated by the City of McAllen at McColl Road & Ridge Road. The four-story 90,000 square foot facility is slated to be complete in 18 months, and will help accommodate new and expanded nursing and allied health training programs with a hospital simulation center and a new library.
The expansion will include new labs needed to expand STC's nursing program. This will encompass new courses in Radiology, MRI, vascular/Doppler technology and surgical technology. The simulation center will enable students to complete their clinical requirements from one facility.
Funding for the project comes from the $159 million bond election passed by voters in 2013. This will be the first in a series of groundbreakings planned on STC's five campuses in Hidalgo and Starr counties. The expansions at each campus will enable the college to accommodate its growing student enrollment, expected to reach 42,000 by the year 2020.
"This is a fantastic place. The city has been working as partners with STC since its inception, and we continue to do that. We hope that we have even bigger and better things," said McAllen Mayor Jim Darling. "To me, this is a dream come true. When you talk about the new medical school in Edinburg being a game changer, I have to tell you that South Texas College has been a game changer since the day it was founded. This is just one more accomplishment for that game changing event for our citizens and their kids to get a great education and a great job in our great community."
The facility was designed by ERO Architects. Construction is being done by D. Wilson Construction Co.
"I do want to say thank you to Dr. Reed and Dr. Salinas and all the board for giving us the opportunity," Ochoa said. "Hopefully, what we have designed will help augment your program and help provide even better students and graduates."