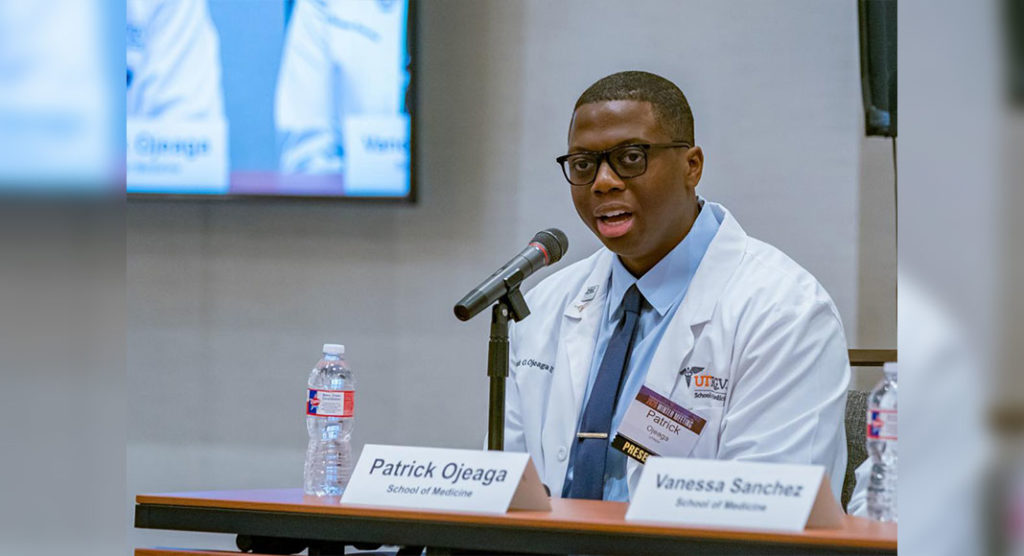 Mega Doctor News
By Amanda L. Alaniz
Many medical students start dreaming of working in the healthcare field when they're young.
Patrick Ojeaga, a fourth-year student at the UTRGV School of Medicine, has carried that passion for science and service since he saw, first-hand, family who were involved in medicine.
Ojeaga is on his way to becoming an orthopedic surgeon and is completing his clinical rotations, continuing his duties in different organizations relating to the School of Medicine and beginning a new, unique chapter in his life and career.
Ojeaga recently was selected to be one of 10 student regents by Texas Gov. Greg Abbott, a position he will hold on the UT System Board of Regents through May 31, 2021.
He said it was an incredible feeling to find out he had been appointed.
"Before me, I believe there were 14 other student regents in the UT System. So, I'm the 15th, and being the first one from the Valley and from UTRGV – it's such an honor," he said. "I do hope to serve well and make everyone proud."
Student regent is a non-voting position, but Ojeaga will sit with the Board of Regents during meetings and hear discussions relating to the universities. He also will have the opportunity to share his opinions and comments regarding students.
He said the position will be a new experience and having a chance to participate in governance at a state level can be helpful for his future. He also will get a chance to understand and see operations within higher education.
"I am into my fourth year. So, now it's a lot of rotations and interviewing for residency programs. I will be pursuing orthopedic surgery residency," he said. "And the endgame for me would be becoming an orthopedic surgeon, which is five years of residency."
When the pandemic hit, he was pulled out of his clinical rotations, but he since has returned to completing the rotations for his degree requirements and currently is on an orthopaedic surgery visiting rotation.
Before, he said, he was on a plastic surgery rotation at Doctor's Hospital at Renaissance and another orthopaedic surgery visiting rotation.
"It's been great to be able to get back to helping patients again," Ojeaga said.
His advice to future medical students is to not get discouraged by the pandemic. They can still make an impact and will be able to learn what they need to, he said. They do need to be prepared to work hard and should try to enjoy every moment.
MAKING LASTING CHANGES
Now that the fall semester has started at UTRGV and he has started his fourth year in medical school, he already is participating in Board of Regents meetings over the phone and via Zoom.
He hopes to be in a position to benefit all university students.
"As student regent, I hope to make an impact and contribute to the UT System, and be able to suggest and implement change that will benefit my fellow students," he said. "There are some issues I have in mind, and I hope to be able to make an impact in those areas."