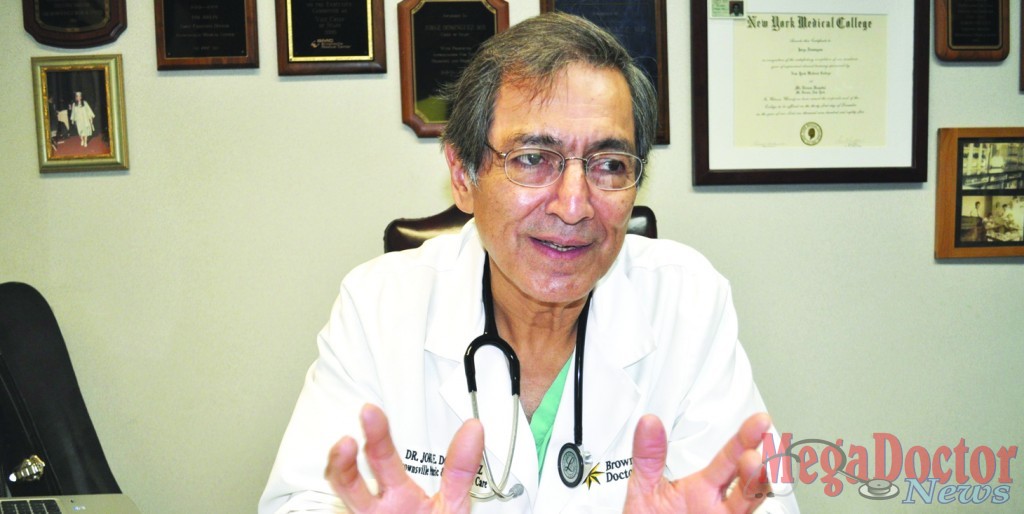 Mega Doctor News
By Roberto Hugo Gonzalez
Dr. Jorge Edmundo Dominguez from Brownsville is a Pediatrician with 26 years of experience in general pediatrics. He graduated from the University of Guadalajara in 1984.
Originally from Guatemala and born to Bertha Lopez and Francisco Dominguez. His father instilled in him the honor of working honestly and getting an education, but his mother was more aggressive instilling the same values but forcibly.
He said that he came to the Rio Grande Valley attracted by the hot weather. He said, "When I was in residency in pediatrics in New York City and I was looking at one of those journals that we get and there was an advertising at the back end of it and they advertised this area. I decided to come and see and I liked it."
He said that he became a doctor because that was the profession he chose since he was a child, but admits that he had an older brother Walter now deceased who was a physician in his native country.
He said, "My brother was a very intelligent man." He continued to say, "I used to go into his room and look at his medical books to see the pictures. I didn't even know how to read. That's how young I was and possibly before I even entered school."
Dr. Dominguez is known to have a strong drive, which he used to enter to medical school and then setting up his practice in Brownsville.
Dr. Dominguez said, "In medical school there were really no challenges other than the financial challenges but other than that desire was never faltering.'
One thing he remembers when he first came to the Valley, the lawsuit abuse environment was prevalent. He said, "I didn't like that. I was turned off by that little bit but that didn't deter me. It was part of the business."
As far as new technologies and medicines he is excited about several events. "What excites me the most probably is the new investigation on vaccines that will protect people in the future, specially vaccines for illnesses that we just don't have anything for it now," Dr. Dominguez enthusiastically said.
He went even further to say that he can see in the future a vaccine for HIV/AIDS coming up one of these days. He also said, "I can see a vaccine maybe … a good vaccine for tuberculosis. There is no good vaccine for tuberculosis now. BCG, or bacille Calmette-Guerin has not worked well. I could see us making a better vaccine and so that excites me."
At the local level, what worries him the most about his patients is the non-compliance. But Dr. Dominguez is not alone. A survey discovered that there is an epidemic of noncompliance by patients' nation wide.
So Dr. Dominguez is not alone because doctors from coast to coast feel frustrated by the same thing.
In 2011, Consumer Reports published a survey of 660 primary care physicians, "What Doctors Wish Their Patients Knew." The number-one complaint by far: Patients didn't take the doctors' advice or otherwise follow treatment recommendations. Most of the doctors surveyed said it affected their ability to provide optimal care.
Dr. Dominguez said that is what satisfies him of his profession is when a childs get well. He said, "Seeing a patient get well. That's interesting. Seeing a patient respond to the treatments and a patient do well that is what makes this profession interesting."
Dr. Dominguez owns and operates Brownsville Pediatric & Adolescent Center located at 3150 International Blvd in Brownsville, TX 78521. You call for an appointment at Phone:(956) 548-1100. MDN