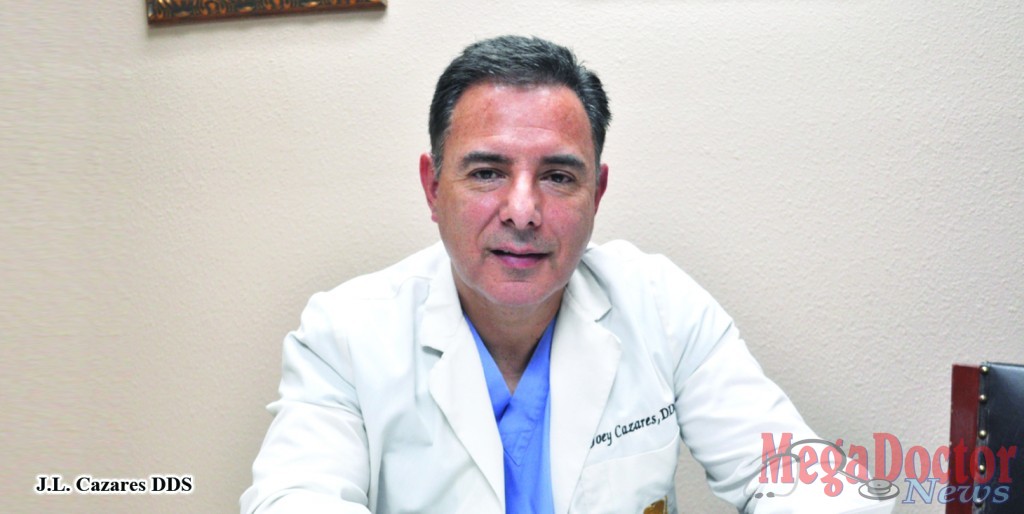 Mega Doctor News
By Roberto Hugo Gonzalez
"The most important people to me in this world are my family," Dr. JL Cazares told Mega Doctor News, he is a dentist that practices in McAllen Texas. He owns and operates McAllen Dental Associates. In addition he said that he credits his family for helping him survive through some hard times these last few years.
"Medical issues." He said, "I was almost to the point of losing my legs because of an accident and then a few years later I had complications with surgery and I couldn't eat or drink for seven months."
Today, Dr. Cazares has a new perspective on life; he has become one of the most respected general dentists practicing in the upper Valley.
He said, "I graduated from McAllen High School in 1977. Back then there was only one High School in McAllen. From there I went on to Texas A&M University and I graduated four years later in 1981 and then four years later I graduated from Baylor College of Dentistry in Dallas, Texas."
Dr. Cazares has been practicing since 1985 as a general dentist, which means he treats all types of patients from little ones up to senior citizens in all types of dentistry.
"I pretty much do a little bit of everything, from restoration of kids that have dental decay, restoring adults that have the same thing, missing teeth, diseased teeth and a lot of cosmetics now. We do make people look and feel better getting the smile that they wanted to have," he said.
When Dr. Cazares graduated from dental school he stayed in the Dallas area at first. He said he felt a void. "I was doing my dentistry but I just didn't feel like I was in my own little niche and I had a opportunity to come back to the Valley and started practicing with my mom's dentist Dr. Pablo Tagle here in McAllen."
He immediately felt at home and later opened his own practice where he feels he is serving the local customers, which includes friends and family.
When he was in Dallas, he worked for a good size dental clinic and he said that at first, it was a little different. He said, "People weren't used to seeing a Hispanic as the dentist." He also said, Of course, it could have been part of the fact that I was 25 years old and I was already a dentist."
As far as challenges in his career was turning up a practice and the finances involved with that because he wanted to do that on his own. "I did not want to have my parents help me in anything. I was the oldest of five and I wanted them to spend their time, effort and finances on getting the other ones educated and not have to draw any finances from them."
Dr. Cazares has been involved with civic activities in his hometown ofMcAllen; he has been with Leadership McAllen, Jaycees International and now with the CDBG Board.
"Dr. Cazares said that the CDBG stands for Community Development Block Grant. Through the Housing and Community Development Act of 1974, local governments with populations of 50,000 or more become eligible for funds from the U.S. Department of Housing and Urban Development (HUD) to implement a wide range of programs and projects dealing with neighborhoods improvements and city services.
At the time of this interview, he was looking forward to a meeting the board of which he is part. He said, "We get to figure out of all the groups that came before us and presented a project that we need to figure out what are we going to give to each one and how much."
You may reach Dr. J.L. Cazares by calling 956-686-5000 at McAllen Dental Associates located at 1632 N. 10th Street in McAllen, Texas 78501. MDN