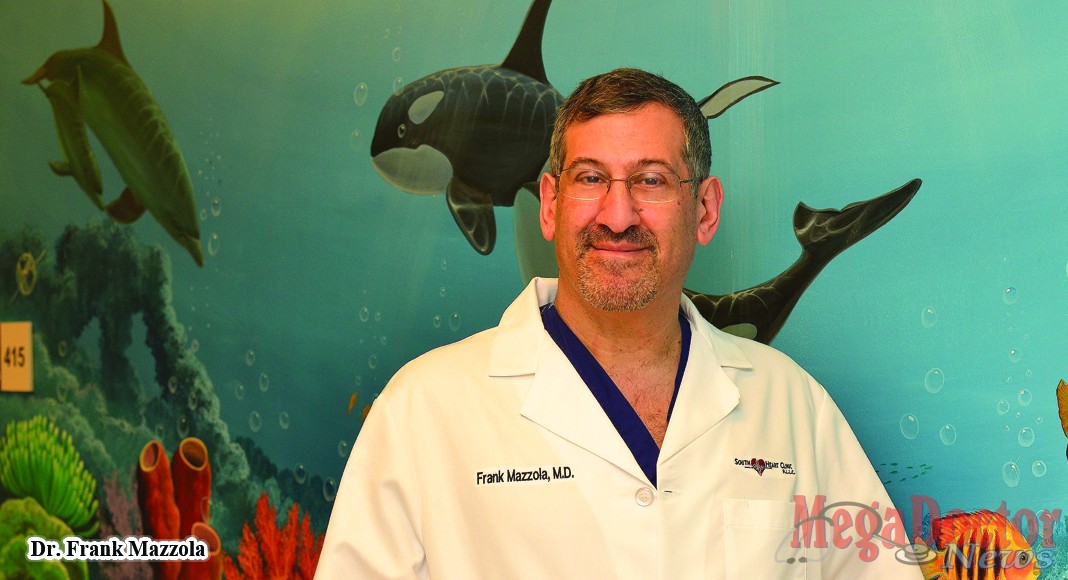 By Roberto Hugo Gonzalez
Publisher of Mega Doctor News,
Heart disease and stroke are the leading cause of death among women in the United States. That is why Mega Doctor News is bringing awareness to this mortal enemy.
This month, we had the pleasure of meeting with one outstanding and talented physician who possesses a unique specialty that is saving lives.
He is Dr. Frank Mazzola, the Valley's first Cardiac Electrophysiologist who is performing advanced heart treatment at Harlingen Medical Center.
Originally from Brooklyn, New York, Dr. Mazzola came to the Valley in 1995. It was a time when many patients were having to travel to Houston for tests that measure the electrical activity of the heart. This test was performed in order to pinpoint the location of an abnormal heartbeat — an arrhythmia.
Dr. Mazzola is our Mega Doctor of this month, I know that you will learn about him from this feature story and on top of that you will also enjoy it.
Taking advantage of the opportunity, we are also presenting more information that we believe will be of great benefit for you to learn.
Celebrating American Heart Month, we thought that it was a good idea to cover the Warning Signs of a Heart Attack, a Stroke, and a Cardiac Arrest. There is a complete article of different situations that can be useful to you and your family.
On another matter, Doctors Hospital at Renaissance is to Host St. Baldrick's Head Shaving event to raise funds for childhood cancer awareness and research. It is our understanding that DHR joined St. Baldrick's to fund the most promising research to find cures for childhood cancers and give survivors long and healthy lives through "Brave the Shave" event on February 28, 2016. Inside a full article with the time and address in case you want to participate.
In this issue, get to know Dr. Mark Morales. He is providing a minimally-invasive surgery to replace heart valves that are now being performed at Valley Baptist Medical Center in Harlingen and in Brownsville.
Dr. Mark Morales, a new Cardiovascular Surgeon in Harlingen and Brownsville, said the minimally-invasive surgery uses smaller incisions and doesn't require cutting the patient's breast bone (sternum).
There is a lot of activity in the medical field, this month we were informed that The National Accreditation Program for Breast Centers, a program administered by the American College of Surgeons, has granted the Breast Center at Doctors Hospital at Renaissance a three-year full accreditation designation. As the only accredited breast center in the Rio Grande Valley, the Breast Center at Doctors Hospital at Renaissance offers world-class, patient-centered medical care for those who are diagnosed with breast cancer or a breast disease. More inside.
Football, Concussions… and you? Moviegoers who have seen the film "Concussion" know that the movie depicts a true story about a forensic pathologist who discovers severe brain damage in deceased NFL players during autopsies.
Inside this issue, read comments of Dr. Juan Asuaje, Hospital Medicine Consultant at Weslaco Regional Rehabilitation Hospital concerning concussions. It is very interesting; this article is a must read.
The Texas Medical Association, is making every effort to make residents aware of a vaccination to be administered during adolescence that can prevent cancer later in life. Texas physicians want to encourage parents to get their adolescents vaccinated against the human papillomavirus (HPV), the cause of almost all cervical cancers. Even unvaccinated older teens and young adults can benefit.
There is more in this issue, I know that you will enjoy it! MDN