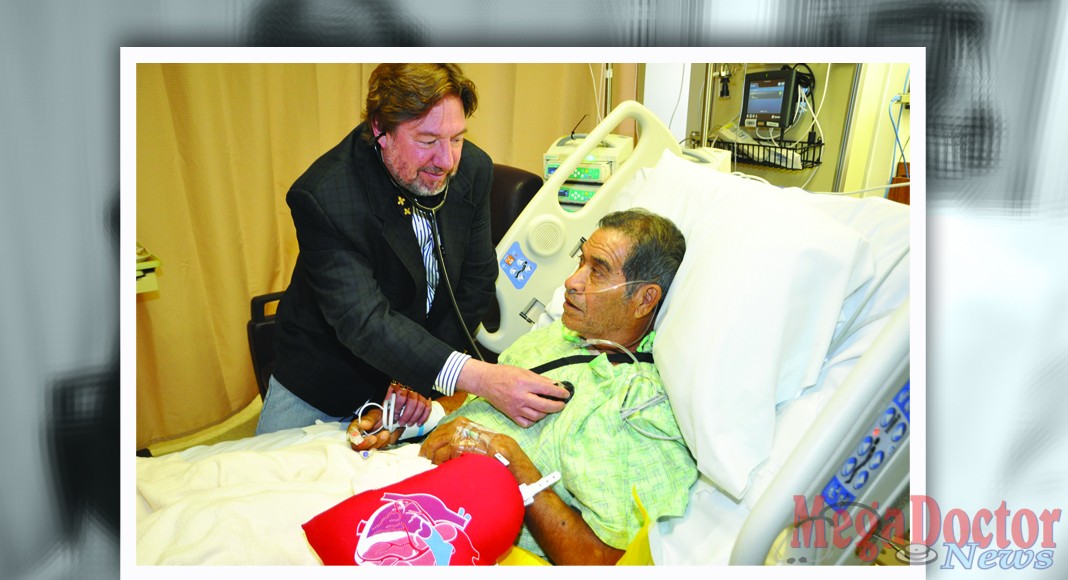 Mega Doctor News – 
Harlingen – A minimally-invasive surgery to replace heart valves is now being performed at Valley Baptist Medical Center in Harlingen and Brownsville.
Dr. Mark Morales, a new Cardiovascular Surgeon in Harlingen and Brownsville, said the minimally-invasive surgery uses smaller incisions and doesn't require cutting the patient's breast bone (sternum).
"If a patient is looking for a faster recovery, and less pain, minimally-invasive cardiac valve replacement surgery is the way to go in many cases," Dr. Morales said.
With the new minimally-invasive method, the surgery is done through one or more small cuts, typically about three inches in length, Dr. Morales said.  This compares to a much larger cut in the chest, about eight inches in length, which is needed for the traditional "open surgery" technique for cardiac surgery.  But Dr. Morales said the biggest benefit his patients have experienced from the minimally-invasive approach is a faster recovery because the breast bone doesn't have to be split.
"If you have the traditional heart surgery, the bone will need six weeks to heal," Dr. Morales said.  "You won't be able to drive, you can't go back to work, you can't lift anything more than 20 pounds.  You may be out for six weeks to two months.  But with minimally-invasive surgery, you can become active a lot faster — thus avoiding the complications of inactivity after the traditional surgery." Dr. Morales added that he, along with Dr. Mark Bielefeld, use the minimally-invasive approach on a routine basis – even for older patients up to 90 years old or more.
"We believe the sicker you are, the better you will do with the minimally-invasive procedure," Dr. Morales said.
As people age, getting into their 70's and 80's, the heart valve leaflets can fuse, hardened calcium deposits can cover the valve, and the orifice through which the heart propels the blood can become extremely narrow – sometimes as small as 0.8 centimeters, Dr. Morales said.
- Advertisement -

"This condition creates resistance, and the heart compensates for the stress by getting bigger, to push the blood through the smaller hole," Dr. Morales said.
"With less oxygen being delivered to the heart muscle, the patient may start to feel more tired, and may not be able to exercise as much as they could before.  Patients may even feel shortness of breath and can suddenly lose consciousness," Dr. Morales added.
"The patient will often tell their family practice doctor that they just can't do as much as they did before," Dr. Morales said.
Other symptoms may include the person's legs becoming swollen as the result of fluid accumulating in the legs.
In addition to problems with their aortic heart valve, some patients may also have blockages in their coronary arteries.  In that case, Dr. Morales or Dr. Bielefeld can work with a local cardiologist in a team-approach "hybrid procedure" to treat the two problems.  For example, instead of performing a traditional coronary artery bypass graft surgery, the cardiovascular surgeon may opt to do the minimally-invasive valve replacement — while the cardiologist places a stent to open blood flow in the arteries.
"Both the cardiologist and the cardiovascular surgeon work together to minimize the harm to the patient from the procedure," Dr. Morales said.
In cases where the patient does require bypass surgery, Dr. Morales and Dr. Bielefeld can perform a "beating heart surgery" in which the patient is spared from having their heart stopped – meaning that it is not necessary to place the patient on a heart-lung machine during the surgery.
In addition to performing heart surgeries at Valley Baptist in Harlingen and Brownsville, Dr. Morales serves as Director of Thoracic and Cardiovascular Surgery at Driscoll Children's Hospital in Corpus Christi, and as an Assistant Professor for the Texas A&M University System.
Dr. Morales completed a residency in cardio-thoracic surgery at the University of West Virginia, as well as a surgery residency at the University of Massachusetts.  He was a Senior Registrar in Cardiothoracic Surgery at the Hospital for Sick Children in London, United Kingdom. He completed medical school at the Universidad Autónoma de Guadalajara in Mexico, and has co-authored numerous articles which have been published in national medical journals, as well as chapters on surgery in medical text books.
Dr. Morales has also been involved in charitable activities, helping develop heart programs at Santander Hospital in Reynosa and at the Children's Hospital of Saltillo, Mexico.  He is also the founder of "Hearts for Tots, Inc.", an organization which performs congenital heart surgery for needy children in Third World countries.
For more information on heart disease treatment and prevention, please consult your physician.  MDN