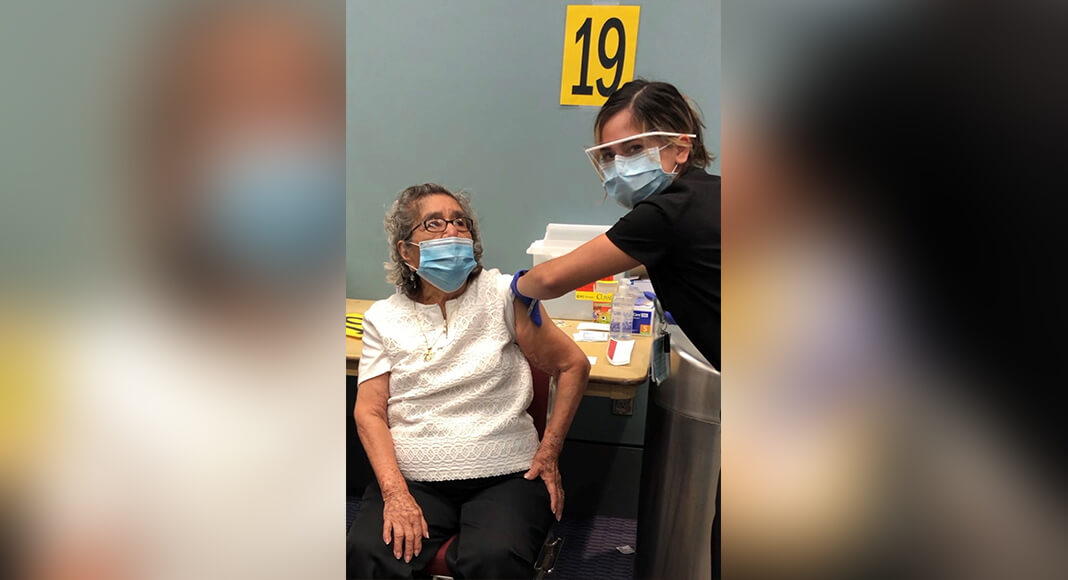 Mega Doctor News
- Advertisement -

CORPUS CHRISTI – A Driscoll Children's Hospital nurse was thrilled to be able to administer the first dose of the COVID-19 vaccine to her 100-year-old great-grandmother.
Pediatric Intensive Care Unit (PICU) nurse Victoria Cantu, BSN, RN, was one of many Driscoll nurses and other staff who volunteered to help out at the first City of Corpus Christi and Driscoll Children's Hospital Vaccine Site at the American Bank Center on Thursday, Feb. 4.
Driscoll employees directed her great-grandmother, Maria Gaytan of Corpus Christi, to Cantu's vaccination station. At first, Cantu was apprehensive about administering the shot.
"I was nervous about poking my abuelita, but I felt so lucky and blessed to be able to provide this gift to her. I knew what this meant for us and our family, and I felt immense happiness," she said.
"She is the sweetest. I am her eldest great-granddaughter and we've always been very close. I do believe this strengthened our bond. It was a sweet thing to be able to do," said Cantu.
Theirs is a close-knit family. Gaytan has eight children, 18 grandchildren, 45 great-grandchildren and two great-great-grandsons.
Gaytan received her vaccination exactly two weeks after celebrating her 100th birthday.
- Advertisement -

"We would all get together for every holiday pre-COVID and throw her big birthdays every year since she was 95 years old. This year has been very confusing for her and we know she wants to return to normal and see her family's faces," said Cantu.
Prior to receiving the vaccine, Gaytan was nervous and concerned about what it entailed and if it was safe. However, after one of her daughters, Esther Gaytan, 71, died from COVID-19 and complications from pneumonia, she understood the importance of receiving the vaccine and how it was the safer option to remain healthy for her family.
"Now, she is so excited and happy she lets everyone know how she received the vaccine and she's going for her second dose," said Cantu.
"The vaccine was truly a gift of life," said Gaytan. "Everyone was so polite and friendly and everything was so organized."
"I feel so blessed for us to have her in our lives, and I am so glad we are doing our best as a family to keep her vaccinated, healthy and safe," said Cantu.
"I can't tell you how proud I am of my great- grandmother (as well as my aunts, my brother and father – who are with the Corpus Christi Fire Department), everyone who has been getting vaccinated and turning around to help the next one in line receive their vaccinations and help the fight against COVID," said Cantu.
"This past year has been so hard on so many families. We've lost too many loved ones. I am so proud of everyone doing their part and fighting for everything we've lost by such a kind, simple act of getting vaccinated. I truly feel that this is the light at the end of the tunnel for us."