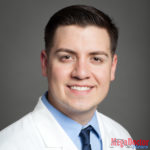 As originally published by Mega Doctor News in its newsprint edition November 2017
- Advertisement -

Dr. Leo Lopez III, a Rio Grande City native, is a physician and scientist focusing on reducing health disparities for under-served populations.
He recently presented his research in global health ethics at the 6th World Congress for Clinical Safety in Rome, Italy.
Lopez addressed clinicians and scientists from across the globe at the conference. The World Congress brings physicians together to share ideas, innovations, and knowledge, which improve clinical outcomes for patients in various settings.
Dr. Lopez's work focuses on evaluating the ethics of short-term, global health operations and delivery of care. Lopez worked with various university, and non-profit groups in providing health care to communities in Guatemala, and Oaxaca.
He also identified organizational obligations in protecting vulnerable populations. "Each year, we find millions of tourists, and volunteers spending billions of dollars in the so-called developing world on these short-term operations." He continued, "Some have adequate training and preparation, others toe the line of self-glorification and are more destructive than helpful", said doctor Lopez.
He used this work to develop an approach to teach premedical & medical students, and residents how to prepare for global health operations. Dr. Lopez has gone on to give similar presentations at the American Academy of Family Physicians National meeting, Christus Santa Rosa Family Medicine Family Medicine Residency Program, and at the University of Texas San Antonio.
Related articles:
- Advertisement -