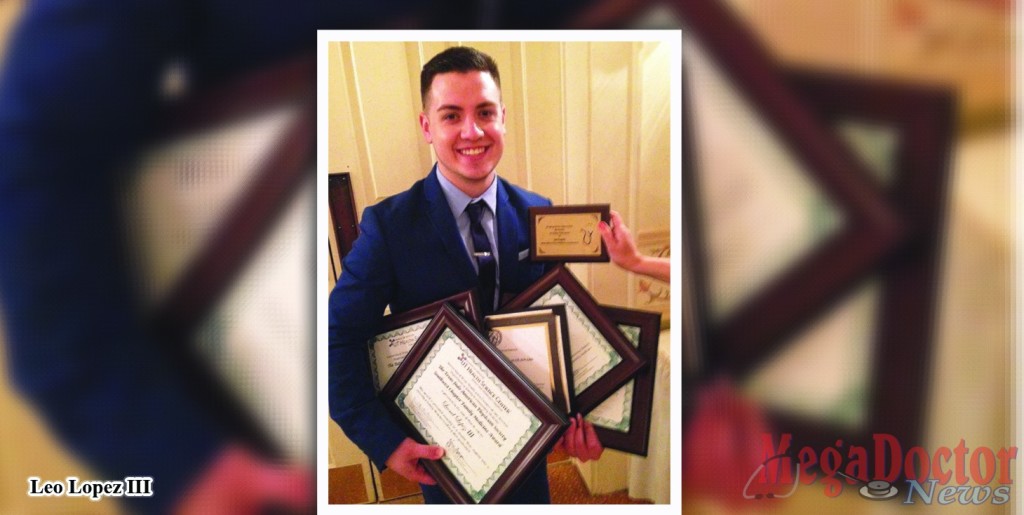 - Advertisement -

Following the future doctor Leo Lopez, III for 7 Years
Mega Doctor News – 
By Roberto Hugo Gonzalez,
May 15, 2015 – Leo Lopez, III is a Starr County native and former STC student. Texas Border Business and Mega Doctor News have been following him on his journey to becoming a physician. Leo is not your average medical student, he is one who dedicates his time to pursue his goal and at the same time that he looks for ways to help the communities around him.
Just recently, Leo updated his status and told Mega Doctor News that he had secured his internship for residency at Christus Santa Rosa Family Medicine Program in San Antonio to begin in the summer of 2015.
"The month of March was particularly special to me." He continued, "At the UT School of Medicine San Antonio 2015 Senior Graduation Award Dinner, I was honored with a few recognitions."
As it was reported at the beginning, Leo is an exceptional and determined individual that has caught the attention of people in the medical field with his passion to serve.
He was recognized and awarded with the 2015 Excellence in Public Health Award from the United States Public Health Service and the UT School of Medicine San Antonio; The Dr. and Mrs. Alexander David Major, MD Family Physician Presidential Endowed Award; Induction into the Gold Humanism National Honor Society; The John S. Primomo, MD Excellence in Academic Family Medicine Award; The Texas Indo-American Physician Society Southwest Chapter Family Medicine Award; The Bates Family Medicine Award; and The Sanjay Gupta Award.
- Advertisement -

Readers now know that Leo Lopez, III does not waste any time, he is total dedication. In early March 2015, he wrote an article titled "Behind the Border" for "The New Physician" – a publication by the American Medical Student Association, which was published nationwide. He said, "The article covers my experience in Guatemala and the unaccompanied minors finding refuge in the Rio Grande Valley, readers can find it by following this link.
And in Mid-march, Leo traveled to Japan to work with young leaders from around the world and the United Nations Major Group for Children and Youth to produce a project on advocacy and disaster risk reduction at the 3rd UN Conference for Disaster Risk Reduction in Sendai.
In his last letter to the publisher he said, "I want to thank you for your support dating back to my early days as a premedical student. I will graduate from medical school in mid-May of 2015. I am excited to find out what the future holds.
Thank you for all your support!      With respect and admiration, Leo Lopez III, M.D. Candidate 2015 At the UT School of Medicine at San Antonio."
Our first article dedicated to Leo was titled "Leaders Never Give Up, No Matter What Life Throws At Them" and was published by our medical publication on February 2014.
It is important to say that Leo Lopez III graduated from Rio Grande City High School Class of 2007; and graduated from Dual Enrollment Medical Science Academy (DEMSA) Class of 2007; from University of Washington School of Medicine Summer Medical and Dental Education Program (SMDEP) Scholar 2009; and from Texas A&M University Class in 2011; and now from the University of Texas Health Science Center at San Antonio School of Medicine Class of 2015.
Congratulations Leo, we will continue to follow you hoping that you will set up your medical practice in any of the cities of the Rio Grande Valley. MDN