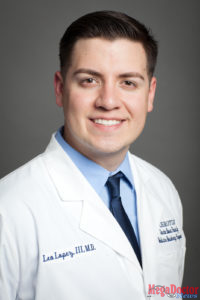 As originally published by Mega Doctor News in its newsprint edition May 2017
In the school of medicine and residency, there are many distinguished dedicated young professionals. Mega Doctor News has met many of them, but one stands out. He is Dr. Leo López III of Rio Grande City that was recently named 2017 National Hispanic Resident of the Year by the National Hispanic Medical Association in Washington D.C. (NHMA)
This award recognizes Residents who have contributed to the health of the Hispanic population. NHMA, is an organization dedicated to empowering Hispanic physicians to be leaders who will help eliminate health disparities and improve the health of Hispanics.
Dr. Lopez is a Senior resident physician with Christus Santa Rosa Family Medicine Residency Program in San Antonio, Texas. At age 28, Dr. Lopez has established himself as a thought leader in his generation. "My hope is to make the word physician synonymous with servant," he told Mega Doctor News.
Outside of his clinical duties he serves as a volunteer physician and clinical Advisor for Corazon Clinic, a free clinic open for homeless patients in downtown San Antonio. With the intent of improving population health in vulnerable areas, he founded a non-profit organization aimed at identifying, intervening, and measuring health disparities in underserved communities.
Leo is also passionate about story telling. In the past, he's served as an investigative journalist, covering health disparities in the Rio Grande Valley and Guatemala. As the Chief Executive Officer for El Renovatio Films LLC, he's directed and produced documentary films on location in the Middle East, Japan, and Texas.
He's also delivered two TEDxTalks on topics spanning access to healthcare to perception amongst communities in conflict. He was recognized for his leadership in health policy as a Leadership Scholar with the Texas Academy of Family Physicians.
Further, Dr. Lopez serves on the board of directors for the non-profit organization "Texas Doctors for Social Responsibility", where he advocates for access to healthcare for low income families. Over the past six years, Dr. Lopez has organized and served in global health operations in Central America and southern Mexico. His work on ethical considerations for short term delivery of care was recently recognized by the World Congress for Clinical Safety in Rome. Lopez will travel to Italy to share his research and address the World Congress this fall of 2017.