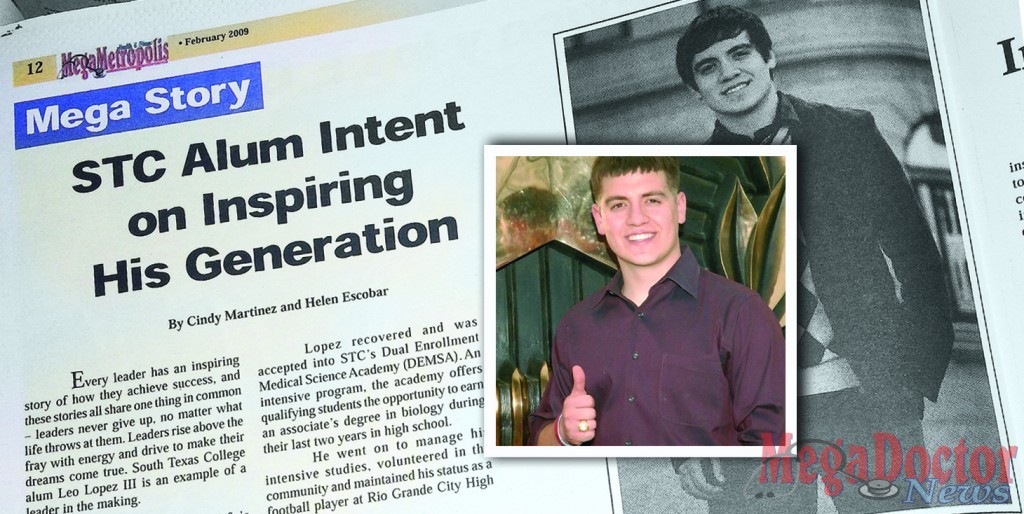 By Roberto Hugo Gonzalez
- Advertisement -

Mega Doctor News—-
June 2014–The above headline was part of an article that we published in February 2009 about Leo López III. Leo experienced several challenging situations that even though they were hurtful for him and his family, he prevailed and moved forward in his life.
The article was titled "STC Alum Intent on Inspiring His Generation" which included this information: Every leader has an inspiring story of how they achieve success, and these stories all share one thing in common – leaders never give up, no matter what life throws at them. Leaders rise above the fray with energy and drive to make their dreams come true. South Texas College alum Leo Lopez III is an example of a leader in the making.
From an early age, life's circumstances brought about his desire to become a doctor. It was the fear of losing his beloved mother to cancer that fueled his dream of finding a cure for this deadly disease.
Following his story, Mega Doctor News spoke to read five years later and today and he is a third year medical student at the University of Texas School of Medicine at San Antonio.
He told Mega Doctor News, "I want to thank you for your support all these years. Since we last crossed paths, I have trekked quite a journey. "I climbed the ranks of the American Medical Student Association National Leadership as the Vice President for Membership and Board of Trustees member."
He also led a medical mission trip to Central America, serving to young women's orphanage. I've traveled the country presenting at medical conferences from California to Washington, D.C.
- Advertisement -

"I was commissioned as an investigative journalist for the renowned Lancet Medical Journal and brought my first article to worldwide publication," he said. He currently is in working on plans for him to return to Central America to continue his global health work.
Leo has been very active for such a young age. He is Counselor and over the past few years he has also produced, written and directed short films that highlight cultural issues.
I have a positive attitude and dedication with which he applies himself to every project that he takes on. Now I've been offered two opportunities to direct documentary films in both West Africa and Palestine respectively and currently he is involved in the pre-production phase with both projects.
Most importantly he does not forget where he came from, his devotion to his home community has not wavered. "I return every summer to lead and teach educational enrichment summer programs for the young students at the public library in Rio Grande City, Texas."
Recently I was asked to present at the Dr. Mario Ramirez Distinguished Professorship Lecture at the University of Texas School of Medicine at San Antonio. He is also organizing a drive for vitamins, ibuprofen, sunscreen, hats/caps, and sunglasses for a public health project in Guatemala this summer.
"I will be leaving for Central America in two weeks." "Upon my return, I will be organizing a summer enrichment program for students Rio Grande City in education," he said.
Mega Doctor News will upload all articles and work done by Leo on July 15, 2014. MDN