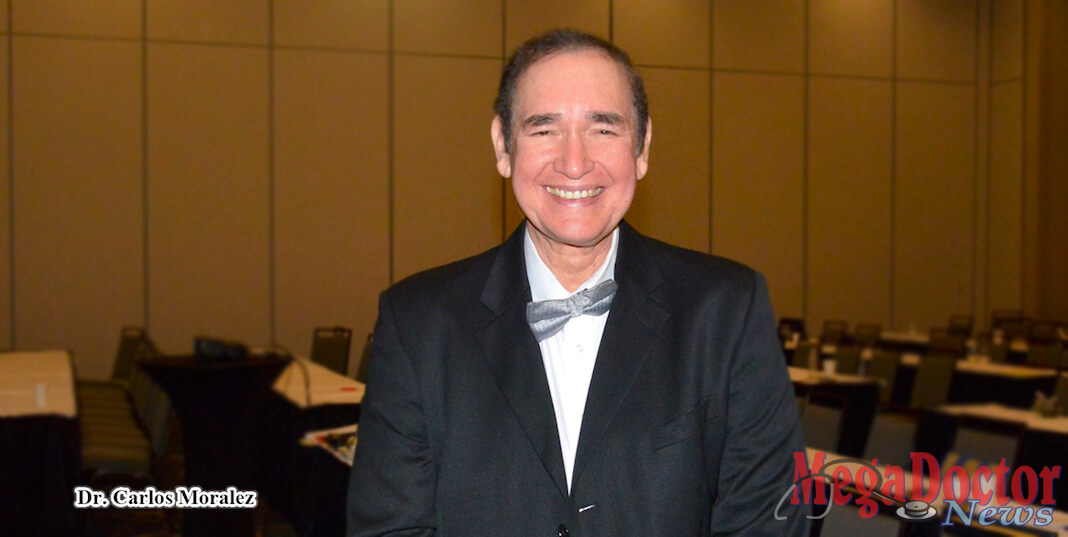 As originally published by Mega Doctor News in its newsprint edition May 2018
By Roberto Hugo Gonzalez
Dr. Carlos Morales is a physician in Cardiology, originally from El Salvador; he has been in the United States for the last 42 years. He has practiced for the last twenty-five years in the Rio Grande Valley; he came from a medical institution in Houston.
Dr. Morales delivered an outstanding presentation at the 26th Annual Rio Grande Valley Medical Education Conference during April 13-14, 2018. His topic was directed to physicians participating in their continuing education; it is an essential process of a physician as a seasoned cardiologist.  His lecture was on Pre-operative Evaluation for Primary Care Physicians.
"What I discussed is that we are frequently called to see patients to assess the risk of having cardiac problems during non-cardiac surgery," he told Mega Doctor News. He added, "It's not rocket science and it doesn't require many things."
Dr. Morales also pointed out that there are a lot of myths and misconceptions about his topic. "One of the most common myths is that everybody needs a stress test and only a cardiologist can do this. That's not true; anyone can do it."
He said, "One of the most common things that I see is that surgeons or anesthesiologists require that a cardiologist needs to see this patient; the answer is that's not true." He continued, "Anyone who has a medical license can do a pre-op medical evaluation."
During his 25 years in the Valley, he has seen many cases, and some that concern him. "What worries me the most is coronary heart disease, diabetes, and obesity." He said, "We are painfully the fattest city in Texas, and the first fattest city in the United States, only behind Little Rock and Shreveport." Which city are you referring to? "McAllen," he said.
"McAllen Mayor Jim Darling has done a fantastic job motivating people to exercise," Dr. Morales said. That is true; Mayor Darling and McAllen for the first time, was the winner for a city in its size category in the IT'S TIME TEXAS (ITT) Community Challenge, which ended March 4. More than 2,200 members of the McAllen community participated, logging 1,881,750 minutes of activity and 273 pounds lost during the challenge.
On May 3, 2018, the Texas A&M AgriLife Extension Service hosted "Dinner Tonight Healthy Cooking School, a live food demonstration featuring recipes that are cost effective, easy to prepare, and fit into a healthy meal plan.   Mayor Darling was the cook. Dr. Morales is correct, McAllen is doing activities to educate its citizens.
From your perspective of a cardiologist, what is the best advice that you can give people? "Well, I have a list of ten things that people can do to prevent having heart attacks. Of those more than half are things that you can do yourself, you don't need a doctor to do that."
One of the first things he mentioned is that people have to exercise, eat well, and get a flu shot every year. He continued, "It is important to control your diabetes, your blood pressure, take cholesterol medications if you must. You have to be happy, avoid depression, have nice family values, family support. If they do that, people can avoid seeing me," Dr. Morales said. "And let's clarify one of those suggestions or advice like eat well, it means moderately," he added.
He said that another myth; people think that fat is the problem. "Fat is not a problem; the problem is sugar." He continued, "People should eat fewer carbohydrates, and they need to exercise on a daily basis."
The last time Mega Doctor News had a conversation with Dr. Morales it was about a medical assist device. Today, we noticed a skinnier Dr. Morales. Have you lost weight? "Yes." He said, "We gain weight as we get older. Then you may do whatever you have to, including starting a diet. That means you lose the weight, and then you regain it with a vengeance," he said.
Dr. Morales added that in May of 2017, he was exercising, riding his bicycle on the bike trail on 2nd Street and a driver ran over him with his car. "I had seven broken ribs and a punctured lung, so I lost weight because I spent one week in the hospital," he stated.
Under those conditions, Dr. Morales decided to take advantage of the accident. He said, "Since I had already lost weight, I made the determination that I should not gain it back."
He pointed out that he is following a strict diet and doesn't eat carbohydrates. "I continue to exercise, but not outside anymore; it is too dangerous."
In order to continue biking, he bought an excellent piece of equipment to exercise at home. He said, "It's a stationary bike which gives me the opportunity receive lessons any time of the day or night."
Dr. Morales said, "The stationary bike is called Peloton, this is not an endorsement by any means, but that is what I am using."
Is there any other message that you would like to send to the readers of Mega Doctor News? "The main reasons for people being unhealthy in our part of the world, are an unhealthy lifestyle and diet; and people who won't quit smoking. So, just do everything you can to try to stay healthy," he finalized.