- Advertisement -

By Roberto Hugo Gonzalez
As originally published by Mega Doctor News newsprint edition October 2019
Dr. Carlos Garcia-Cantu is a physician that we have known for years. He is passionate about the field of surgery and is recognized as one of the best in South Texas. He is one that is always open to talk with a friend or a patient.
As he is board-certified in general surgery and surgical critical care, Dr. Garcia provides surgical care for a broad range of diseases and disorders. With over 31 years of experience, he specializes in breast, hernia, vascular, and trauma surgery. Dr. Garcia is currently with the DHR Health General Surgery Institute, the DHR Health Vein Institute, and is the Chairman of the Board of the Renaissance Medical Foundation.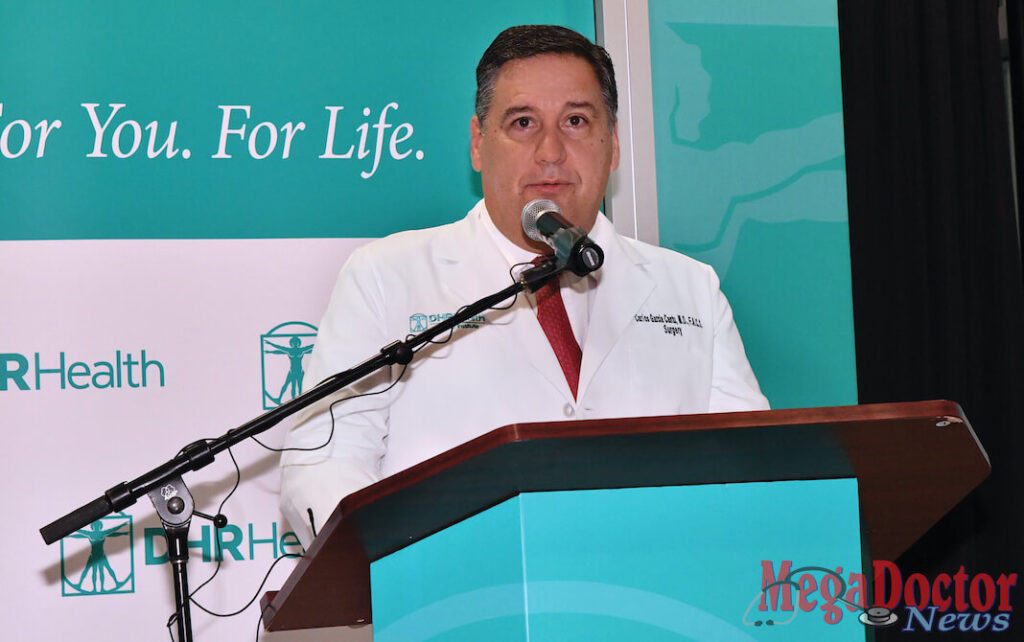 He received his medical degree from the Universidad de Monterrey and completed his internal medicine residency training at Mount Vernon Hospital-New York Medical College. He also completed the general surgery residency training at New York Medical College Cabrini Medical Center. Dr. Garcia conducted a surgical critical care fellowship at Lincoln Hospital Center-New York Medical College.
Mega Doctor News recently met with Dr. Garcia-Cantu at the ribbon-cutting ceremony of four subspecialties in one building. DHR Health continuously surprises the region with milestone announcements like the opening of DHR Health Ear, Nose and Throat Institute, DHR Health Surgery Institute, DHR Health Plastic & Reconstructive Surgery Institute, and DHR Health Vein Institute.
I met with Sheri Moss, Practice Administrator and she told Mega Doctor News about the grand opening of the third and fourth floors of the new multilevel medical office building housing four institutes. Sheri has a bachelor's degree in business management.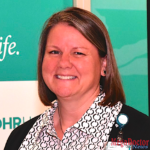 She said, "I get the opportunity to meet many patients, interact with the different staff and physicians, and to bring the best healthcare to the Valley."
Dr. Garcia-Cantu emphasized that the medical building had a clear expectation to be great, to offer the best care, and also to provide access to multiple medical specialties and subspecialties. DHR Health is committed to providing the best healthcare services right here in the Rio Grande Valley without patients having to travel far away.
He said, "As you can see, this is a state-of-the-art facility with beautiful installations and the most advanced equipment." He continued, "It's the dedicated personnel that makes a difference. All the physicians, the nurses, the physician's assistants, administrators, managers, receptionists, and also the caretakers. We are a team!"
He said that he has been practicing for several decades and never imagined that this level of organization was possible at DHR Health.
According to Dr. Garcia, among the services they now provide are general and advanced laparoscopic and robotic surgery, vascular and endovascular intervention, plastic and reconstructive surgery, colorectal surgery, breast surgery, and they also have a hernia surgery center of excellence, a vein center, and the best trauma and critical care.
He said, "Also, we offer ENT, head and neck surgery, ophthalmology, and transplant surgery. Of course, our imaging center has the most advanced equipment and also has the most advanced breast imaging with the most advanced equipment for diagnosis and treatment."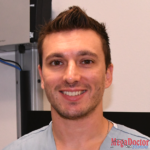 The new multi-subspecialty and specialty facility brought new doctors to the area like Dr. Jeffrey J. Skubic, DO MSc MD. Yes, Skubic is not a common last name in the Valley so I had to ask. "My family is from Trieste, Italy, which is Northeastern Italy. It is right by the Yugoslavian border," he told Mega Doctor News. Dr. Skubic is a General and Trauma Surgeon. He came to south Texas one year ago after his fellowship training from Boston, Massachusetts.
So, this is a different world for you, because the Valley is always hot. Do you like hot weather?
Dr. Skubic said, "Yes. I had enough cold weather in Boston." He was recruited to come to help build a Level 1 Trauma Center for the Valley. He pointed out that trauma surgery is a field where they can help patients and also help change a system that can potentially save thousands of lives in a community.
"It also prepares you to be able to deal with any kind of disaster or emergency." He said, "I was very interested in working in austere environments, doing mission work." Dr. Skubic that being well-trained in trauma surgery allows you to operate from head to toe and deal with any disaster that comes in.
"If somebody comes in with a stab to the heart, and you can't do anything. So, I trained in this to be able to deal with broad disasters of anything that can happen to a human being."
Just as Dr. Garcia-Cantu, Dr. Skubic was excited about the integration of the multi-specialty care at DHR. He said he is extremely grateful for the support of all the citizens of the Rio Grande Valley, and the support staff such as EMS, ambulance drivers, fire departments, and police officers that help us try to improve the trauma care in the Valley.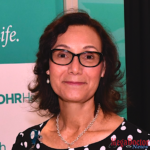 I also met with Priscilla De La Cruz; she is a practice manager for the surgery institute. She said, "We've got a total of nine physicians on board. I oversee the clinic's flow, patient flow, and patient's satisfaction."
Priscilla toured with me through the clinic, but not before telling me that she also oversees the schedules that the doctors have for their on-call rotations and their trauma calls.
At the time of this interview, they had nine general surgeons, and so they keep very busy. "We have a total of four procedure rooms in this location, and we have 23 patient exam rooms."
It was good to talk to Dr. Garcia-Cantu and these dedicated professionals of the healthcare industry in the Valley. We hope that at a later date, we'll have an opportunity to meet with Dr. Garcia-Cantu again and learn more about his busy profession.
- Advertisement -