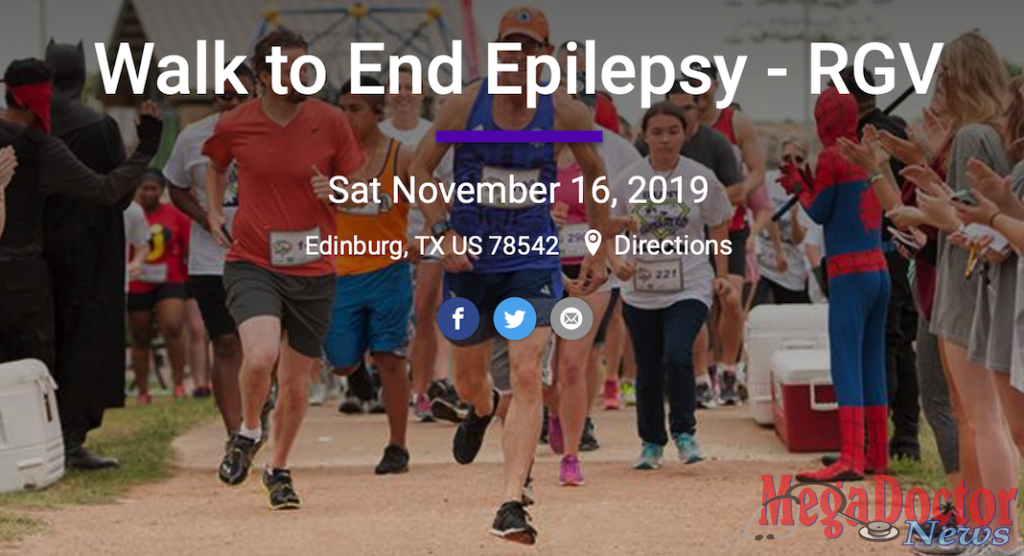 Mega Doctor NEWS
AUSTIN, Texas – The Epilepsy Foundation Central & South Texas announces the 2nd Annual Walk to End Epilepsy – RGV. The walk will begin on Saturday, November 16, 2019, at 8:30 a.m. with refreshments and family-friendly activities at the Edinburg Municipal Park.
Community members are invited to run or walk a non-competitive route along Edinburg Municipal Park. Those unable to attend can register as a "virtual walker." The walk provides social and educational opportunities for people with epilepsy and their family members.
Families of people with epilepsy face daunting annual medical expenses for doctor visits, medications, and diagnostic tests. Proceeds from the walk will help support our Epilepsy Foundation RGV Family Support Network to assist with health costs, transportation, and the operation of our support group for individuals and caregivers.
Individuals, families, businesses, and community organizations can form a fundraising team and set a financial amount to raise from friends and family. All proceeds from the walk will help provide essential services and programs to people living with epilepsy and their families. More than 155,000 people have epilepsy in Central and South Texas.
Visit Walk2EndEpilepsy.org for information, to donate, and to register online. Registrations start at $25. People who register by October 29 will be guaranteed an event t-shirt. Online registration ends on November 15 at 4 p.m. People can register in-person on the day of the event at 7:00 a.m.
EFCST is seeking sponsors for financial and in-kind support as well as volunteers on the day of the walk to help with operations including event set up and break down.
The Epilepsy Foundation Central & South Texas was founded in 1993 by Sindi Rosales whose daughter Jessica has epilepsy. Its mission is to lead the fight to overcome the challenges of living with epilepsy and to accelerate therapies to stop seizures, find cures, and save lives. To find out more about this event or this nonprofit organization which serves 79 counties, visit EFCST.org, or call (956) 704-9191.