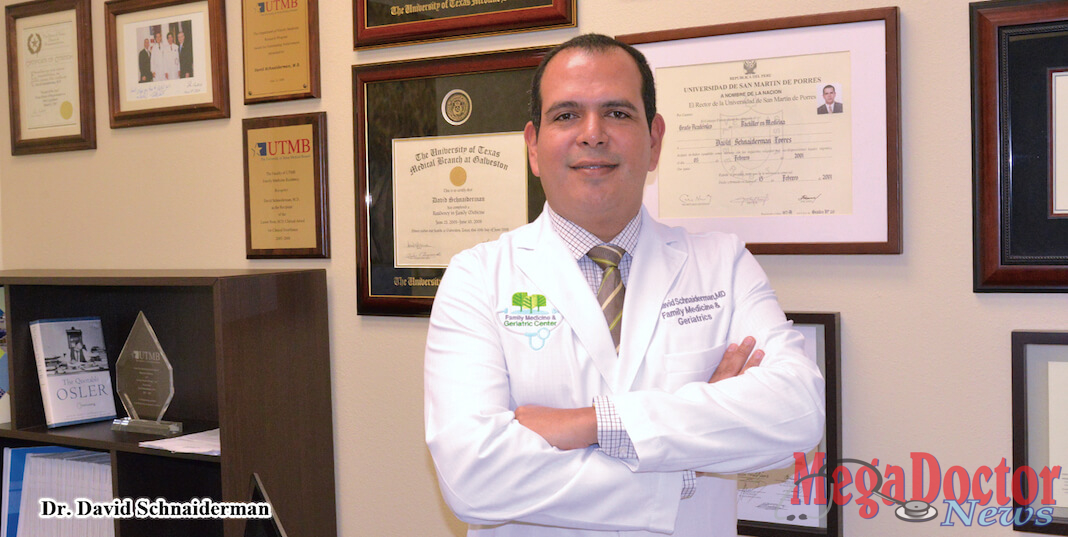 By Roberto Hugo Gonzalez
As originally published by Mega Doctor News in its newsprint edition February 2018
Dr. David Schnaiderman came from Lima, Peru and has adapted well to the friendliness of the Rio Grande Valley. He enjoys his practice at Family Medicine and Geriatric Center in two locations, one in Edinburg and another in McAllen. He is a Board-Certified Family Physician in the United States.
He brought experiences that few doctors have, like working in the Peruvian Jungle under precarious conditions, while providing his social service under the Peruvian Air Force.
Inside this issue, you can get to know more about him; there is a feature article with lots of comments and memories.  It is important for you to know, that after working many years as a hospitalist, today, he has two practices where he sees patients.
He is a member of the Texas Medical Association, American Geriatric Society, Texas Academy of Family Physicians, and the American Academy of Family Physicians.
Dr. Schnaiderman is a physician dedicated to his patients, because of that, he received an Award for Outstanding achievement in Behavioral Medicine and Family Oriented Primary Care at UTMB in 2007-2008.
His research activities date from time when he was in Peru in 2002. Among the most recent ones, is in Geriatrics with a title of: Mortality Predictors in Hospitalized Elderly Patients, his work done at the University of Texas Medical Branch.
More about Geriatrics: while at the University of Oklahoma, his research was titled "Imminent Death in The Acute Care of The Elderly".
Medicare
Once again, Tracy B. McManamon, an expert in Medicare, brings you lots of information that you need to know. Tracy is one of the best in the nation when you talk about Medicare, please read it and learn.
Great News!
South Texas Diabetes and Obesity Institute and the Department of Human Genetics at the UTRGV School of Medicine, has received a four-year, $2.36 million grant from the National Institutes of Health's National Heart, Lung, and Blood Institute to study the relationship between human lipid variation and cardiovascular disease.
Medical Conference
If you are in the medical field, you should take note of this upcoming event. A conference for all Rio Grande Valley physicians, nurses, pharmacists, physician assistants, nurse practitioners, and medical students will celebrate its 26th anniversary this April in McAllen, providing 14 hours of continuing medical education credits (including an hour in ethics) for doctors and other healthcare professionals.
The 26th Annual Rio Grande Valley Medical Education Conference & Exposition will be held Friday, April 13 and Saturday, April 14 at the Embassy Suites by Hilton, McAllen Convention Center in McAllen.
Congratulations!
Three administrators from The University of Texas Rio Grande Valley School of Medicine have been selected to serve on The University of Texas System Kenneth I. Shine, M.D., Academy of Health Science Education.
They are, Dr. James F. Hanley, a clinical professor with the UTRGV School of Medicine and director of the UTRGV Internal Medicine Residency Program at Valley Baptist Medical Center, has been selected by the academy to serve as a member of the Shine Academy.
In addition, Dr. Adela Valdez, associate dean for Student Affairs, and Dr. Leonel Vela, senior associate dean for Education and Academic Affairs, also were selected as inaugural members of the academy for the UTRGV School of Medicine.
There is more, so glance through the pages; I know you'll like it.