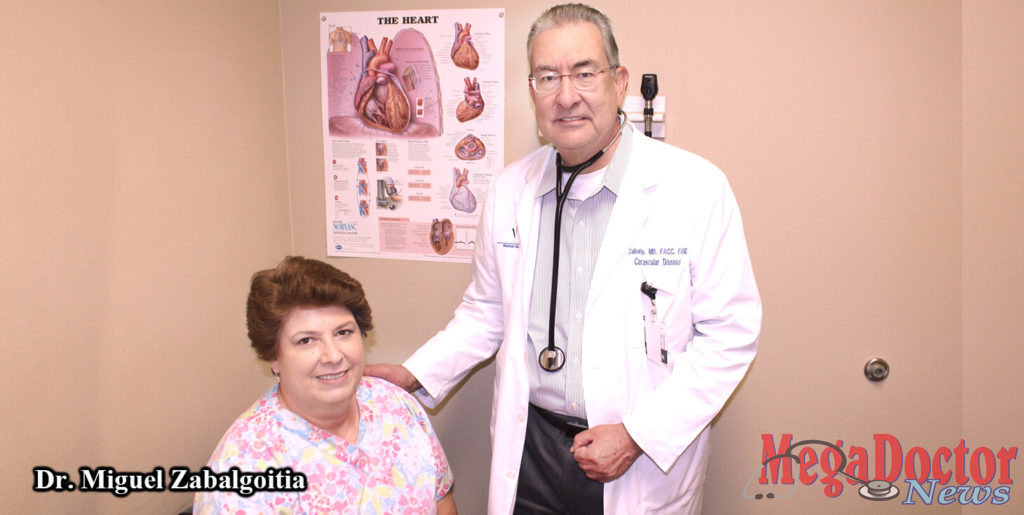 Mega Doctor News
Weslaco – For Mid-Valley patients who need to see a physician for heart-related problems, a cardiologist in Weslaco, Miguel Zabalgoitia-Reyes, M.D., F.A.C.C., F.A.S.E., was recently re-certified in echocardiography, by the National Board of Echocardiography. 
Only a few cardiologists in the Valley hold this important board certification through the American Society of Echocardiography (ASE). To achieve this certification, a cardiologist must pass a rigorous examination to become nationally-recognized as board-certified in echocardiography.
Cardiologists like Dr. Zabalgoitia who are experts in this field may carry the abbreviation of "FASE" (Fellow of the American Society of Echocardiography) as a credential following their name.
"Most cardiologists read echoes … the difference between a FASE cardiologist and a non-FASE cardiologist is that in addition to interpreting the echo in far more detail, the FASE cardiologist is able to integrate the echo findings with the clinical symptoms and arrive at a more accurate diagnosis," Dr. Zabalgoitia said.
An echocardiogram is a test which produces pictures of the patient's heart through the use of sound waves (ultrasound). Cardiologists such as Dr. Zabalgoitia use the test to check for problems in the valves or chambers of the heart.
For example, if a patient has chest pain, shortness of breath, or other symptoms, Dr. Zabalgoitia can use an echocardiogram to "see" how the patient's heart is beating – and how the heart's chambers and valves are pumping blood through the heart.  The test helps determine if the heart valves are opening wide enough for an adequate flow of blood and whether the valves close all the way, to prevent leaking of blood.
Also, during an echocardiogram, sticky patches (electrodes) are placed on the patient's chest, to check the rhythm of the heart (electrical current) while it is beating. This also helps the physician to better diagnose any problems and recommend treatment.
An echocardiogram is a non-invasive test which takes about 40 minutes.  The test can be performed in the physician's office or in the hospital. The interpretation is ready within 24 hours, in most cases. 
In addition to echocardiography, Dr. Zabalgoitia is also board-certified in cardiovascular disease and internal medicine.
Dr. Zabalgoitia completed a Fellowship in Echocardiography at Northwestern Memorial Hospital in Chicago (through Northwestern University School of Medicine); as well as a Fellowship in Cardiology through the University of Ottawa Heart Institute in Ontario, Canada.
Dr. Zabalgoitia specializes in treating patients with chest pain, abnormal EKGs, and other heart-related conditions. He also performs evaluations for patients needing clearance for surgery.
Dr. Zabalgoitia, who is fluent in English and Spanish, said he is glad to be in the Mid-Valley and would like to help further education on heart health in the area.
"There is so much that we can do to prevent heart disease and to improve our health, through lifestyle improvements such as healthy eating, exercise, not smoking, controlling high blood pressure and diabetes, etc.," Dr. Zabalgoitia. "I enjoy working with my patients to address these and other issues which can make such a difference in the process of heart disease and with their quality of life."
Dr. Zabalgoitia encourages patients to work more closely with their physician to prevent heart disease and to take steps to improve their overall health.
Dr. Zabalgoitia is available to see patients at South Heart Clinic's Weslaco office at 902 S. Airport Drive, Suite 5B (a block and a half south of E. 8th Street, southeast of Knapp Medical Center). The South Heart Clinic also has an office in Harlingen and includes a team of some of the most experienced cardiologists in the Valley.