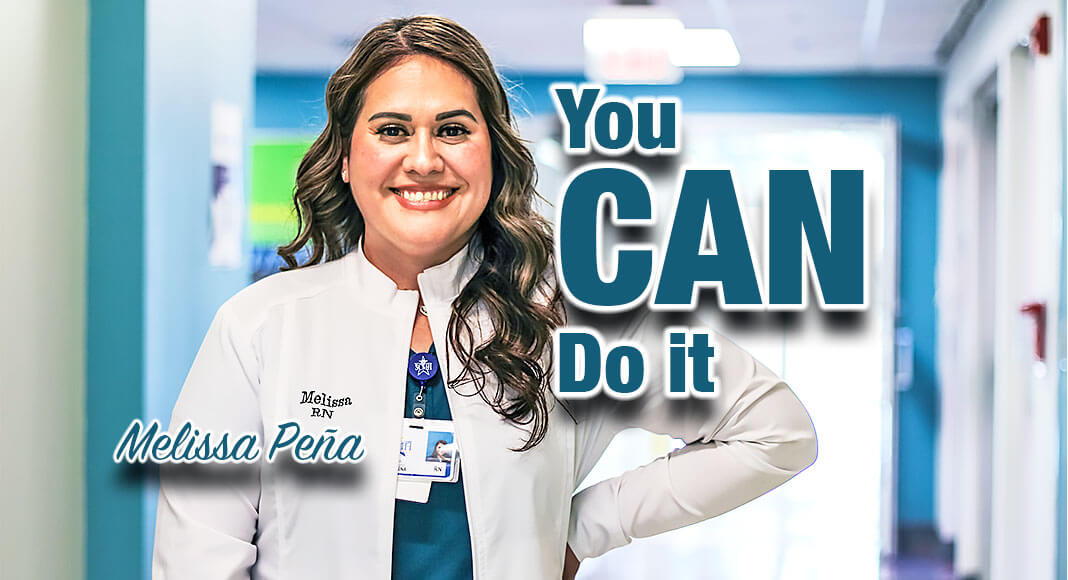 Mega Doctor News
By Joey Gomez
RIO GRANDE CITY, Texas – During a difficult time in her life, South Texas College alumna Melissa Peña recalls struggling as a single mother while dreaming of a career in health care. Hard pressed to care for two young sons, Peña said she would often fall back on selling gorditas in the parking lot of a local supermarket to get by.
Her job at the time as a certified nurse's assistant wasn't paying the bills, and by the time she entered STC in 2014, Pena said another urgent matter demanded her attention. Her parents were ailing.
Her father was diagnosed with Stage 4 cancer, and her mother began showing signs of Alzheimer's Disease in the same year. Peña began looking for a way to support them in their time of need, she said.
"I was just trying to juggle everything at the same time, and I knew coming back to school would really help me care more for them, especially when my father's health started to deteriorate," Pena said. "In my house, there was always lots of love, and we never lacked respect for my father and my mother. But in my personal life, I had hit rock bottom. When I registered at STC, I didn't even know what I was getting myself into. I just knew I wanted this so bad because I wanted to care for my parents and provide for my two boys at home and for myself. I was tired of being so limited and I knew I didn't want to live like this."
In time, Peña would rise from being a new student entering STC's Patient Care Technician Program to earning her Associate Degree in Nursing within a span of about six years.
Arriving at STC, Peña said she quickly found her mentors. Patient Care Technician Program Department Chair Sharon Rice, who Pena said helped deliver her first-born son when she was a working nurse, immediately made an impact on her education.
For Peña, Vocational Nursing instructor Sylvia Contreras also exemplified the proper empathy and professionalism she needs out in the field.
"Picture being a young and scared mother-to-be, and in the middle of everything you have this nurse with beautiful blond hair and blue eyes with the sincerest empathy by your bedside. Then imagine meeting her again years later as your instructor in college, that was Sharon (Rice)," Peña said. "Sylvia (Contreras) has a heart of gold and it inspired me every time I heard her speak and through the way she emphasized her body language and her hands to explain things. I can honestly say I've learned so much from both of them. Because of them, I knew I wanted to help people in the community."
Peña said she devoted all of her time and energy in learning and eventually managing her parent's care. She completed her Patient Care Technician certificate at STC within six months, moved straight into the college's Vocational Nursing Program to earn her vocational nursing certificate and finally received an Associate of Applied Science Degree in Nursing in 2020 at the beginning of COVID-19.
Due to the pandemic, Peña said she was among those who graduated that year without a ceremony. She was also among those in health care who were quickly sent to the frontlines as the illness began spreading among communities.
"I remember my last semester before I graduated from the ADN program, we were on vacation, during spring break, and then the college closed due to COVID-19. That was the semester I graduated, but we didn't have the ceremony," Pena said. "When I began my new job as a registered nurse, all I remember was being ready to fight it (COVID) because now I could. I felt that I had to fight the virus for my family, the community where I live, to protect them and to prove to myself that I could do it."
Now looking ahead to the next stage in her career, Peña said she is looking ahead to enroll in the Bachelor of Science in Nursing program at STC in the near future. Her work with patients has also inspired her own sons, who are now in college, to begin their education in health care.
On her days off, she offers comforting care to patients in hospice to give back to her community.
"For students going through what I went through I would tell them just to believe in themselves and be brave. They have to keep on going forward. Don't look back and love what you do," Pena said. "Don't be scared. Have faith. You will get there eventually. But more than anything, do things with love. I think that if you do, you will be alright."