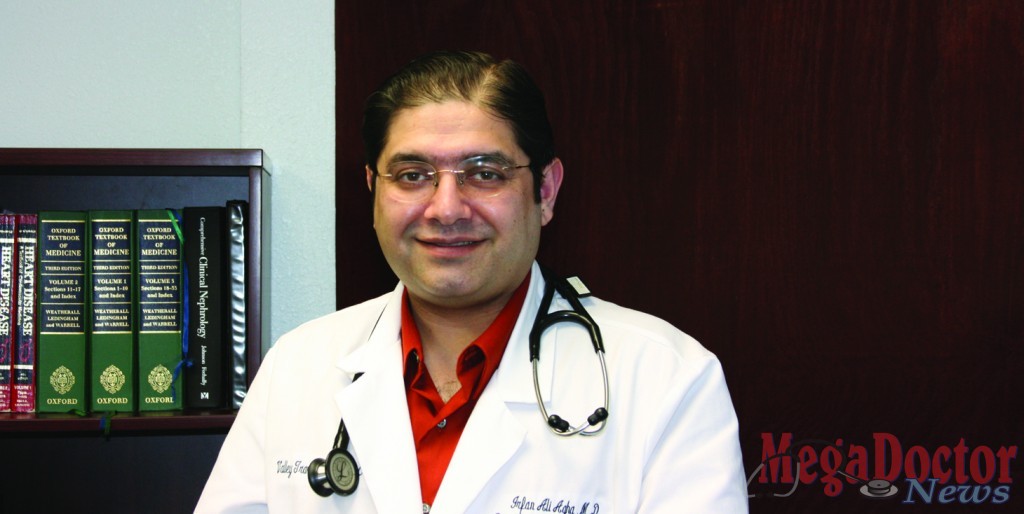 By Roberto Hugo Gonzalez
- Advertisement -

As originally First Published by MMHF now Mega Doctor News on January 2009
Publisher's note: It is important to say that in 2009 when we published this article many of our readers and leaders of the Rio Grande Valley were not aware that this facility existed. Even thought the procedure and treatment was saving lives and continues to do so, back then just a few people knew about it. As a medical publication we felt proud to have helped spread the word.
Many things have happened since then, other medical entities have also taken lead and have made this saving lives procedure available to the Rio Grande Valley.
The face-to-face conversation we had with Dr. Irfan A. Agha, Medical Director of South Texas Transplant Center at that time (January of 2009) had great impact with our readers. Read below in its entirety the interview.
If you have advanced and permanent kidney failure, a kidney transplant may be the treatment option, one which allows you to live much like you lived before your kidneys failed. Since the 1950s, when the first kidney transplants were performed, much has been learned about how to prevent rejection and minimize the side effects of medicines.
Not long ago, Valley residents with kidney failure had no option but to travel hundreds of miles north in search of a cure for this disease, which is rampant in our area. Luckily, for those of us in South Texas and northern Mexico, McAllen now has a kidney transplant center that will celebrate two successful years in operation this February.
McAllen Medical Center officially opened the South Texas Transplant Center in February of 2007. The medical team comprised of Dr. Irfan A. Agha, Medical Director, Dr. Daniel "Rick" McLean, Surgical Director of the transplant program, and Dr. Jose Luciano Farias – Jimenez, a transplant surgeon. The center actually started kidney transplantation towards the end of July of the same year. Since then, thirty-three kidney transplants have been successfully performed.
- Advertisement -

The program is run by Drs. Mclean, Farias, and Agha and has been an interesting, and challenging, but delicate matter for South Texas Health System, which operates five hospitals in the region. Dr. Agha came to the Valley two years ago to be part of a transplant center in an area that has provided an "amazing experience" for him. "When I was asked to come here, I thought I was going to find a small border dwelling," Dr. Agha told Mega Metropolis Health & Fitness. He added that what he found was a living, hustling and bustling town, which he enjoys very much.
Pancreas transplants possible procedure for the Valley
As our conversation continued with Dr. Agha, we asked him if only kidney transplant procedures were available. "At this time, we are only doing kidney transplantation at McAllen Medical Center. We intend, in the future to offer pancreas transplantation as well, however, at this time we have restricted ourselves to begin with kidney transplantation," Dr. Agha stated.
He pointed out that pancreas transplantation is a procedure that they marked for themselves to perform in the future; however, there was no starting date as of the time of this interview.
In the mean time, kidney failure is a serious disease affecting primarily obese people with Type 2 diabetes.  As pointed out by Dr. Agha, the nationwide kidney transplantation waiting list is approximately 65,000 patients. "The incidence of kidney disease in the Rio Grande Valley is very high because of Type 2 diabetes. The number of patients with chronic kidney disease in various stages needing dialysis is very high; consequently, there is a high need for transplantation," he stated.
Dr. Agha added that during the two years in operation they have been referred at least 800 patients. He clarified that this is not taking into account the number of patients already listed or being evaluated in San Antonio, Houston or Dallas. "There is a number of patients also who choose not to have the procedure done or considered not to be a transplant candidate," Dr. Agha stated.
Kidney transplant and organ rejection
As stated by Dr. Agha, nationally the acute rejection rates of transplanted kidneys are about 15 to 20 percent. "South Texas Transplant Center has a rejection level of about six percent, much lower than the national average. We are capable of taking care of any rejection processes locally," Dr. Agha said. Of note, an acute rejection is a serious immunological complication but does not automatically mean graft loss. In most cases it can be treated successfully.
How to fight to prevent this disease
Prevention and awareness are of paramount importance Dr. Agha emphasized. "Type 2 diabetes, previously known as adult onset diabetes, is no longer "adult onset", now we see children with Type 2 diabetes linked heavily to the epidemic of obesity that we see in this country," Dr. Agha stated. He explained that understanding this important fact is crucial.
"We see a lot of obesity in the Valley as well, and I think that there is a very strong genetic predisposition; that is a killer combination leading to a high incidence of Type 2 diabetes and kidney disease is a very malicious complication of diabetes."
Dr. Agha said that in order to prevent the disease effectively, the public has to be educated about obesity, about type 2 diabetes, about exercise and about the right foods.
He says that an education effort has to be taken at a valley wide level, especially in the Hispanic population. "It is important for them to understand to avoid gaining weight, to be screened for high blood pressure and diabetes." He continued to say if someone is diagnosed with diabetes, then they need to take strong and aggressive care of their diabetes to avoid future complications.
The right diet — one of the key ingredients
Diets high in fat and calories lead to obesity and hence diabetes. "I have learned to enjoy them over the past couple of years, but at the same time I think staying in the middle is important. I am not suggesting that we drastically change what we eat, but maybe, we can reduce portions and introduce some daily exercise," he stated.
Not many communities have the advantage of having a transplant center of any kind. The Valley has South Texas Transplant Center — is headquartered at McAllen Medical Center. The center performs all of their transplants and post transplant care locally. A satellite clinic has been set up in Harlingen to further help patients from the lower valley and will become operational soon.
Prior to South Texas Transplant Center being functional, patients had to go either to San Antonio, Houston, or Dallas to get this procedure done. After the transplantation patients had to travel back again for their post operative care.
Dr. Agha told Mega Metropolis Health & Fitness that a distance of several hundred miles imposes financial concerns for the patient and their families. "This is what we bring to the table; we bring proximity and personalized care."
People finding themselves in need of kidney transplantation are also in need of information about what happens next, and what happened next is a return to a normal life. "Certainly, the idea behind kidney transplantation is to restore patients to full productivity levels. Several of our patients have gone back to work and others are enjoying a healthy retirement."
Towards the end of our conversation, Dr. Agha made an appeal to our readers to think about kidney donation. He explained that there are thousands of people on the waiting list, and anyone getting on this list has to wait three to four years before a kidney becomes available.
During those three to four years, many on the list have to stay on dialysis. "If any of our readers has a loved one or a friend who is going through this ordeal, and they would like to step forward as a donor, they should call us and we will see if we can help make this happen," Dr. Agha said.
Every one should make their wishes known in case of an unfortunate accident, where organs might be recovered and utilized for the greater good. He added, however, that people don't have to die to become a donor; live donor kidney transplants have the best outcomes. "Every healthy human being can actually survive with one kidney. Therefore if you have a family member, a loved one who needs a kidney, think of donating a kidney to them." he finalized.
Dr. Irfan A. Agha trained in medicine in Pakistan and came to the United States ten years ago. He did a residency and fellowship at the Washington University in St. Louis and has been in the Valley for the past two years.
When Your Kidneys Fail
Healthy kidneys clean your blood by removing excess fluid, minerals, and wastes. They also make hormones that keep your bones strong and your blood healthy. When your kidneys fail, harmful wastes build up in your body, your blood pressure may rise, and your body may retain excess fluid and not make enough red blood cells. When this happens, you need treatment to replace the work of your failed kidneys.
How Transplantation Works
Kidney transplantation is a procedure that places a healthy kidney from another person into your body. This new kidney takes over the work of your two failed kidneys.
A surgeon places the new kidney inside your lower abdomen and connects the artery and vein of the new kidney to your artery and vein. Your blood flows through the new kidney, which makes urine, just like your own kidneys did when they were healthy. Unless they are causing infection or high blood pressure, your own kidneys are left in place.