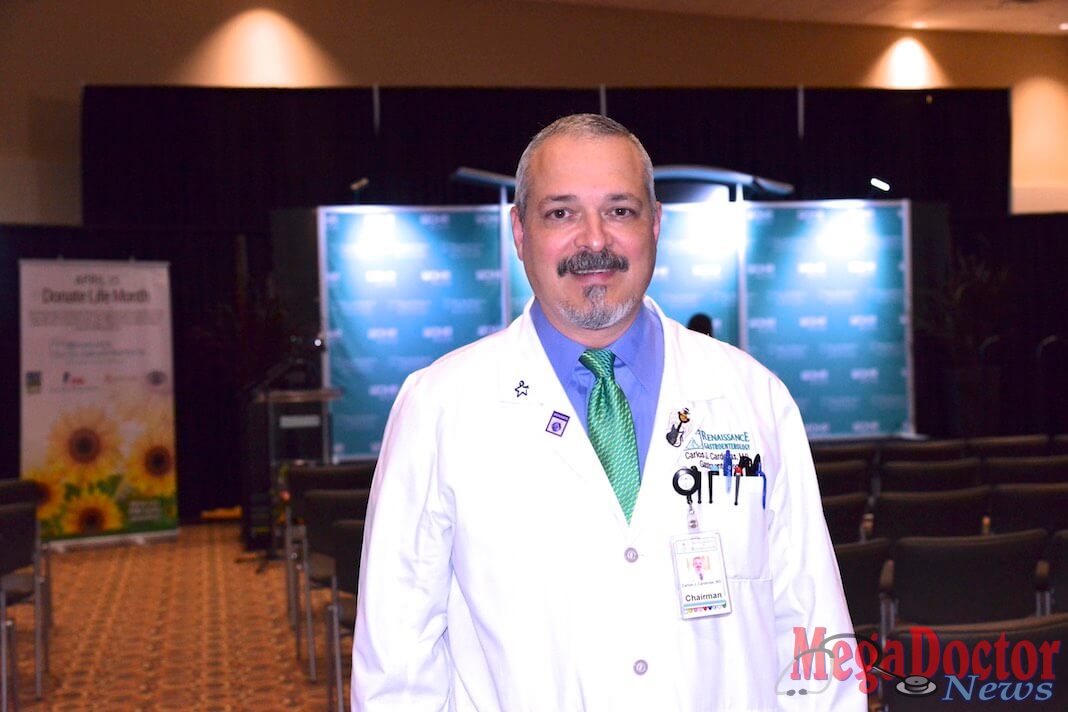 This accomplishment was almost four decades in the making
By Roberto Hugo Gonzalez
- Advertisement -

As originally published by Mega Doctor News in its newsprint edition May 2017 
During the time that I have been publishing Mega Doctor News, I have met many doctors. Physicians that have had the best education and training in healthcare in the best schools from all over the nation and abroad. I have also met doctors that save lives with specialties unique for this area.
Today, no one can argue, that Edinburg gastroenterologist, Dr. Carlos J. Cardenas is not one of them. Ever since he began to practice medicine he has been involved in events that benefit the people of the Valley. It does not matter what must be done, it does not matter if help is needed far away, he will be there. He is one physician that will always respond to the call for help.
This month, the Texas Medical Association (TMA) installed Carlos J. Cardenas, MD, as its 152nd president. He took office in a ceremony before TMA's House of Delegates policymaking body at TexMed, TMA's annual conference, in Houston. He will lead the extraordinary Texas Medical Association, America's largest state medical society for one year. It is an association that binds itself to important principals. Their Vision is to improve the health of all Texans. Their Mission is to stand up for Texas physicians by providing distinctive solutions to the challenges they encounter in the care of patients.
On Another Matter: Great news, The University of Texas Rio Grande Valley has named Dr. John H. Krouse as its new vice president for Medical Affairs and dean of the School of Medicine.
Krouse comes to the Valley from Temple University in Philadelphia, Pennsylvania, where he served as the senior associate dean for clinical affairs; president of Temple University Physicians; professor and chairman of the Department of Otolaryngology—Head and Neck Surgery; and director of the Head and Neck Institute at the Lewis Katz School of Medicine. He also served as associate dean for Graduate Medical Education from 2012 to 2015.
Nurses, Nurses, Nurses: Seniors from Pharr- San Juan- Alamo ISD that were dually enrolled at South Texas College, have become the first cohort of students in the nation to graduate with an Associate Degree in Nursing… straight out of high school. These graduates will help fill an increasing need for nurses.
- Advertisement -

Denouncing corruption in Medicaid: Dr. Juan D. Villarreal, the owner and operator of Harlingen Family Dentistry wrote a book about Government Corruption in Texas Medicaid. The book, released in 2017, is a must read. This is a powerful exposé of government corruption which had relentlessly targeted Texas dentists like himself. The book is called Truth Decay — How Government Corruption Caused a Political Scandal Victimizing Texas Dentists and How It Could Happen to You!
Proud to Know: Mega Doctor News has known of Dr. Leo Lopez III since he was attending South Texas College. We are so proud of him; all his accomplishments are inspiring. Today we are announcing that he won a National Honor.
Read more in this issue.
Related articles:
Dr. Carlos Cardenas Named President of Largest Medical Association
UTRGV names Dr. John H. Krouse new dean of the School of Medicine
BREAKING NEWS: First Cohort of Nursing High School Students Graduate from South Texas College