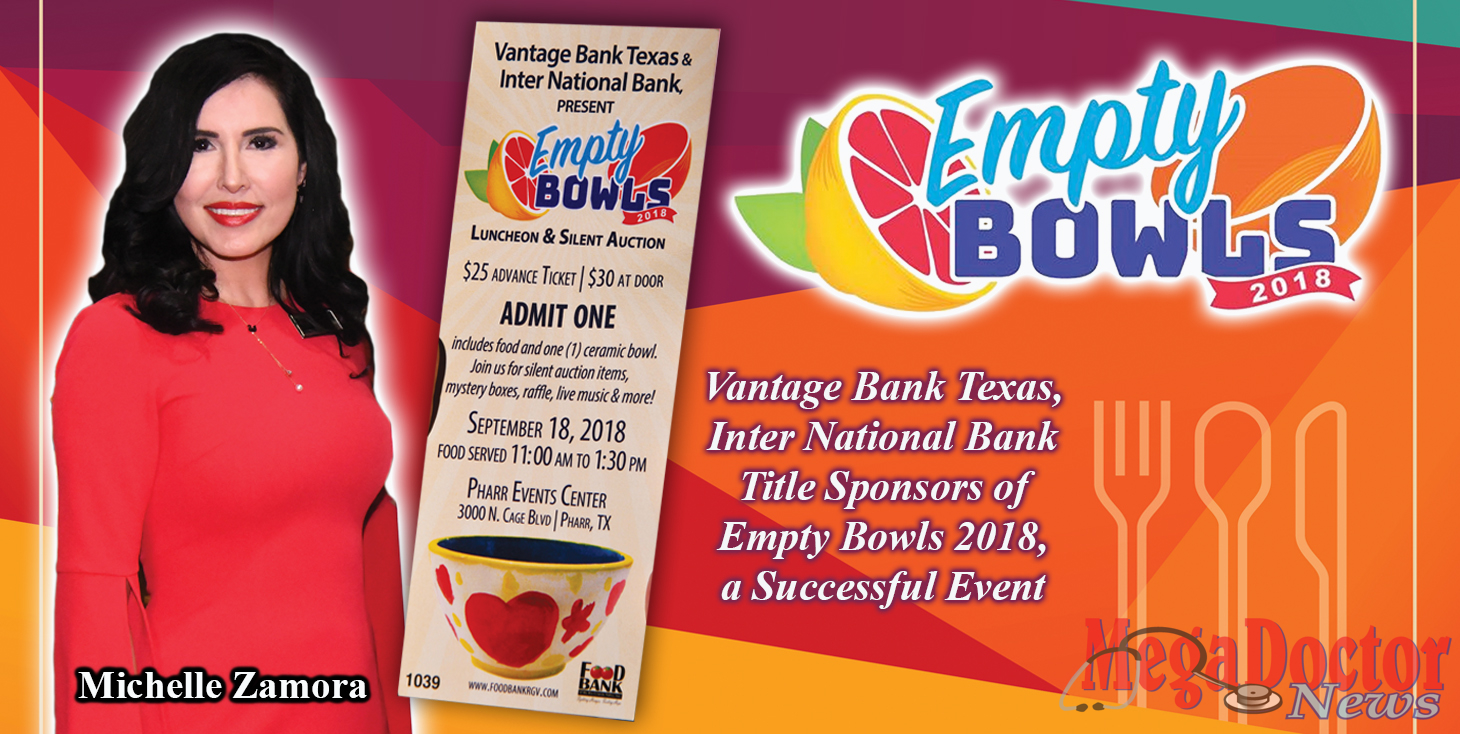 By Roberto Hugo Gonzalez
- Advertisement -

As originally published in Mega Doctor News newsprint edition October 2018
To see more pictures and the original design please click here.
Champions of Philanthropy Unite to Feed the Hungry
On September 18, 2018, two local banks showed their commitment to fighting hunger. Vantage Bank Texas and Inter National Bank became title sponsors of Empty Bowls 2018. This is the largest and signature fundraising event for the Food Bank RGV. The 13th Annual Empty Bowls Luncheon and Auction became, once again, the talk of the region, bringing together champions of philanthropy, all united to feed the hungry.
The staff and volunteers make a monumental effort to honor their commitment to improving lives through food assistance, nutrition education, and access to community services.
Michelle Lea Zamora, board president at the Food Bank of the Rio Grande Valley, welcomed everyone to Empty Bowls 2018.
"There is Hope for our Neighbors" – Michelle Zamora
- Advertisement -

She said, "I am so proud of what we do here at the food bank and to be able to share our story."
She went on to say, "There is hope for our neighbors, our senior feeding program feeds 9,000 seniors every month". She continued, "Thousands of volunteers provide 105 meals for every hour of work."
Michelle pointed out that through other programs, we teach and inspire families to eat healthy and grow strong. Millions of pounds of donated produce help families maintain overall wellness.
Food Bank RGV Providing More than Food to the Community
Besides, she said, "Our school tools program helps provide school supplies for low-income students, so they can see our partnerships across the Valley are growing stronger by the day as we continue to feed the hungry."
It is important to note that the four main food programs at the Food Bank of the Rio Grande Valley, Inc. are the Emergency Food Program, Commodity Supplemental Food Program (CSFP), Operation Kid Pack, Product Recovery and Kids Cafe.
Over 275 Partner Agencies Make Assistance Possible
According to the information provided to Texas Border Business, The Food Bank of the Rio Grande Valley is now the fourth largest food bank in Texas feeding 64,000 people every week. "We have 275 of our most compassionate partner agencies across the Rio Grande Valley."
Helping Families in Times of Disaster
Michelle said, "We answered the call during the recent flooding as a volunteer and donations coordinator for Hidalgo and Cameron counties by distributing one million pounds of food, water and cleaning supplies to over 40,000 families. These families still need our help."
One-of-a-Kind Ceramic Bowls Reminders of the Valley's Hungry
The Empty Bowls event featured one-of-a-kind ceramic bowls, which were included with the purchase of each ticket. The bowls are reminders of hunger faced by many residents in the Rio Grande Valley.
The local restaurants are champions too, they participated in providing samples of delicious food for ticket holders. Also, companies and individuals who donated silent auction items, helped the event to be exciting.
Local Business and Restaurant Sponsorships Made this Event Possible
Michelle, as president of the Food Bank board said, "Thank you to the following sponsors: Vantage Bank Texas, Inter National Bank, Walmart, IBC Bank, Whataburger, Junior's Supermarket, Pena Eye Institute, Pharr EDC, Santa Fe Steakhouse, University Draft House, Republic of the Rio Grande.
Corporate, Business and Individuals made Generous Donations
BBVA Compass, GE Aviation, Frost Bank, Shepard Walton King, Atlas & Hall, Law Office of Michael Flanagan, McAllen Mediation Center-Scott McLain, UPS Employees, Walsh McGurk Cordova Nixon Law Office, Toyota of Pharr, Noble Charities Foundation, Donna EDC, Mission Regional Medical Center, Women's Center of Excellence, Bank of South Texas, Chanin Engineering, UTRGV, JJ and Peggy Moore, Penske, Merit Energy, Texas Regional Bank, Superior HealthPlan, Brad Cecil and Associates, John De la Garza, Jr's Supermarket and many, many more!
To see more pictures and the original design please click here.