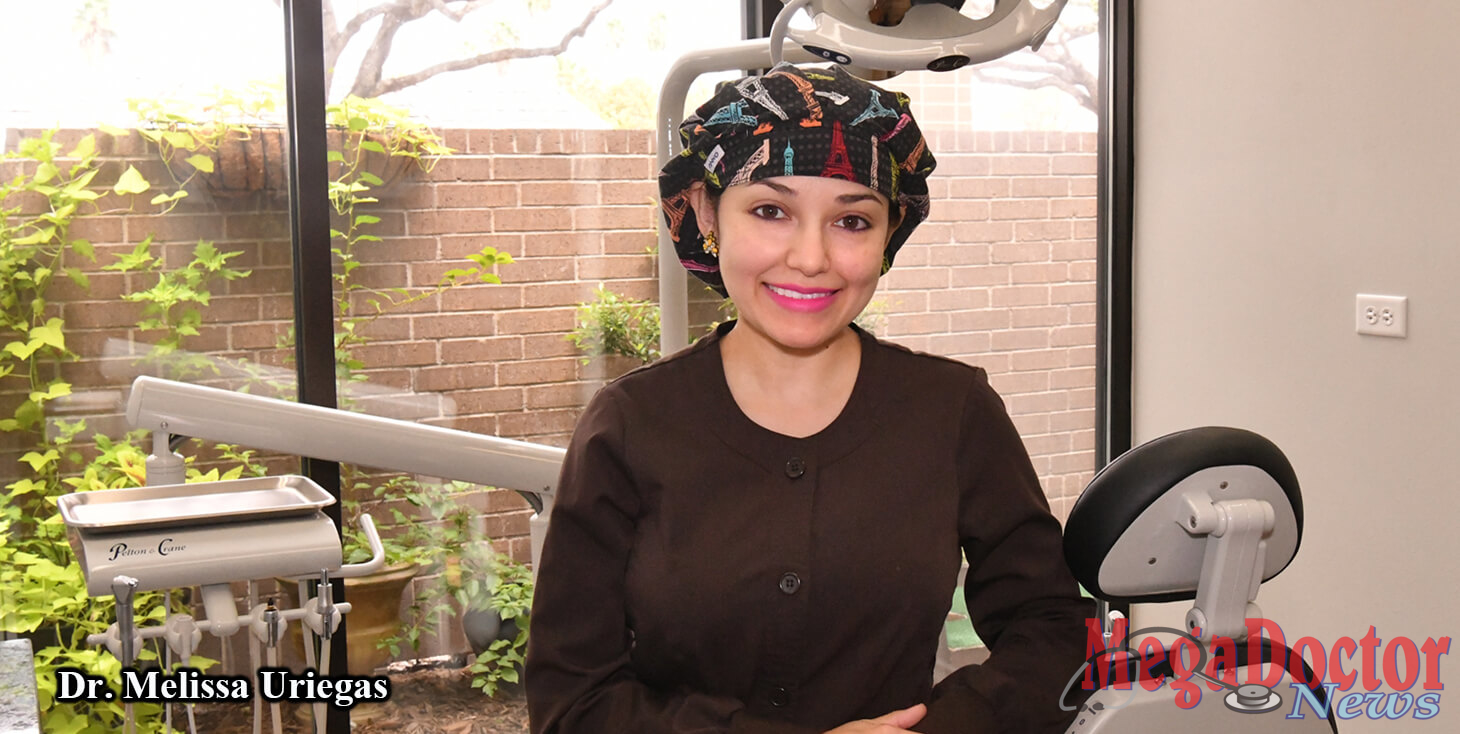 As originally published in Mega Doctor News newsprint edition October 2018 
Melissa Uriegas, a doctor in dentistry, is working at her own practice named Uriegas Dentistry as an energetic professional who is eager to serve her patients. Just recently, she celebrated a ribbon cutting ceremony and completed the first year in her new practice location. The McAllen Chamber of Commerce did an excellent work inviting members to attend.
Dr. Uriegas has a lot to offer, she graduated from one of the best dental schools in Texas and has become a wonderful example for others. Her work and dedication to her industry inspire students with goals to become a dental doctor.
She is also a VAMOS scholar. This is unique because Dr. Uriegas shared with Mega Doctor News that being a VAMOS scholar made a big difference in her life. The program gave her the opportunity to study versus having to work to sustain her education. Just like Dr. Uriegas, many other former scholars have become professionals because of VAMOS. The VAMOS effort is paying off.
The alliance, which was started by Alonzo Cantu with the help of family and close friends has become a blessing for the younger generations in the Rio Grande Valley. Currently, VAMOS is being led by a board of very dedicated residents; Johnny Oliva is their president. Daisy Martinez, the executive director for VAMOS is always available for the students participating in the scholarship program.
The Valley Alliance of Mentors for Opportunities VAMOS recently celebrated its 22ndAnnual banquet. This was more than special, usually one million dollars in dispersed among the student recipients of the scholarship, this year VAMOS awarded to 85 deserving students 1.4 million dollars. That deserves a loud WOW!
On another note, The UTRGV School of Medicine continues its mission to close gaps in access to health care and expand educational opportunities for its students with its three Area Health Education Centers(AHEC).
The School of Medicine celebrated the opening of its AHEC on Sept. 20 in La Victoria in Starr County. Other grand openings are being planned for San Carlos in Hidalgo County and at the Bob Clark Center in Cameron County.
Important news: The Minnesota Department of Health (MDH) issued the following statement: they are investigating the reported cases of acute flaccid myelitis (AFM) that occurred since mid-September in Minnesota children.
AFM is a polio-like syndrome that can cause paralysis or muscle weakness. It is a rare but potentially severe condition that can arise following an infection, and in some cases, it can lead to death, paralysis, or other long-term health impacts.
AFM affects the nervous system, causing muscles to weaken. It can be a complication following a viral infection, but environmental and genetic factors may also contribute to its development. AFM symptoms include sudden muscle weakness in the arms or legs, sometimes following a respiratory illness. There are other symptoms; you will find more information about them inside this issue.
Also, in this issue, the U.S. Drug Enforcement Administration (DEA) reports that physicians, pharmacies and the public have been targeted by criminals posing as DEA agents. The DEA has issued notices to registrants and has provided the following advisory information: The United States Drug Enforcement Administration (DEA) is aware that registrants are receiving telephone calls and emails by criminals identifying themselves as DEA employees or other law enforcement personnel. The criminals mask their telephone number on caller ID by showing the DEA Registration Support 800 number. There is more info inside.
Thank you for being our readers. Enjoy!
---
Articles mentioned above:
One Visit to The Dentist Inspired Her to Be a Doctor of Dentistry
School of Medicine hosts First Grand Opening for Area Health Education Centers
https://megadoctornews.com/medical-alert-a-polio-like-syndrome-that-can-cause-paralysis-or-muscle-weakness-in-children-appears-to-be-on-the-upswing/