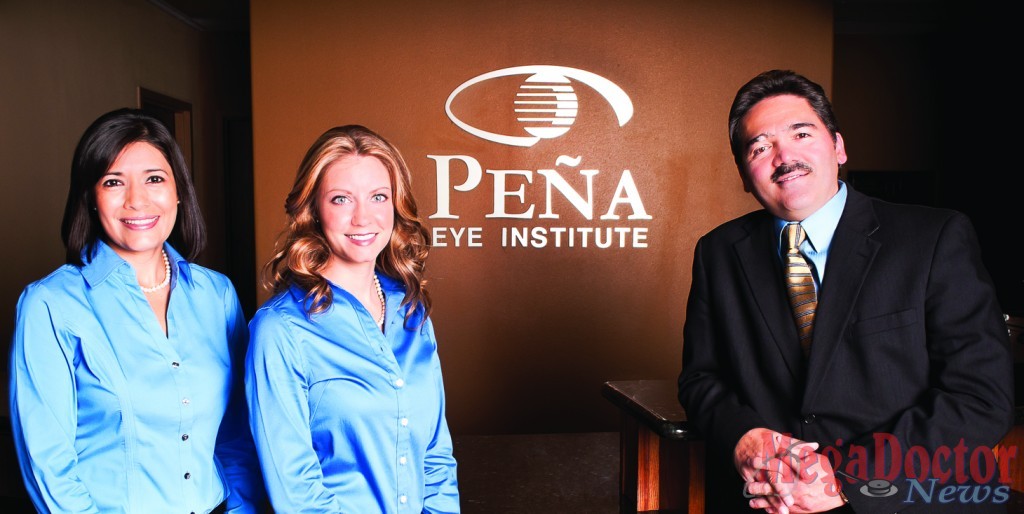 By Roberto Hugo Gonzalez
- Advertisement -

As originally published by Mega Doctor News newsprint Edition
Dr. Raul Peña, known as 'Raulito', is an Ophthalmologist specializing in the treatment of Cataracts and Lasik surgery. He owns and manages the Peña Eye Institute known to provide the latest technology in the field like blade-free laser vision correction and other eye care services to patients in the Rio Grande Valley, Mexico, and other countries.  He is known to have kept many of the old eyeglasses his treated patients don't need anymore and donate them to those in need.
Dr. Peña was born in McAllen, Texas and grew up in Reynosa, Mexico where he attended Colegio Tamaulipas elementary school and Secundaria Mugica junior high.  Later he attended McAllen High School and went to Medical School at the Universidad de Monterrey. Dr. Peña performed Ophthalmology research at the Retina Institute of Maryland where he published medical articles and gave talks to colleagues about his research at national meetings. He finished two medical specialties; the first was Internal Medicine at Scott & White Medical Center in Temple, Texas, followed by Ophthalmology Residency at the University of Cincinnati where he was Chief Resident his third year.
Throughout his training in medical school he would work at JC Penney and Mike's Man Shop during summer and Christmas vacations.  "I was doing what I needed to do to better myself," he said. Dr. Peña came back to the Valley over a decade ago and over all he has more than 15 years of experience in his field.
When asked what inspired him to go into this field he replied, "I was six years old when I wanted to be a doctor. I was nine when I wanted to be a doctor for the Dallas Cowboys. Well, I'm pretty stubborn, so here I am, doing what I love to do. I always knew I wanted to come back home; and best of all I'm taking care of Valley patients, Dallas Cowboys and their families," Dr. Peña stated.
Many of you know Dr. Peña is the Valley's official IntraLasik surgeon for the Dallas Cowboys, and has performed the IntraLasik procedure on 11 professional football players from Houston, San Diego, Miami, and our own Dallas Cowboys and many of their family members (at the time this article was written). In fact, Dallas Cowboy tight end Martellus Bennet called Dr. Peña and his wife, Siggi Bennet had the IntraLasik procedure at the Peña Eye Institute two weeks ago. She is seeing better than 20/20.
Dr. Peña is active with the communities of the Valley with his services, as he believes in giving back and helping others in need. He told Mega Metropolis (now Mega Doctor News) that when he was about 19 years old he was involved in a very bad accident as he was coming back from his biochemistry finals.
- Advertisement -

"This was a bad accident however nothing happened to me and ever since I have been wondering what my purpose in life is; why did God keep me here." He went on to say, "Because I survived that accident, I have a beautiful wife and family. Since then, we've been trying to find out why I survived, and we have been working to help everybody we can along the way."
He has traveled to Mexico and visited orphanages and schools where he has provided his expertise and has supported them with anything they have needed. In the U.S. he tries to do at least one cataract surgery a month at no charge. He says that nuns and doctors refer people who receive this surgery; and Doctors Hospital at Renaissance provides use of the facilities and their personnel at little or no cost to the patient.
Every year, the Peña Eye Institute also sponsors the Peña Eye Institute-Dallas Cowboys Festival to raise funds for local charities. At one time, they joined with the KTEX Ten Man Jam on December 3 to benefit the Food Bank of the RGV and Pharr Crime Stoppers.  For more information call 956-661-8733 to find out how you can meet the Dallas Cowboys Cheerleaders, listen to a great concert and help these charities.
"I take a line from a song, "You Get What You Give" (song by the New Radicals). So in life you give it all you've got, you'll get it back in blessings tenfold," he stated comfortably. "In our case we give to give, that is something that we instill in our kids."
When asked if there is a part in his career that he feels passionately called to do, he replied, "Serving and helping people has always been my passion combined with Ophthalmology, which is my specialty. I am honored to help my patients with their vision needs."
"When you love and believe in your profession there are really no challenges; you learn to appreciate and value all the aspects of your profession and you concentrate on doing the best for your patients."
Dr. Peña uses the latest advances in blade-free laser vision correction to reduce or eliminate his patients' dependence on glasses and contact lenses.  Blade-free laser vision correction provides patients with a new view of the world. Laser vision correction procedures like blade-free LASIK have been performed thousands of times across the United States and elsewhere in the world with proven dependability.
He also provides the latest Wavefront Blade-free LASIK and cataract surgery with intraocular lens implants for patients who wish to improve their vision. Dr. Peña offers the latest in refractive surgery with Zyoptix™ blade-free Lasik; a procedure he performed on his own children, Stephen and Alexandra as soon as they turned 18 years old.
He also performs the latest in cataract surgery with the Crystalens and the Tecnis Multifocal lens implant where our patient can see near, far, and in between without the need for glasses. Dr. Peña has performed this procedure on his father and many family members and thousands of patients with excellent results.
Dr. Peña has put together a great team of professionals, among them Dr. Sandra Flores and Dr. Sarah Forrest.  Dr. Flores is originally from Hobbs, New Mexico and has a Bachelor of Arts from Texas Tech University and a Doctorate of Optometry from the University of Houston, College of Optometry. She told Mega Metropolis that she and her husband had an opportunity to visit the Valley shortly after graduation. "We fell in love with the Valley people and the charm of this family oriented community."
Dr. Sarah Forrest is originally from Jackson, Missouri. She has a Bachelor of Arts from Westminster College in Missouri and a Doctorate of Optometry from Northeastern State University Oklahoma, College of Optometry. She and her husband chose to settle in the Rio Grande Valley because they both loved the culture and community feel. "My husband and I enjoy the great weather."
Dr. Peña is married to his High School Sweetheart Suzanne (McVea Chapa) Peña. "We met at McAllen High School precisely when I was having a drink of water she passed by me and dropped her books; I picked them up, the rest is history." Dr. Peña said that his wife worked during the time he was studying to be an ophthalmologist. "She is a big part of who I am today." He and Suzanne dated for several years and married seven years later, they now have four children Suzie 25, Stephen 23, Alexandra 19, and Samantha 14. Suzie is getting married in January of 2012.
Dr. Peña loves his parents, Ruben Peña and Estela Uresti de Peña and acknowledges that their support, love, and advice gave him the strong foundation he needed in life for success.  He also never forgets where he came from and constantly thanks God for everything he has achieved.
He currently serves his community and has been board member with The Greater Mission Chamber of Commerce and is a Faithful member of St. Paul's Church in Mission. You will often see him participating in fundraisers as a sponsor or promoting awareness.
Peña Eye Institute is proud to be the Valley's only Crystalens Center of Excellence allowing patients to see better and live their lives without cataracts and is the Valley's Official IntraLasik Surgery Institute for the Dallas Cowboys.
Peña Eye Institute is also the only location south of San Antonio to utilize the Technolas Perfect Vision Excimer Laser Technology.
Dr. Peña focuses on personal service and individual attention, which is why he takes the time to meet with each of his surgery patients and thoroughly discuss the treatment options that are available at his practice. He is a proud member of the American Academy of Ophthalmology and the American Society of Cataract and Refractive Surgery.
Over all Dr. Peña exceeds Mega Doctor News' expectations as a professional and a man who serves others; that is why he is our Mega Doctor for the month of November 2011.
Peña Eye Institute is located at 1400 E. Ridge Rd. Ste. 10, McAllen, Texas 78503. Phone: 956-661-U-SEE (8733) Fax: 956-661-8724. For more information you can visit: www.penaeye.com.
Written in November 2011 by Roberto Hugo Gonzalez the 2009 SBA Journalist of the Year Award Winner & The 2009 and 2012 Paul Harris Award recipient.