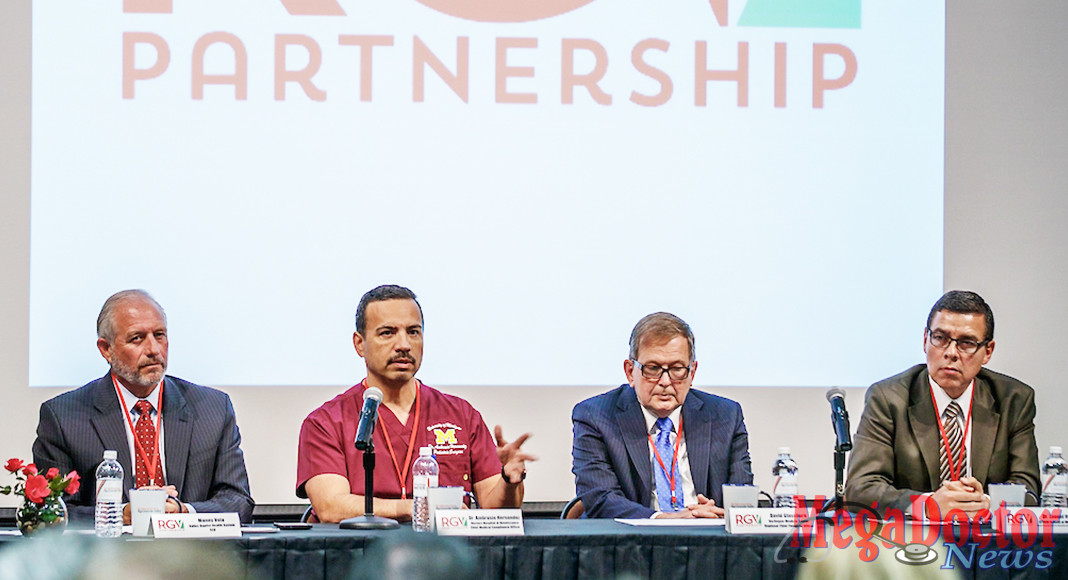 Mega Doctor News
- Advertisement -

HARLINGEN, TEXAS – JAN. 27, 2017 – Dr. Leonel Vela, senior associate dean for Education and Academic Affairs at The UTRGV Valley School of Medicine, participated in a panel discussion with leaders from three area hospitals Thursday night and provided an update on the SOM's progress for visiting legislators.
The panel discussion, held at the UTRGV Clinical Education Building in Harlingen, also featured:
·         Dr. Ambrosio Hernandez, medical director of surgical services at Rio Grande Valley Driscoll Children's Hospital, chief medical compliance officer for Doctors Hospital at Renaissance, and mayor of the City of Pharr.
·         David Glassburn, regional CFO of Harlingen Medical Center.
·         And Manuel "Manny" Vela, president and CEO of Valley Baptist Health System. 
Dr. Vela said having a medical school in the Valley provides more local students an opportunity to pursue the dream of becoming a physician. Born in San Juan and raised in Pharr, Vela shared his own story of having to leave the Valley to get the medical education and training to become a doctor. Many of his peers did not get that chance, he said.
Today, about 38 percent of the UTRGV School of Medicine's charter class is from the Valley, he told legislators.
- Advertisement -

"I think back to my generation. And when I see these young people, I wonder how many of them would have had to forgo that dream if we did not have a medical school," he said. "These are the physicians who will have the opportunity now to complete their training, and many of them will stay here to address the healthcare challenges we have here in the Valley.
"In our medical school, we're not only preparing them to be excellent physicians, but physicians who understand the unique needs that we have here in our community," Vela said.
Legislators from all over Texas and members of their staffs were in the Valley as part of the Rio Grande Partnership's 2017 Legislative Tour, where they learned about issues facing the Valley.
The panelists updated legislators on how the School of Medicine is providing opportunities for economic growth and research, and shared how its residency programs are helping close gaps in healthcare access in a medically underserved area.
They also asked legislators to consider continuing their support of funding more residency slots, and the continuation of the Medicaid 1115 Waiver.
The 2017 Legislative tour continued Friday with a tour of UTRGV's Brownsville Campus, and on Saturday with a visit to Raymondville. The group returns to Austin on Sunday, Jan. 29.
The Lower Rio Grande Valley visit was organized by the RGV Partnership and UTRGV.