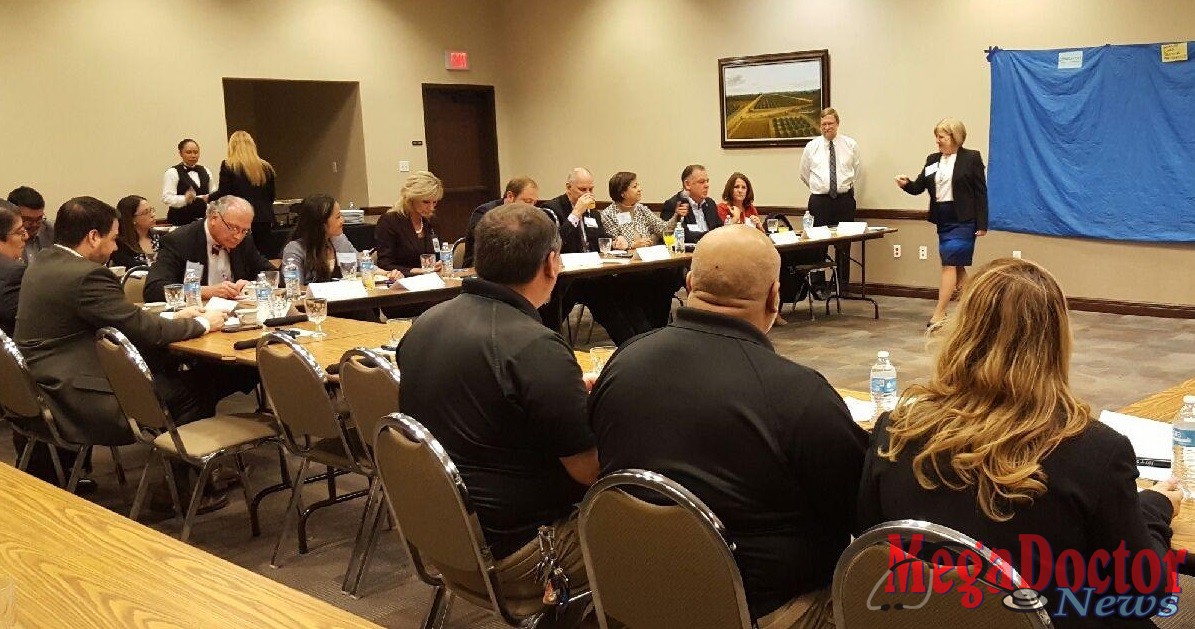 Mega Doctor News
MCALLEN, TX (January 30 2017) – South Texas College is seeking to bring as many leaders as possible from across the Valley to share their concerns about industry in the region
Working with decision makers in the healthcare and information technology industries, the goal is to gather those who recognize that there is a high demand for growth in these sectors throughout the Valley.
In a two-day event held at the Weslaco Chamber of Commerce on Jan. 24-25, the RGV Healthcare Industry Partnership and the RGV Information Technology Partnership, in collaboration with representatives from STC's Texas Regional STEM Degree Accelerator (TRSDSA), RGV FOCUS, McAllen Economic Development Corporation, Harlingen Chamber of Commerce, Weslaco EDC, Workforce Solutions-Hidalgo, and the Rio South Texas Economic Council continued their discussion to determine priorities for collective action among professionals in healthcare and information technology.
"Our plan is to get as many leaders from across the Valley, from Brownsville to Rio Grande City, to come to the table and share their concerns for their industry," said Valerie Gamez, Project Director for TRSDA at South Texas College. "I am excited that so many of them already have the idea: we want to collaborate. We need to be sitting at this table to share our growth plans, what is needed to achieve them, and how we can collaborate to make things happen."
The meeting was the second for IT professionals, who initially met on Nov. 15. During the first meeting, employers identified the most important opportunities or drivers of growth for Information Technology intensive sectors in the region—such as growing markets, advancing technologies, policy catalysts, and other forces.
The meeting for healthcare professionals was a historic first. Leaders from all the major hospitals and other healthcare sectors in the Valley participated in very candid conversations about the growing needs of the Valley and have agreed to a working partnership to improve healthcare in the Rio Grande Valley community.
Healthcare administrators  who attended the meeting included Cris Rivera, CEO of Rio Grande Rio Regional Hospital in McAllen; Todd Mann, CEO of McAllen Medical Center; Leslie Bingham, CEO of Valley Baptist Medical Center in Brownsville; Joe Rodriguez, CEO of South Texas Behavioral Center; Austin Cleveland, CEO of Cornerstone Healthcare Group; Solara Hospital CEOs Cary Montalvo and Hari Namboodiri; Jeannie Harden MD, Medical Director of Weslaco Regional Rehabilitation Hospital; Eloy Garza, Jr. from Starr County Memorial Hospital; R. Armour Forse MD, Director of Education at  Doctors Hospital at Renaissance; as well as Jayson Valerio, Dean of the Division of Nursing & Allied Health (NAH) at South Texas College.
"We met today to start working collaboratively to improve the healthcare of the Rio Grande Valley," said Rio Grande Regional Hospital CEO Cris Rivera. "A lot of the discussion dealt with our ability to share information to improve patient care, our ability to work together to recruit new talent to our area, and our ability to start promoting a very positive message showing that facilities in the Rio Grande Valley provide outstanding service like none other."
"Whatever needs they have, we need to know about them so we can embed their needs into our nursing curriculum," said Jayson Valerio. "We are very fortunate that South Texas College and its NAH campus have cohesive relationships with all the nurses in the Rio Grande Valley. We meet monthly with them to discuss their concerns as well as our concerns. At the end of the day, we come up with solutions in order to foster quality and competent care for the people in the community."
The second meeting for IT professionals took place on Jan. 25th. The gathering brought together IT business owners and leaders to talk about ways to grow the industry in the region, develop a set of action items, and form the teams necessary to pursue these priorities in the region.
Those in attendance at the IT meeting were Co-chair Adam Pearson, Sr. Vice President – Information Security Officer at Lone Star National Bank; Co-chair Jay Leal, Vice President and Chief Information Officer at Inter National Bank; Wirelessnerd.com Director and Code RGV founder Drew Lentz; Rene Ramirez, Vice President of Rioco/Mayfair; Dr. Luzelma Canales, Executive Director for RGV FOCUS/Educate Texas; Stephanie Hawk and Mauricio Pina, Catalysts with Cobalt Digital Marketing; David Irizarry, Assistant Administrator with Rio Grande Regional Hospital; and Brandon Ede, CIO at First Community Bank.
"I think it's important that we bring as many IT people to the table as possible, but I think the advantage of this meeting and others we have had is that we are bringing in important community members like the EDCs, Chambers of Commerce and college to collaborate in order to get our region up to speed," said Rene Ramirez, co-founder of Code RGV and IT Director with Rioco/Riofair Partners LLC and Mayfair Properties. "IT growth can bring many opportunities to the Rio Grande Valley. There is a huge need for it all over the world, and we need to take advantage of our talent here and make the right connections so we can make that growth happen."
The TRSDA was created as a result of a grant by Educate Texas, which awarded STC the lead on an $800,000 grant to help support the training of approximately 200 (67 per year) K-12, college and university faculty over the next three years.  A major initiative is to provide the pathway between champions of industry and the students who will one day lead the region in 21st century STEM careers.
Opportunities for open dialogue between industry and educators create immense potential not only for the healthcare care industry, but for IT-intensive industry growth in the region as well.
The next meetings for healthcare and IT professionals are slated for early March. For more information about TRSDA or upcoming meetings, please contact Valerie Gamez, Project Director for STC TRSDA at (956) 872-3545 or email at vgamez3@southtexascollege.edu.