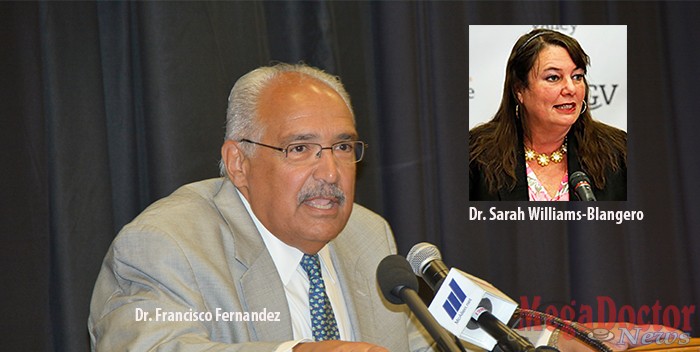 Mega Doctor News
Dr. Francisco Fernandez, inaugural dean of The University of Texas Rio Grande Valley School of Medicine, and Dr. Sarah Williams-Blangero, director of the South Texas Diabetes and Obesity Institute, are scheduled to speak at the third annual MORE Health @UTPA, which runs from April 30-May 2 at The University of Texas-Pan American.
Fernandez will deliver the keynote address, "RGV's 3 D's: Depression-Dementia-Diabetes Continuum" on April 30 at the UTPA Ballroom. Williams-Blangero will discuss "The South Texas Diabetes and Obesity Institute: Advancing Health and Research in the Valley" on May 1 in the Health Sciences and Human Services East Building Room 1.114. Both speeches will begin at 9 a.m. on their respective days.
A panel discussion will follow Williams-Blangero's speech and will include Dr. Jose Gamez, a pediatric endocrinologist with South Texas Health System; Dr. Rob Gilkerson, assistant professor of biology at UTPA; Eduardo Olivarez, chief administrative officer of the Hidalgo County Health Department; and Dr. Manish Singh, medical director of the Bariatric and Metabolic Institute at Doctors Hospital at Renaissance.
With the theme "Por Salud y Vida," the three-day event will include research presentations from students and faculty. On Friday, students from various disciplines within the college will present their work at a student inter-professional education and practice demonstration on how they collaborated in determining the best treatment for a fictitious patient.
UTPA College of Health Sciences and Human Services Dr. John Ronnau said the college chose the 'Por Salud Y Vida' theme to highlight what the college, medical school and the institute were doing in the fight against diabetes and related health issues.
"The initial premise, purpose behind MORE Health is to certainly make people aware of all the good things in the college, but event more importantly, to promote health and wellness in the community, to give attention to the topic of health," Ronnau said. "We know that it has to be a continuous effort to give people the education and the information they need to make healthy choices and to help them understand why some foods are better than others for our health and understand the importance of movement and exercise. That's what really this event is all about."
MORE Health @UTPA culminates with its Community Day May 2 with physical activity events and a community health fair.
The day starts with a 5K Rehab Club Fun Run at 7:30 a.m., followed by Bucky's Fun Health Walk at 10 a.m. Both walk/run events will be at the Bronc Trail and are open to the public.
A Community Health Fair will be held from 9 a.m. to 3 p.m. at the UTPA Ballroom and Quad and will include information booths, vaccinations, food and games.
Register at httpss://www.eventbrite.com/e/more-health-utpa-2015-tickets-16298635658 to participate in MORE Health @UTPA events.