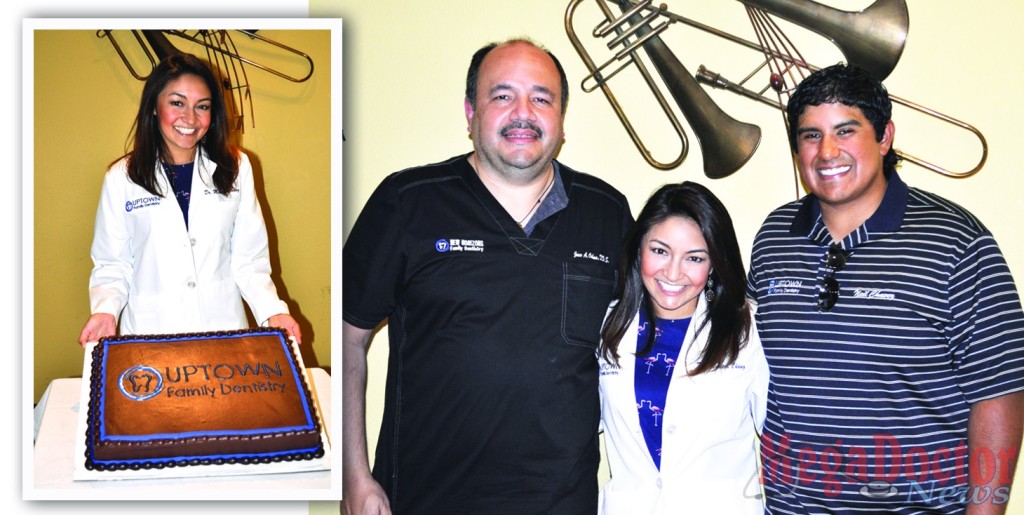 Mega Doctor News
By Roberto Hugo Gonzalez
Recently, Dr. Maritza Chavez inaugurated a second Uptown Family Dentistry location in McAllen it is now open and serving the area residents. Dr. Chavez had been operating New Horizons Family Dentistry in Mission, Texas.
The new location is a state-of-the-art dentistry clinic that provides an extraordinary dental service with advanced dental technology.
Dr. Chavez told Mega Doctor News that she had wanted to be a dentist since she was a little girl. She said, "I had no idea what it was or what they did, I just knew I wanted to be a dentist." She remembers having bad baby teeth. She emphasizes, "I mean really bad… I ate too much candy, and all of that stuff."
The bad part of all of that is her family had no insurance or any means for her to visit with a dentist.  "I just thought that a dentist was the greatest thing in the world."
As she got older, she attended UT Pan American and earned very good grades. She said, "I just thought, why not… you know, go for this. I've been thinking about it since I was a little kid"
Dr. Chavez graduated from the University of Texas Pan American in 2008. She became a teacher for the Pharr-San Juan-Alamo Independent School District for one year and right after decided to go to dental school at UT Health Science Center-San Antonio.
- Advertisement -

Uptown Family Dentistry is a large facility with everything necessary to take care of customers. She said, "It's only been about three years or so; a big part of it is due to my husband, Neil Chavez." According to Dr. Chavez, "He is great with numbers."
Dr. Chavez said that they had always had the goal of having their own business, even while she was in dental school. "It was all a matter of having the right funding, saving a lot, being cautious, and very disciplined in order to purchase the practice." Her plans now are to concentrate on growing the two practices as much as they can.
"We're very happy with the team that we have so we are just concentrating on making this the best."
Her husband, Neil, is the director of operations for both locations, Uptown Family Dentistry in McAllen, and New Horizons Family Dentistry in Mission.
Neil has a degree in accounting and lots of energy to help grow the practices.
Dr. Jose Ochoa is the associate dentist; he primarily practices out of the Mission location. If you are interested in any type of dental implant, he is the doctor to see.
Neil said, "It's been about two years and one month since Dr. Chavez and I got back to the Valley when she graduated from dental school." He continued, "It's been a great two years."
Neil thanked Lone Star National Bank because through them they were able to finance the new Uptown Family Dentistry operations."
He also had kind words for the staff. "We couldn't do it without our staff, Alida is one of our main staff members; Lorie is the office manager here at Uptown; and then Ruby is our office manager at our location in Mission."
He also thanked Dr. Ochoa who has been a big blessing to them. "He allowed us to grow our practice and do things that not every dental practice can do in the Valley."
Alida Reyes said, "Thank you so much Mr. Chavez, we want to exceed your expectations so this business thrives and you can always be successful."
Dr. Ochoa said they based their practice on education. "We want to be strong in supporting all families with the education to prevent any further diseases, and any dental treatments that might be preventable."
Dr. Maritza Chavez invites you to Uptown Family Dentistry, conveniently located at: 4500 N. 10th St., Suite 20, in McAllen, Texas 78504.    MDN