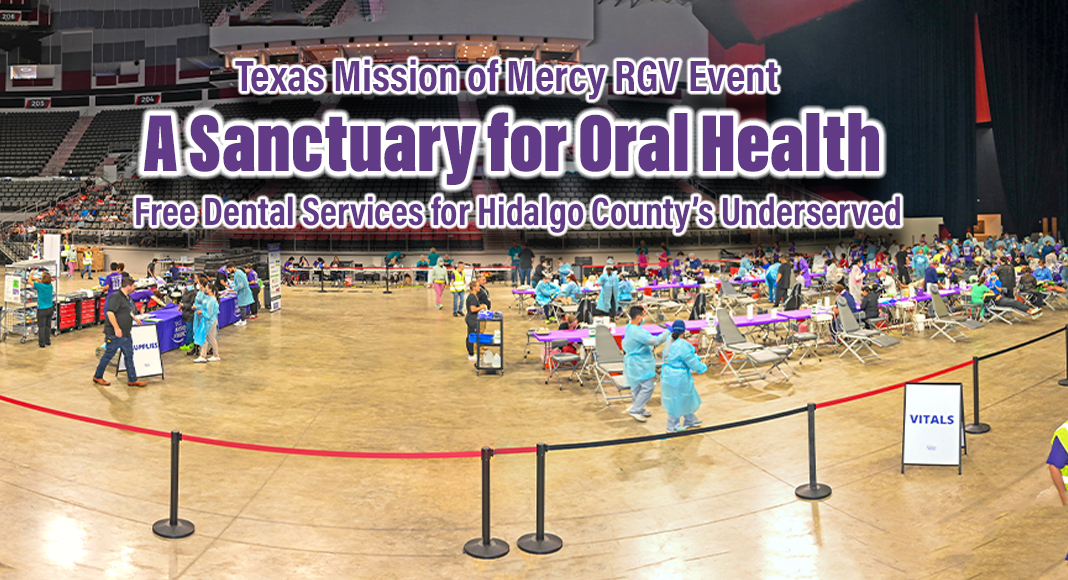 Mega Doctor News
By Roberto Hugo González
On September 15 and 16, 2023, the Bert Ogden Arena in Edinburg, Texas, transformed into a sanctuary for oral health. As part of an extraordinary collaboration, the Texas Mission of Mercy RGV (TMOM RGV) offered free dental services to the underserved population of Hidalgo County. It was an event defined by community, compassion, and a relentless quest for public welfare.
Jaime Longoria, Executive Director of the Hidalgo County Community Service Agency, started the press conference by stating, "Anytime we can assist families in Hidalgo County is a good day."
Today marks a historic occasion for Hidalgo County as community leaders, volunteers, and dental professionals gather to provide free dental services through the Texas Mission of Mercy (TMOM). This initiative, spearheaded by Dr. Carlos Cruz, has been in the making for over a year, involving multiple stakeholders committed to making a difference in a county where the need is dire.
According to Hidalgo County Judge Richard F. Cortez, today's event speaks volumes about the community and its capability to rally around essential causes. Hidalgo County has long been a region with immense need for such healthcare services. "37% of the families living in Hidalgo County that have children are living in poverty," said Judge Cortez, highlighting the struggles many families face in accessing essential healthcare, including dental services.
Financial backing for this initiative came in part from the Hidalgo County Community Service Agency, which provided $65,000 from Community Service Block Grant (CSBG) funds. These crucial funds were earmarked for covering administrative and logistical costs, directly contributing to the operational success of the event. "This takes cooperation from many people," Judge Cortez emphasized, giving a special shout-out to Jaime Longoria, the Executive Director of the Hidalgo County Community Service Agency, and Hidalgo County Commissioner Ellie Torres for their support.
The event drew dental professionals from all corners of Texas and even as far away as California, which showed the collective spirit of humanitarianism that transcends state lines. Judge Cortez expressed gratitude for this professional turnout, stating that it speaks very well for their desire to make a tangible difference in people's lives.
While today's event focuses on dental healthcare, its implications are far-reaching. It models how communities can unite, pool resources, and leverage organizational strengths to address pressing healthcare needs. More than just filling cavities and providing dental check-ups, the Texas Mission of Mercy event delivers hope and restores dignity to hundreds of families in Hidalgo County.
As the proceedings began, Judge Cortez handed over the platform to Dr. Carlos Cruz, the visionary leader behind the TMOM event in Hidalgo County. As dental chairs fill and volunteers get to work, there's no doubt that today is a day of celebration, not just for those who will walk away with healthier smiles, but for a community that has shown it can rise to meet its challenges, united in purpose and action.
An oral and maxillofacial surgeon, Dr. Carlos Cruz spearheaded the Texas Mission of Mercy (TMOM) event. Acknowledging the tremendous collaborative effort, Dr. Cruz lauded local dignitaries, businesses, and volunteers who made the initiative possible.
"This couldn't be done without the efforts and support of Mr. Jaime Longoria and Hidalgo County Judge Richard F. Cortez," Dr. Cruz said. He highlighted the enormous organizational commitment behind the event, drawing special attention to Lone Star National Bank, DHR Health, and the Bert Ogden Arena. Remarkably, the arena closed its doors for five days to host the TMOM event.
Today, the initiative boasted 44 dental chairs, more than its regular 40, and medical professionals started treating patients as early as 7:30 a.m. "The doctors are extremely busy, and it's extremely organized," noted Dr. Cruz. The aim is not just to provide immediate care but to create an experience so fulfilling that patients would want to return for future events.
The event also serves as a training ground for future healthcare professionals. He said among the attendees are 32 dental students in their last two years of school and 120 pre-dental students exploring dentistry careers. "Please meet them, and hopefully, you have the opportunity to talk to them," Dr. Cruz encouraged, emphasizing the educational aspect of this community service.
Not to be overlooked are the 451 volunteers, 86 dentists, and 14 hygienists who gave their time and skills to make this event a reality. Their efforts, combined with those of the community and sponsors, have resulted in an impactful event that serves immediate dental care needs and fosters a sense of unity and collective purpose in Hidalgo County.
In closing, Dr. Cruz expressed his deep gratitude to everyone involved. "I want to thank everyone and especially those sponsors that have been behind us," he said, underscoring the broad support that made this event possible and highly successful.
Dr. Douglas Bogan, the Chair of TMOM from the Texas Dental Association (TDA), expressed his gratitude for their remarkable community support. According to Dr. Bogan, Hidalgo County has outshone any other municipality or county they have ever worked with, making the mission not just possible but phenomenally successful. Dr. Bogan and Dr. Carlos Cruz have spent numerous hours coordinating this mission, emphasizing Dr. Cruz's invaluable commitment to humanitarian work that has earned him the status of a 'community treasure.'
TMOM's journey began in 2001 as a humanitarian effort governed by the Texas Dental Association Smiles Foundation. Since its inception, the mission has conducted around 90 such events. While Dr. Bogan was apologetic about quoting numbers, the figures tell a compelling story of the scale and impact of their work. In 2023 alone, they have already treated 1,429 patients, providing nearly $2 million in dental treatment. Since 2001, they have extended nearly $30 million of dental care to more than 45,000 patients. In totality, the care delivered amounts to a staggering $40 million.
The mission has traveled far and wide—from Cactus at the top of the Panhandle to Los Fresnos near the Rio Grande Valley, El Paso, and the Golden Triangle—touching lives everywhere. The primary objective is simple yet transformative: to get people out of pain and give them back their smiles.
The events hosted in Hidalgo County align with TMOM's core values and objectives. The efforts and logistics for the mission were not just an act of charity but a well-orchestrated operation, combining the expertise and commitment of government bodies, volunteers, and health professionals. The organizers ensured that the event ran smoothly, optimizing the number of people who could benefit from the dental services.
Adding to the event was Dr. Barry J. Currey, acting chairman of the Texas Dental Association Smiles Foundation, who explained that their mission was not just restricted to patient care. They also invest in dental health education programs and scholarships for dental students, taking a 360-degree approach to improving oral health across the state.
Finally, Jaime Longoria concluded by situating the TMOM event within a broader context of community health initiatives, which included free screening events held across Hidalgo County in the past few months. It was a reminder that while one event can do much, it is part of a continuous, larger effort to serve the community.
In a world often caught up in divisive narratives, the Texas Mission of Mercy RGV in Hidalgo County stood tall as to what can be achieved when a community comes together, uniting under the noblest of all causes—the well-being of its people.