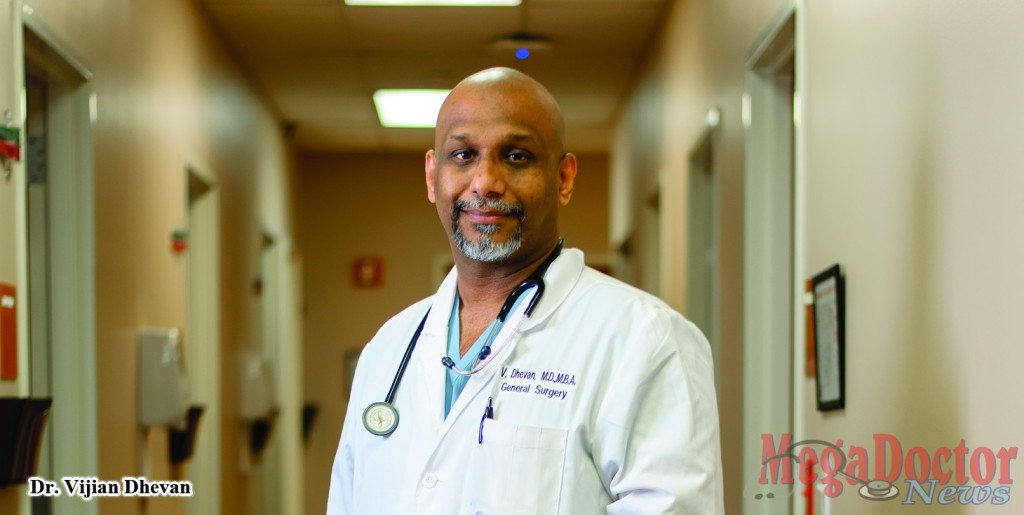 By Roberto Hugo Gonzalez,
Publisher of Mega Doctor News,
Dr. Vijian Dhevan, a medical doctor in the Rio Grande Valley, is a general surgeon and board certified. He recently came to the Rio Grande Valley as a physician recruited by Valley Baptist Hospital in Harlingen, Texas.
He is originally from Malaysia and was educated in Singapore with a British curriculum. As general surgeon he is experienced in different surgical procedures but says that he has gravitated to breast cancer procedures.
"I've been interested in breast cancer, and also foregut surgery, meaning stomach, small bowel, and tumors related to those regions; I also do tumors related in other areas of the body," he said.
He told Mega Doctor News that he was given the ability to do something he enjoys. "The fact that I can help cure somebody from their cancer, I consider that a great gift."
Dr. Dhevan has a distinguished academic background and I invite you to read about it this issue where he is our Mega Doctor of this month of May.
On another matter, we at Mega Doctor News have been following for the last seven years, a young man that started a journey to become a medical doctor. He is Leo Lopez III, a Rio Grande City native, and a graduate of the RGC High School Class of 2007.
Leo graduated from South Texas College in 2007 as part of the inaugural Dual Enrollment Medical Science Academy class. He earned his undergraduate degree in Biomedical Science from Texas A&M University in 2011. He will begin training as a Family Physician at Christus Santa Rosa Hospital System in San Antonio in June of 2015 after graduating as a Medical Doctor from the University of Texas Health Science Center San Antonio School of Medicine in May 2015.
So I am very happy to report to you that this month he becomes a doctor. We will continue to follow him until he either opens his own practice or begins working with a group of doctors. Leo, Congratulations from all of us at Mega Doctors News.
This month, Mega Doctor News starts to follow Marco Cruz "A doctor in the making at South Texas College."
As a senior who is also enrolled in the Dual Enrollment Medical Science Academy (DEMSA) at South Texas College, Marco has learned how to stay focused while balancing his high school and college-level classes. These classes are giving him a strong foundation to fulfill his dream of going to medical school and practicing psychiatry in the Rio Grande Valley.
In this issue, find Marco's story and from time to time we will report on the advances in his journey to become a doctor.
Grant money is beginning to flow to benefit South Texas Diabetes and Obesity Institute at the University of Texas Rio Grande Valley. They will be receiving a $4 million grant from the National Institute of Mental Health for a four-year project to research for genes influencing psychiatric disorders including schizophrenia, bipolar disorder, and major depression. More information is inside this issue.
Mega Doctor News is proud to present to you Dr. Ruben D. Pechero, an Orthopedic Surgeon. He established his practice in 1968 when there were only a couple of doctors with the same specialty in the Rio Grande Valley.
In a way, he is one of the doctors that has seen almost everything and is familiar with the evolution that medicine has had in South Texas. You will enjoy this article. MDN