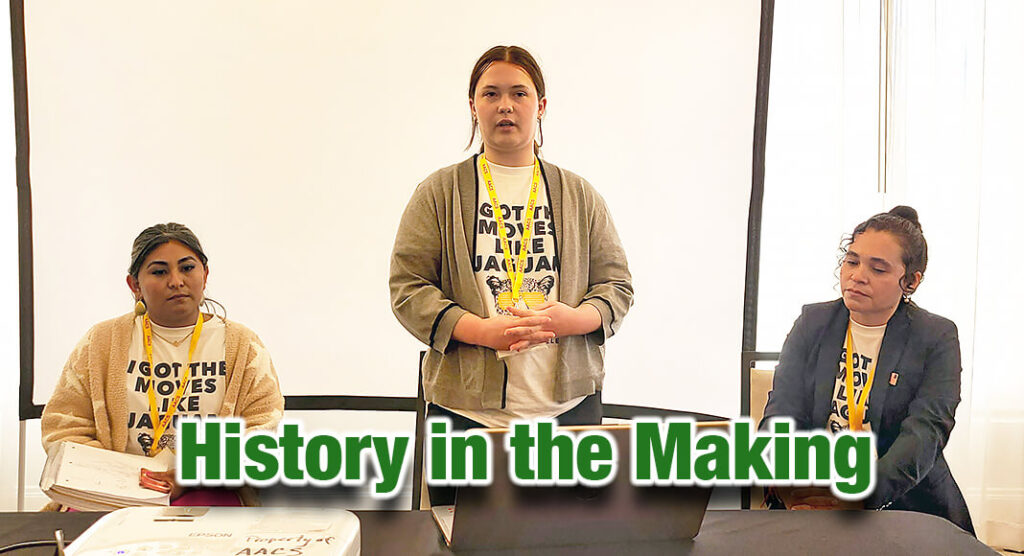 Mega Doctor News
By Joey Gomez
WESLACO, Texas – Hailing from the only two-year institution that competed, for the first time ever, at a national student team competition, South Texas College Sociology students took second place putting them squarely among the brightest emerging minds in their field.
STC students Cristian Mandujano, Claudia Ginez, and Taylor Wurm competed at the Association of Applied and Clinical Sociology (AACS) Client Program Competition (CPC) which was held at AACS's annual conference recently in Tampa, Florida.
At the competition, the students presented their solution to an issue raised by the Florida American Civil Liberties Union (ACLU), which involved finding a way to get more students, ages 18-24, involved in critical political issues.
At the event, the ACLU focused specifically on the issue of immigration, which enabled the students from STC to draw on their own challenges growing up in the Rio Grande Valley.
Sociology student Ginez said she relied on her experience as a former migrant worker along with her own Mexican American values to shape the group's winning proposal.
"The unique experiences and accomplishments that set me apart from other students across the nation is my diverse background along Mexican American values and traditions, as well as being a former migrant worker and spouse of a veteran. I think that resonated with everyone there," Ginez said. "My background has built me to develop the skills of leadership, engage in school and community events, professional development and to adapt to new situations. Additionally, it has created passion and commitment within me to help, motivate and encourage others for a positive change."
Students from STC competed against over 60 universities along with many other participants who were not affiliated with an institution, but instead represented their own private practice or organization.
All three STC students received accolades from their proposal that not only outlined the importance of educating young students on the issues starting at the high school level but reaching them at the most likely places where they meet.
"All of the teams that competed talked about doing TikTok videos and leveraging social media, but our team talked about leveraging personal stories and shared some of their own personal experiences. Their proposal was about finding a way to reach the hearts and the emotions of people to help them realize the things that impact them," said STC Sociology Instructor Jenny Chamberlain, who also attended the conference as an advisor. "One of the things that really impressed people there at the conference was when our students suggested that they should go to the food trucks, the coffee shops, clubs where young people hang out and even talking to the business community about getting them involved politically."
Following the success of the students at the conference, Chamberlain was also asked to be part of the AACS board as a member-at-large in order to outreach to other community colleges across the nation and convey best practices on behalf of the college. In addition, Chamberlain was also asked to be a part of AACS certification committee to assist in designing certificates for undergraduate students.
"I did my best to spread the message that all of our students at South Texas College have incredible potential, and these three students who were present at the conference were prime examples of the work the college is doing to help students reach that potential," Chamberlain said. "These three particular students have sacrificed and fundraised and worked so hard to be able to get here to this point, and there they were. They don't even have an associate degree yet, but they still competed with four-year university students from across the nation."
The AACS conference was significant not only due to the fact that it marked the first time Sociology students competed in the AACS event, but because it also represented a huge milestone for STC's new Applied Sociology track.
The new track launched this semester and is the first associate degree Track for Applied Sociology in the nation recognized by AACS. The program is under the Sociology associate degree, which now has two tracks: Traditional Sociology, and the brand-new Applied Sociology track.
"For me, experiencing all of this even before I received an associate degree is giving me all of the knowledge I need as I look ahead to my bachelor's degree. STC is putting me ahead," said Sociology student, Mandujano. "I move forward with more confidence because STC has given me the opportunity to experience events like these as well as participate and just be involved with major competitions in this area of expertise. I challenge future students to do the same."