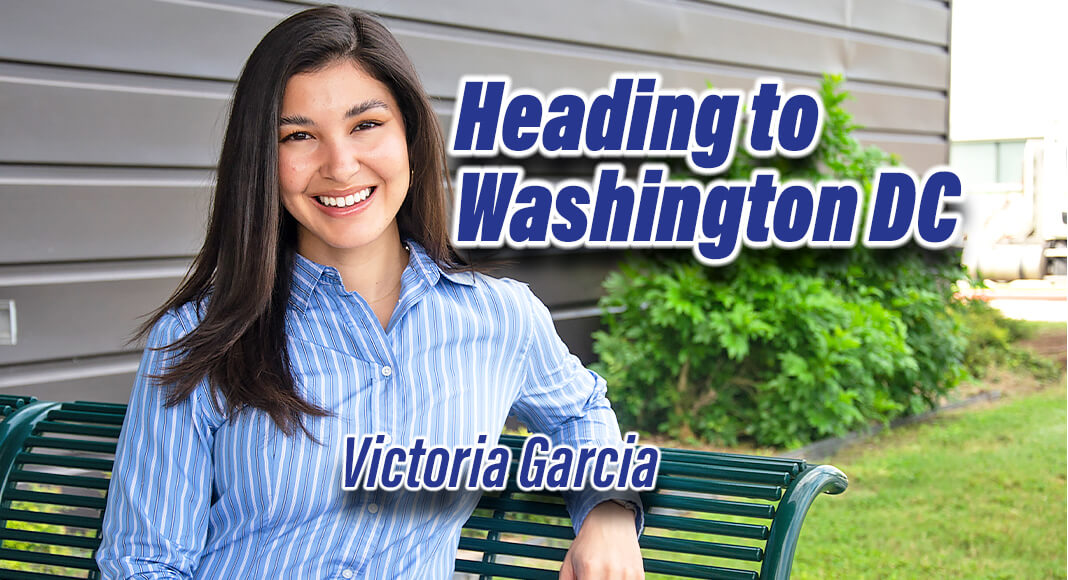 Mega Doctor News
- Advertisement -

By Clarissa Martinez
The South Texas College Physical Therapist Assistant (PTA) program has given alumna Victoria Garcia a way to harness her strengths and the confidence to connect with her peers as she prepares to represent STC this July at the upcoming American Physical Therapy Association (APTA) Leadership Congress in Washington, D.C.
The McAllen native graduated from STC's PTA program in May 2023, and served as president of the Student Physical Therapy Association Club at the Nursing and Allied Health campus.
"Growing up my family always told me that education was really important," Garcia said. "It opens a lot of doors and knowledge is power. I loved taking on that leadership role at STC and I wanted to take it further, so I joined the Texas Student Physical Therapy Association to continue my professional pathway and my professionalism. I sought that out myself and it just kept growing from there."
Her leadership role made her eligible to attend the APTA Leadership Congress this summer as a student delegate in the House of Delegates.
"I'm very excited because this will be my first networking event as an STC graduate," Garcia said. "As the PTA delegate I will meet with the House of Delegates in Washington where we will go over laws that are being passed or are being discussed. We attend as non-voting members, since we are part of a student organization, and will report back to our Texas Student Physical Therapy Association Club. It's a really amazing event to advocate at."
Before being accepted into the PTA program, Garcia earned a bachelor's degree in Kinesiology from the University of Texas at San Antonio.
- Advertisement -

"I always wanted to pursue the physical therapy profession since the beginning of my education," Garcia said. "Kinesiology was my passion because I was able to incorporate health and wellness and help enhance people's movement and their human experience. I felt that my passion for kinesiology coincided with physical therapy."
PTAs are skilled health care providers who work under the supervision of a physical therapist and assist them in implementing treatment programs to help restore or improve function, relieve pain, encourage independence and educate patients and their families.
"I love giving someone the opportunity to live their life in the best way possible," Garcia said. "For me, giving physical therapy is a form of holistic care. We can do a lot of things with physical therapy and I want that especially for our community."

And, Garcia has seen firsthand the lasting effects physical therapy can have on patients, since her father has been a PTA for almost 30 years.
"He was the one who opened the doors for me, and seeing him work in so many different fields and specialties inspired me," Garcia said. "He still inspires me today."
Garcia credits STC's faculty for playing a huge role in pushing her to reach her potential.
"A personal highlight was seeing how much I changed as a person and a learner, overall," she said. "I think the program definitely makes you stronger in many ways. It helped me become much more resilient and brought out strengths that I didn't know I had before. It's made me a better clinician and a better student."
Garcia currently works at Moveo Performance, an outpatient physical therapy facility in McAllen, and said she hopes to apply to a Physical Therapist Assistant (PTA) to Doctor of Physical Therapy (DPT) Bridge Program within the next few years, a program designed for PTAs with a bachelor's degree and at least one year of experience.
"That's my long-term goal, but right now I want to focus on being the best clinician I can be at my job and keep learning as much as I can," she said.
Garcia said she is grateful to be part of a program that has years of proven excellence among the students. For 24 consecutive years, graduates of STC's PTA program have maintained a flawless record of passing the required national exam on the first attempt. The PTA program also boasts a 100% employment rate for graduates within one year of graduating.
"For so many years STC has been fostering an environment for students to grow and become their best," Garcia said. "I wanted to be held to that standard and I'm really proud to be an alumna of STC. This program graduates so many incredible clinicians. It's like a special club that you get to say you're a part of: STC PTA alum."
For more information about the Physical Therapist Assistant program or other Nursing and Allied Health programs offered at STC, visit nah.southtexascollege.edu/ or call 956-872-3100.