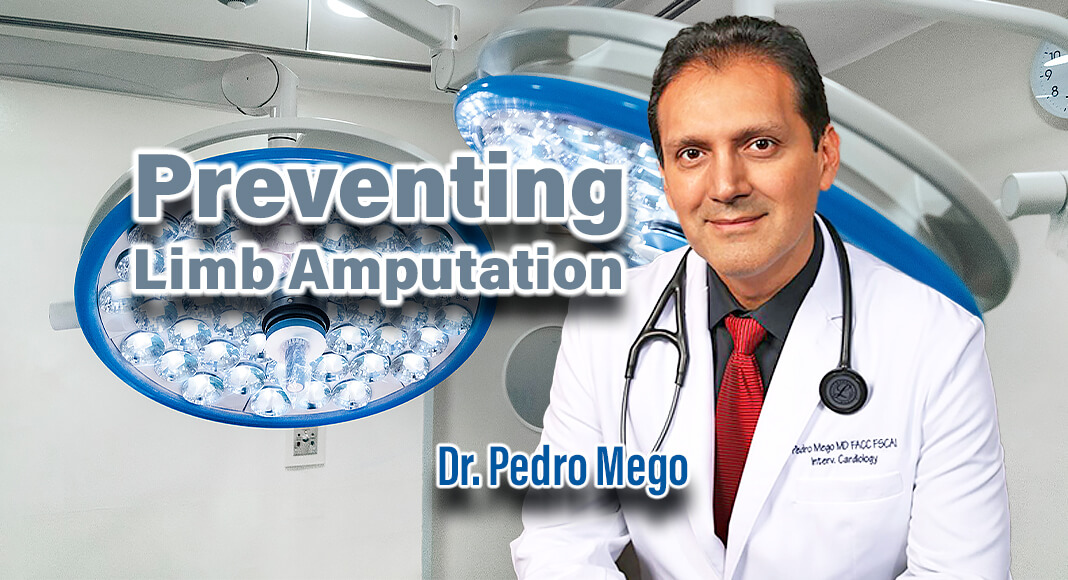 Mega Doctor News
By Roberto Hugo Gonzalez
Imagine waking up one day and realizing you can't move your limbs properly. Your doctor tells you it's because your blood vessels have constricted and aren't supplying sufficient blood to your limbs, and amputation might be necessary. Sounds terrifying, right? Thanks to the tireless work of Dr. Pedro Mego, an interventional cardiologist with a particular interest in Peripheral Artery Disease (PAD) and Chronic Venous Diseases, patients now have a chance to prevent such a scenario. With more than 18 years of experience in the field, Dr. Mego has dedicated his life to improve the circulation in the legs saving patients' limbs, helping wounds to heal and enhancing their life expectancy.
Minimal yet effective treatments
Dr. Mego's approach to treating PAD strikes a perfect balance between invasive and non-invasive treatment options, offering quick recovery and lessening the physical burden on patients. His strategy is driven by the belief that treatment should focus on managing symptoms and ensuring the patient's well-being.
Harnessing innovative technology
Dr. Mego uses the latest and most innovative technologies to treat patients, often in an outpatient setting. This significantly reduces the need for overnight hospital stays and accelerates recovery. Patients can return to their daily lives in a much shorter period, making the treatment process more bearable and convenient.
The Mission Vascular & Vein Institute
Mego's ingenuity doesn't stop at individual patient treatments. He has designed the Mission Vascular & Vein Institute, a facility specifically aimed at treating patients with PAD and various venous diseases and reducing the risk of limb amputation. This institute incorporates advanced technologies Dr. Mego encountered during his nationwide visits to various medical institutions. Most procedures can be performed in an outpatient setting without an overnight hospital stay.
Background and Education
Dr. Pedro Mego, a board-certified Interventional Cardiologist, is fully dedicated to the management of Peripheral Artery Disease and Chronic Venous Diseases. He is an Endovascular Diplomate of the American Board of Vascular Medicine. Dr. Mego received his medical degree from the Universidad Nacional Mayor de San Marcos School of Medicine in Peru. He then completed his residency training in internal medicine at New York Medical College at Metropolitan Hospital Center. This was followed by a Cardiology fellowship at Montreal Heart Institute and the University of Arkansas for Medical Sciences and an interventional cardiology fellowship at the University of Arkansas for Medical Sciences.
Changing Lives
Dr. Mego's work has had a profound impact on many lives. Testimonials from patients highlight the dedication and perseverance he brings to his work. Thanks to his meticulous procedures and unwavering commitment, patients who were once recommended amputations are now celebrating milestones and leading fulfilling lives.
Insurance and Working Hours
Mission Vascular & Vein Institute accepts most major insurance carriers. The facility operates Monday through Thursday from 8 am to 5 pm and on Friday from 8 am to 12 pm, offering patients flexible options for consultations and treatments.
In cardiology, Dr. Pedro Mego is a beacon of hope for patients battling PAD and Chronic Venous Diseases. His innovative approach and tireless dedication have extended life expectancies and drastically improved the quality of life for his patients. He truly embodies the essence of a lifesaving physician.