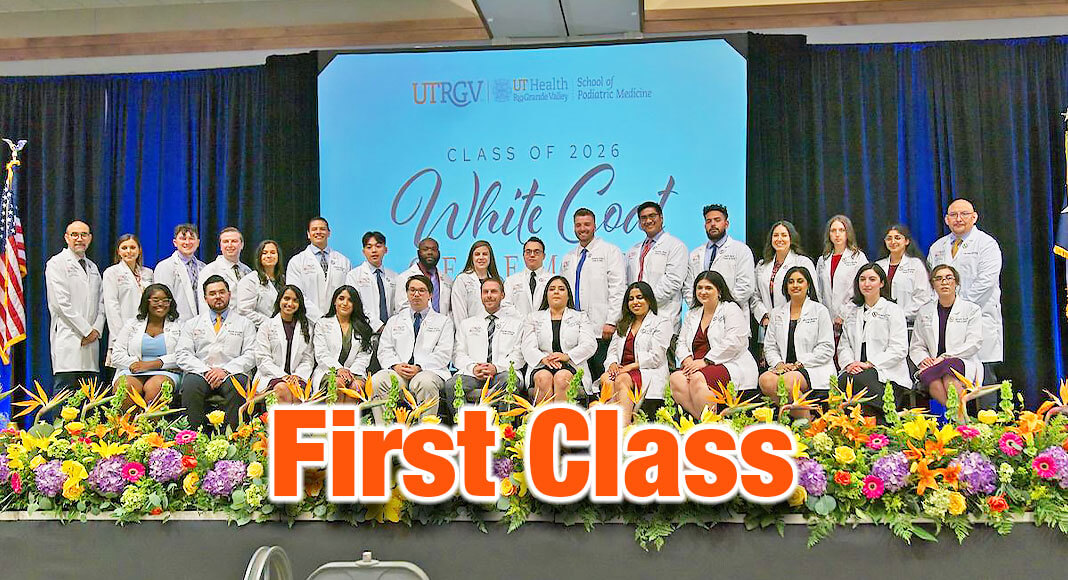 Mega Doctor News
By Karen Villarreal
EDINBURG, Texas – Students in the inaugural cohort of the UTRGV School of Podiatric Medicine donned their white coats for the first time last Friday, marking their official participation as student-doctors.
The school's first White Coat ceremony, held Oct. 28 at the Harlingen Convention Center, introduced the 27 students of the Class of 2026.
Dr. Javier Cavazos, DPM, FACPM, RCPS, associate dean of Academic Affairs for the UTRGV School of Podiatric Medicine – the first in Texas and one of only nine others in the country – said White Coat ceremonies or similar rites of passage take place in almost all schools of podiatric medicine in the United States and Canada.
As the 27 students stand in their white coats and recite the Hippocratic Oath, Cavazos said, they are made aware of their responsibilities from the first day of their training. 
"The ceremony is intended to impress upon them the primacy of the doctor-physician relationship," he said. "It highlights being empathetic and serving others with respect, honor and compassion."
Donning the white coat bestows a student with the responsibilities of a member of the medical community and symbolizes a vow to upholding the values they swore before their loved ones and colleagues for the rest of their lives, he said.
"Upholding your ideals could also mean being a leader in the profession, one who will carry the torch and be a future educator, researcher or scientist," Cavazos said.
HISTORY IN THE MAKING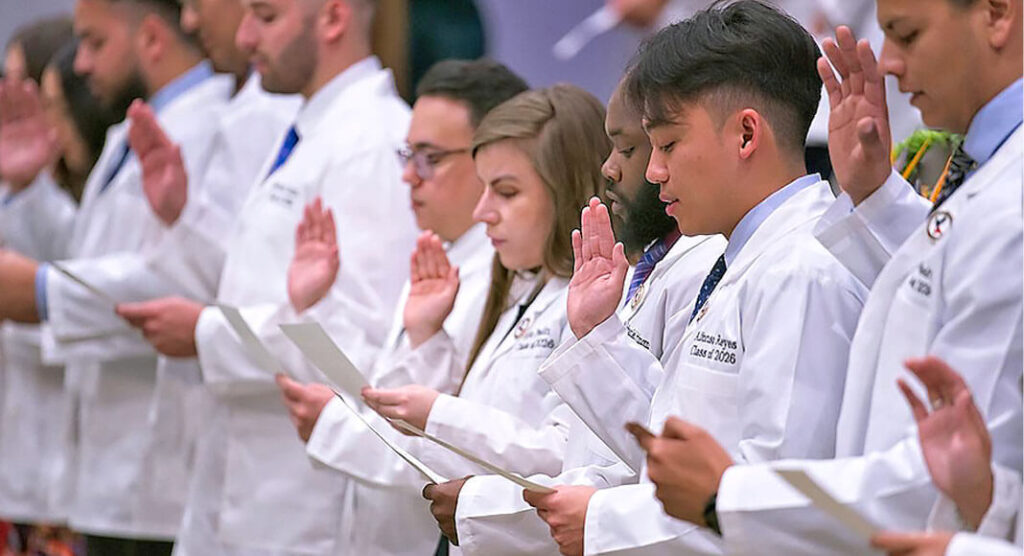 Dr. Javier La Fontaine, dean of the School of Podiatric Medicine, said seeing the first class of future podiatrists trained in Texas is a historic moment for the Rio Grande Valley.
"This is an opportunity to educate the students who are going to be future doctors of podiatric medicine (DPMs), who hopefully stay here," he said. "I think that patients will benefit in the future by having their own treating them."
The first student from the Valley accepted to the UTRGV School of Podiatric Medicine, Ricardo Gonzalez, said he plans to serve his community.
"I want to do the best I can in my classes, volunteer, do community outreach and rotate through Valley hospitals – whatever I can do," he said. "This is my home and I plan to stay here."
After graduating in 2017 from UTRGV with a bachelor's degree in biology pre-med and a minor in chemistry, Gonzalez said, he is glad he discovered the field of podiatric medicine while working as a medical assistant.
"It's an amazing field. It's so multi-faceted and so many components in medicine go into it – orthopedics, dermatology, neurology, endocrinology – everything bundled into one subspecialty," the McAllen native said. "I found a good fit for me."
Another member of the inaugural class, Nathanial Primous, 32, said he is proud to be part of the first cohort.
"I feel like I'm part of history," the Fort Worth native said as he wore his white coat for the first time. "Taking that oath ­– knowing that the people who are my professors and mentors are going to be my colleagues someday – it felt like a coming-of-age thing."
Primous said he chose UTRGV because the mission of the school resonated with him.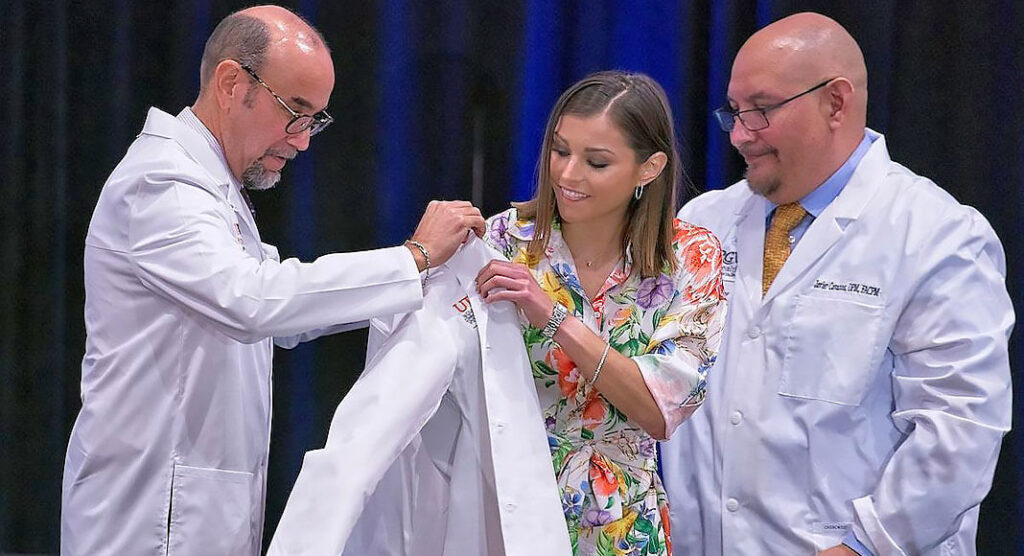 "Understanding the role that a podiatrist would play in alleviating a lot of concerns with the high of diabetes in Texas hit close to home," said Primous, who has family members with the disease. "I really want to make a difference."
'LET INTEGRITY BE YOUR COMPASS'
Neil Campbell, DPM, president-elect of the Texas Podiatric Medical Association, was present to welcome the students to the field of podiatric medicine and commended them on their dedication.
"The profession that you have chosen to join will give you every opportunity to help patients, to change lives and to provide you and your families with financial security in four short years,"
Campbell said. "As you move forward to become my colleagues, always strive for excellence and let integrity be your compass."
After a keynote address by George "Tye" Liu, DPM, FACFAS, associate professor and medical director of the Orthopedic Surgery Outpatient Clinic Department at the UT Southwestern Medical Center, students in unison recited the Hippocratic Oath, cementing their commitment to the profession and their patients.
Madeleine Mehaffey, 22, president of the UTRGV SOPM student council, said standing with her classmates in making that shared commitment was emotional. She didn't want to leave Texas to study and was thrilled to find an opportunity at UTRGV.
"It's the start of what's going to be a great career," Mehaffey said. "My family's all super proud of me, and I'm proud of myself. It's like everything's finally coming together."
Mehaffey, along with classmate Ariana Ruiz, ceremoniously rang the UTRGV bell at the closing of the White Coat ceremony.
Ruiz, a native of Eagle Pass, Texas, was the first student accepted into the inaugural class of the UTRGV SOPM.
"I am grateful to stay in Texas. As a native Texan, I always wanted to work here and serve underserved communities," said Ruiz, who decided on podiatric medicine while working as a medical scribe for an internal medicine physician.
"I realized a lot of Hispanics would come in with diabetic neuropathy and ulcers, and unfortunately many would come back with a limb amputated," Ruiz said. "That's a problem that can be prevented."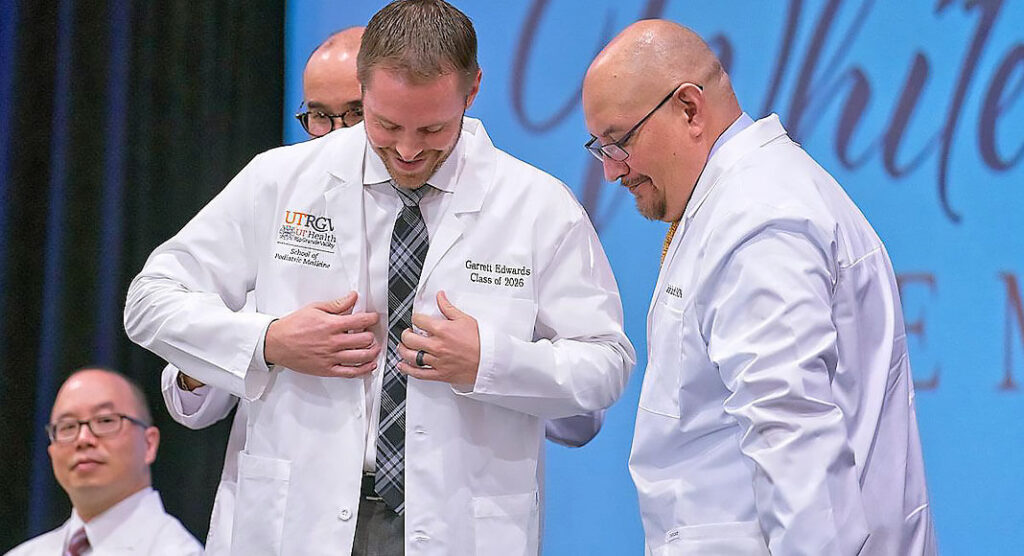 Ruiz said she hopes to stay in South Texas and be an advocate for prevention in the community.
"This is home, I'm hoping to stay in South Texas … I have a huge heart for it," she said. "I'm very proud to further my education in South Texas."
"LIGHT AT THE END OF THE TUNNEL"
Another member of the inaugural class, Vanessa Cortez, 30, said donning the white coat was an exciting moment to think about the future, about what kinds of clinics she and her classmates will open and what they'll specialize in.
"It gives us a light at the end of the tunnel," Cortez said. "It's a long road ahead, but we just keep that goal at the forefront of our minds and push through."
The San Antonio native was excited after reciting the oath in her white coat.
"It's a big responsibility because we have to uphold it every single day for the rest of our lives," she said. "I'm so proud. I'm grateful, very humbled, and excited to get to work!"