As originally published in Mega Doctor News newsprint edition February 2020
By Roberto Hugo Gonzalez
Every time I have a chance to interview a doctor in the Rio Grande Valley, it never ceases to amaze me. Their training in medicine, the skill and the experience they bring to the table is vital for the patient to have a chance at better health. They are devoted professionals that are making a real change in people's lives. Their treatments and procedures with the collaboration of patients is a unique combination of prolonging life.
This time, I had the pleasure of meeting Pedro Mego, MD, FSCAI, an Interventional Cardiologist and Endovascular Specialist. He practices from Mission Vascular & Vein Institute in the City of Mission. Originally from Peru, Dr. Mego calls the Valley his home.
In a few words, his work consists of cleaning up (unclogging) arteries of the body, especially in the legs. Having done it thousands of times, he has mastered the procedure. His specialty is in high demand; he can be anywhere in the world and keep very busy providing this vital service.
You might ask why could he be so very busy? Because people don't follow a proper diet regimen, with food that connects the body. Valley residents are no exception to this. Consumption of too much food that is high in refined carbohydrates (sugars and flour, etc.), high in calories, and unhealthy fats, and little or no physical activity makes the area ground zero for diabetes, heart disease, and stroke, to name a few. Even though the local hospitals have done extensive education projects, there is still more to be done.
In the meantime, we are lucky to have a professional like Dr. Mego here with us. He is a board-certified Interventional Cardiologist with a special interest in the treatment of peripheral artery disease and chronic venous diseases.
In 1996, he earned his medical degree from Universidad Nacional Mayor de San Marcos – in Lima, Peru. He graduated in 2005 as an Interventional Cardiologist from the University of Arkansas for Medical Sciences and also attended the Montreal Heart Institute in Montreal, Canada. For his residency in Internal Medicine, he went to New York Medical College at Metropolitan Hospital Center in New York City, New York.
He came to the Valley to practice medicine because his brother, who is also a Cardiologist, invited him to join him in a well-established practice. Dr. Mego was already familiar with the Valley, which he used to visit while in medical training. When he graduated in 2005, it was not difficult for him to come to the conclusion and choose to practice here.
So, he joined his brother, Dr. Carlos Mego, and Dr. Subbarao Yarra at Valley Heart Consultants in McAllen, Texas. He also joined DHR Health Heart Institute as a Clinical and Interventional Cardiologist in January 2017 and continued through December 2019.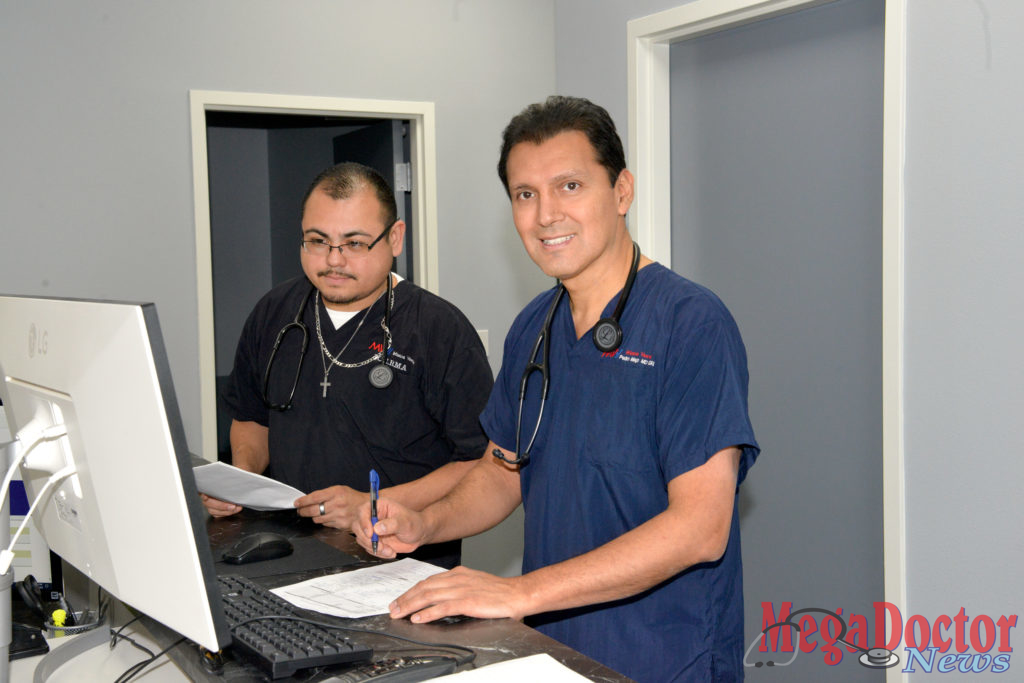 The beginning of 2020 became very important for him; he opened his practice Mission Vascular & Vein Institute and Mission Vascular Center of Excellence. He occupies a large and well-equipped suite at 1317 St. Claire Blvd, Suite A5. Now, Mission Vascular & Vein Institute is open to treating patients from Mission and the surrounding cities.
Aside from being invited by his brother to join him in 2005, he knew that the area needed lots of help. "I was aware that the Valley high rates of diabetes and high metabolic syndrome, which increases the risk of heart attacks and strokes. "But I was not prepared for the high rate of amputations taking place," Dr. Mego stated.
"When I joined the first cardiology clinic, they were doing a very small percentage of revascularization procedures in the legs, it was mainly focused in treating the heart." He continued, "Because part of my training was in peripheral revascularization (cleaning arteries of the leg), I started doing more of that."
With time I fell in love with cleaning the arteries in the legs; I continued learning from world experts in the multiple conferences that I assisted. With the high frequency of disease in the Valley I have mastered the procedures and progressively increased in my practice to approximately 60-70% in 2019. "I was doing more cleaning of arteries of the leg than in the heart last year, so, I decided to change my practice to be 100% dedicated to cleaning arteries in the legs in 2020."
Peripheral artery disease involves the formation of an atherosclerosis plaque outside the heart, the legs are more frequently affected than other parts of the body. Atherosclerosis is a plaque formed of cholesterol and inflammatory factors that accumulate in the arteries reducing the circulation to different parts of the body.
"When it happens in the heart, the patient has the risk of a heart attack. When it happens in the neck or the brain, the patient is at risk of a stroke. But when it happens in the legs, it's called peripheral artery disease, or PAD and the patient is at risk of amputation."
"I say that diabetes is the most common and important risk factor for peripheral artery disease." He continued, "In the past, it used to be smoking. Today it is diabetes, and that is why there is a high prevalence of blocked arteries in the legs or peripheral artery disease in the Valley."
The majority of patients that come to see him come as referrals from primary care doctors. Also, a significant number come recommended by a neighbor or a patient that tells a friend about Dr. Mego's specialty.
"Age also plays a major role. Anyone older than 65 years of age, even anyone older than 50 with a significant risk factor (such as diabetes, hypertension, abnormal cholesterol levels, obesity, etc.) is at risk for PAD. Anyone younger than 50, with diabetes and another risk factor, is also at risk for PAD," he said.
He pointed out that more than 50 percent of the patients are asymptomatic or have atypical symptoms such as cramps or weakness in the legs. Dr. Mego noted that the typical symptom called claudication, pain in the calf while walking that resolves with rest happens in less than 35% of the patients.
"About 1-2% of the patients present with a very advanced disease called Critical Limb Ischemia (CLI). CLI means that the circulation is so bad that even at rest, they have problems." Dr. Mego explained that under those circumstances, patients will complain of pain at rest (especially at bedtime), ulcers that don't heal fast, and the toes can turn black due to the onset of gangrene or tissue death.
Several patients feel well during the daytime, but when they lay flat in bed, they feel cold feet and pain. Why is that? It is because sitting down or standing up that blood gets from the heart to the feet by gravity.
"However, when lying flat in bed, they don't have any more gravity in favor. So, patients have cold feet and need to wear socks while they are sleeping, but they still feel pain."
An ulcer that doesn't heal for more than two weeks, by definition, it is a chronic wound and must be examined for peripheral artery disease. The worst is when there is gangrene tissue, which usually presents with a black toe. Gangrene means there is dead tissue already, urgent evaluation for PAD is highly recommended.
Dr. Mego is an Interventional Cardiologist and Endovascular Specialist. He decided to treat patients with peripheral artery disease to save limbs. Even though he is trained in all aspects of artery diseases, he is also impacted when someone loses a leg.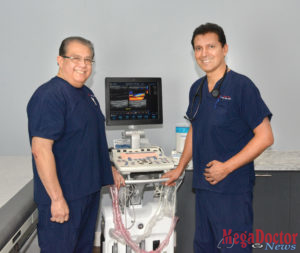 "I realized several years ago that the loss of a limb is traumatic for the patient, for the family, and the lifestyle of the whole family, with significant impact in the society. I found my passion cleaning arteries in the legs, that is why several years ago I took that as my professional goal: to do all reasonable efforts to avoid amputation."
"Amputation is irreversible. I am convinced that to prevent the amputation of a limb is far better than to have to learn to use a prosthesis." Only around 30% will be ambulatory with a prosthesis. The good news here is that Dr. Mego's training as an endovascular specialist is that when he cleans (unclogs) arteries, he doesn't use a knife. "I only use minimally invasive techniques with needles, catheters, balloons, atherectomy devices, stents, etc. which is why it is called endovascular." Dr. Mego gladly accepts patients seeking a second opinion; he has a high success treating patients who have had previously failed treatments from other facilities.
Also, he uses ultrasound to get vascular access in the groin, ankle or foot, this reduces significantly the risk for complications and allows alternative access increasing chances to have successful results. When needed, he uses CO2 instead of traditional iodine contrast in patients with kidney disease, this is very beneficial in patients with kidney disease. CO2 is a gas and doesn't put the patient at risk by worsening the kidney function as iodine contrast does.
He said that medicine continues to evolve, Endovascular procedures have a significant advantage comparing to traditional surgery and the recovery of the patient is significantly faster. "The majority of these patients don't have to stay overnight in the hospital. It can be done as an outpatient."
Dr. Mego believes in an "Open Walls Office", what that means is "the patient doesn't have to change his primary care physician, cardiologist, wound care specialist or podiatrist; I will treat only the circulatory problem in the legs, the patient will be able to continue care with his established physician."
"Today, the majority of the blocked arteries in the legs can be significantly improved with endovascular revascularization on an outpatient basis, increasing the chances of the wound healing, reducing the level of amputation or avoiding amputation," he finalized.
Dr. Pedro Mego is practicing from Mission Vascular & Vein Institute located at 1317 St. Claire Blvd, Suite A5 in Mission, Texas 78572. You can contact his office for more information at (956) 997-6000 by making an appointment.
- Advertisement -