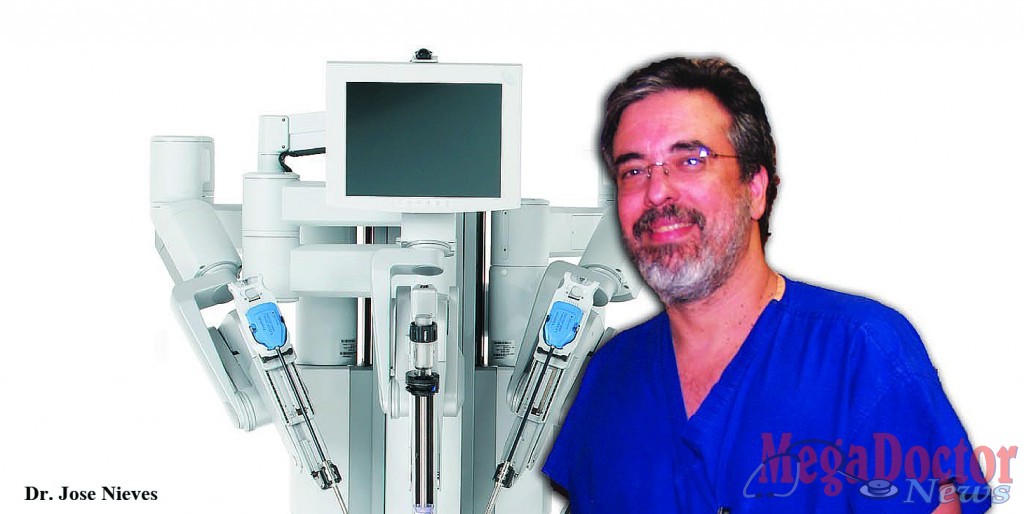 New Robot Installed in Harlingen Valley Baptist Medical Center-Brownsville, Valley Baptist-Harlingen acquire next generation, state-of-the-art robots to assist physicians with gynecological, urological, other minimally-invasive surgeries
As originally published by Mega Doctor News newsprint Edition
Brownsville / Harlingen — Robotic-assisted surgery has come to Brownsville, as Valley Baptist Medical Center-Brownsville has become the first Brownsville hospital to acquire its own robot for minimally invasive surgeries for patients with gynecological, urological and other conditions.  In addition, Valley Baptist has also installed the same next-generation robot at its hospital in Harlingen, which has offered robotic-assisted surgery since 2008.
The new, state-of-the-art, "da Vinci® 'Si' Robotic Surgical Systems," at Valley Baptist-Brownsville and Valley Baptist-Harlingen are considered the most advanced units available.  The new robotic systems allows Valley physicians to better view cancers, blood flow, and various parts of the body through 1080i high-definition video, with fluorescent imaging technology, and to perform some surgeries through only one small incision instead of four incisions.
The minimally-invasive technique, in which specially-trained physicians guide precision robotic instruments, uses much-smaller incisions than traditional surgery.  In many cases, this means that patients have a shorter hospital stay and faster recovery times, along with less pain, less loss of blood, less scarring, and less risk of infection.
Because of the smaller incisions with robotic-assisted surgery, one Brownsville woman who recently had a robotic-assisted hysterectomy at Valley Baptist-Harlingen was able to return to work after only a week and a half – compared to more than six weeks she would have been out of work, if she had had conventional open surgery with large incisions.
"After the robotic surgery, I had four small puncture wounds, the biggest being about an inch long," said the woman, Wanda Cabrales-Williams.  "The other three wounds were less than a half-inch across.  Because the incisions were so small, I felt better right after the surgery, without the chronic pain."
As a 38-year-old mother of three children ages eight to 16, Mrs. Cabrales-Williams added that it would have been financially difficult for her family if she had to miss six weeks of work, as is typical following open surgery.
During the robotic procedure on Mrs. Cabrales-Williams, Brownsville Obstetrician-Gynecologist Dr. Jose Nieves controlled the robotic arms that provide a high precision method to perform various types of surgeries.  The surgeon inserts surgical instruments and a camera through small incisions.  The physician can precisely guide the instruments using high-definition monitors, which greatly magnify the area of the surgery.
The robot also has an 'endo-wrist' which gives the doctor more flexibility in small places and enables more precise suturing.  In fact, the robot's "wrist" has dexterity and range of motion greater than the human hand.  The system seamlessly translates the surgeon's hand, wrist and finger movements into precise, real-time movements of surgical instruments inside the patient.
As a surgeon, Dr. Nieves likes the steady, 3D image of the surgical field that he gets with robotic surgery.
"You have complete control of the camera — and complete control of the arms (of the robot)," Dr. Nieves said.
Dr. Nieves said having robotic surgery available in Brownsville represents a breakthrough in technology for Brownsville-area patients. "Patients no longer have to go to Houston or up the Valley to have this done … we now have Brownsville doctors who are trained with this technology," he added.
Leslie Bingham, CEO for Valley Baptist-Brownsville, and Bill Adams, CEO for Valley Baptist-Harlingen, said the new robotic systems show Valley Baptist's commitment to taking a leadership role in bringing innovative technology to the Valley, which helps improve quality and safety for Valley patients.
OB-GYNs are using the robot to treat fibroids (benign tumors which cause pain and bleeding in a patient's uterus), endometriosis, cervical and uterine cancer, uterine prolapse, and menorrhagia or excessive bleeding, as well as for other gynecological procedures for Valley women.
In addition, the robot is used by other specially trained surgeons on the Valley Baptist-Harlingen and Valley Baptist-Brownsville medical staffs for various types of surgery.  These include prostate cancer surgery in men (prostatectomies), and general surgeries.
Recently at Valley Baptist-Harlingen, Dr. Eldo Frezza, General Surgeon, performed the first robotic-assisted surgery in the Lower Valley to remove part of the colon in order to treat cancer and other conditions (colectomy).
"Robotic-assisted surgery is a definite benefit to the patients, as many of them are able to return to a more normal lifestyle much sooner," Dr. Frezza said.
Dr. Nieves, who serves as chair of the Robotic Surgery Committee at Valley Baptist-Brownsville, agreed.  "What I like about it is, number one, I get better patient outcomes.  The patients have been very satisfied … they need less pain medication, they have less blood loss, less pain, less complications — and they get back to their lives sooner."
The Brownsville patient, Ms. Cabrales-Williams, said for her, an important aspect of getting back to activities of daily living sooner included being able to take a shower within 24 to 48 hours after robotic-assisted surgery.
"You don't have to wait as long for the incisions to heal, because the small incisions are pretty much stitched together, and very simple to care for," she said.
Ms. Cabrales-Williams was able to leave the hospital within 24 hours, and was grateful to be able to go home and spend time with her husband and children, pretty much pain-free.  "It also lessened the anxiety of my children, to see me recovering so fast," she added. MDN