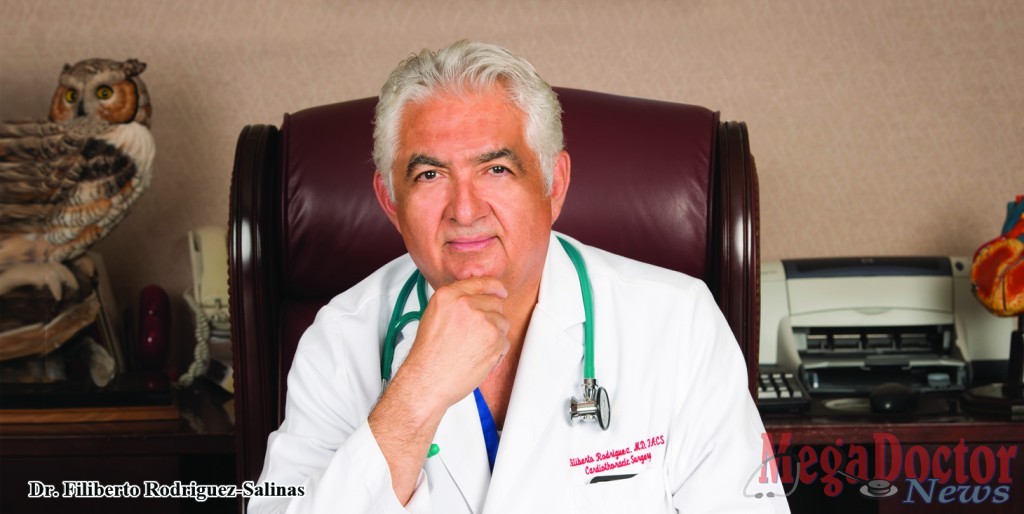 - Advertisement -

Dr. Filiberto Rodriguez-Salinas 30 Years of Dedicated Service
By William R. Keltner
As originally published by Mega Doctor News newsprint Edition
Noted Cardiac and Thoracic Surgeon Filiberto Rodriguez-Salinas is celebrated 30 years of dedicated service to his heart patients who have come to him from both sides of the border. This McAllen doctor has acquired a reputation that brings patients to him from not only Texas and Mexico, but from California to New York, and from the Canadian border to the Rio Grande Valley.
He has developed surgical techniques that enable him to perform open-heart surgery on heart patients that other surgeons refuse to touch.  These are patients, who for religious or personal reasons refuse blood transfusion during surgery.  His knowledge and ability to use these procedures in alternative, non-blood medical management has made him not only their surgeon of choice, but a hero to his patients.
To find out more about this "heart doctor with a heart," Mega Doctor News visited with Doctor Rodriguez in his McAllen office.  He explained his conception of medicine and how his respect for the conscience of his patients developed from his early medical training.  His father Dr. Filiberto Rodriguez-Plata was a medical doctor in Reynosa, Tamaulipas who also had a powerful influence on his life.
The doctor explained that early in his training, he was introduced to the Hippocratic Oath.  This statement of medical ethics was imposed on the disciples of Hippocrates, the celebrated ancient Greek physician some 2500 years ago.  It is still taken by students about to receive their Medical Doctor degree.  It obliges doctors to "do no harm" and treat the whole person including his conscience.
This principle still guides physicians today when the question of how to treat a patient who presents to the surgeon needing surgery, yet refuses blood transfusion–What to do to help this patient?  That sacred oath had made an impression on young medical student Rodriguez.  It led him to find ways to treat his patients who were finding it difficult to locate a cooperative doctor to treat them.
- Advertisement -

Capturing the essence of that ancient oath today, there are caring doctors like Doctor Rodriguez, who sought out alternative techniques and surgical procedures to accommodate such situations.  They can be considered medical heroes.  Pioneering research doctors at leading hospitals, such as the Cleveland Clinic where Rodriguez received his training, have pioneered bloodless surgery techniques that are now being routinely used by skilled surgeons.
As a result, there are now 1000s of doctors worldwide who use these advanced bloodless techniques in treating patients who refuse blood transfusions.  Some refuse for religious reasons like Jehovah's Witnesses, others choose the bloodless option to avoid the risks of blood, including AIDS and hepatitis.  It is common knowledge that blood transfusion is not an innocuous procedure.
What doctor Filiberto Rodriguez has done is to bring to the Rio Grande Valley, the advanced bloodless procedures that are found only in state-of-the-art bloodless option medical centers, such as Cleveland Clinic, Good Samaritan Medical Center, Our Lady of the Resurrection Hospital in Chicago, Illinois–to mention only a few.
This pioneer doctor talked about his background in Mexico and how he came to establish his surgical practice in the Rio Grande Valley.
He described his early life in Reynosa accompanying his physician father as he made his rounds.  There he saw the misery of suffering people.  He assisted his father as he delivered babies and performed surgical operations.  It was impressed on him what a skilled and caring physician can do to relieve suffering.
"My father was born in Jalapa, Veracruz, and came to Tamaulipas during the cotton and oil boom," Rodriguez said. "He established his medical practice in Reynosa, and there he became a pioneer doctor in that city I remember him as a compassionate man who cared for hundreds of cotton pickers and people of all social levels."
It was in Reynosa where the doctor grew up and graduated from high school.  Upon graduation his family urged him to study medicine at the prestigious Medical University (Universidad Autonoma de Nuevo Leon (UANL) located in Monterrey, Mexico.
Armed with his M.D. degree, his life became a trail of studies in top medical schools in the United States.  His advanced studies took him from Monterrey, to Washington where he served his two-year internship and practiced general surgery.
He also got more training as he attended the Medical College of Ohio in Toledo, Ohio.  There he also did general surgery.  His credentials now included a Fellowship he acquired during the year he worked at the world-renowned Mayo Clinic. After that, he then went on to Cleveland where he finished his general surgery course.
From 1978 to 1981 he worked as a staff member and instructor at the famous, pioneering by-pass surgery center where they were scheduling over 3,000 annual operations–an incredible number in those days. It was at the renowned Cleveland Clinic where he was introduced to the growing interest in "bloodless surgery."  His medical achievements became more impressive when he acquired his Fellowship credentials in heart surgery after serving a year at the famous Mayo Clinic.
With his formal studies and teaching assignments behind him, Doctor Rodríguez returned to his favorite base of operations—the Cleveland Clinic in Cleveland, Ohio in 1978.  He worked in that leading, bloodless-option hospital until he decided to return to his early roots.  He chose to establish his medical practice in McAllen, Texas in 1983.  He has performed an incredible number of major open-heart surgeries and other cardiac and thoracic interventions in McAllen Heart Hospital and other local hospitals.
"In all my patients, I endeavor to minimize the use of transfused blood and blood products," he said, adding, "I believe that most surgeries can be successfully performed without blood.  With my patients who are Jehovah's Witness I have to be especially careful and thorough, because I don't have the luxury of ordering backup transfusion."
He said his Witness patients are very resolute and firm in their convictions.  The success of these alternatives to blood products has caused the U.S. Military to take an interest in the techniques learned in bloodless hospitals.  Recently, a hospital in New Jersey was granted a multi-million dollar grant to develop true blood substitutes that could be used in time of warfare, large natural disasters, and terroristic attacks that would quickly deplete blood supplies.  One could only imagine the logistical problems associated with trying to keep blood products cool and sterile in a hostile desert battlefield in a blowing sandstorm.
Doctor Rodriguez has specialized in these alternatives that eliminate the need for whole blood, or any of the four major components—platelets, plasma, red blood cells, and white blood cell transfusion.  Also eliminated are the risks of blood-borne pathogens.
Dr. Rodriguez said, "As far as I know, I am the only heart surgeon who does open-heart surgery in the entire Rio Grande Valley."   Because of that he is a treasure to patients seeking major surgery by a surgeon who will respect their Bible-based prohibition against "eating" or "storing" blood.  Rodriguez is a Catholic by religion, but respects the faith of all his patients.
"When any patient presents to me, and the only alternative is invasive surgery, I look at that person and think that he could be my father or my brother or my mother or my sister. My heart goes out to them because I can imagine what they are thinking and feeling," he said.  "I want to treat them as a member of my family and ease their anxiety.  I urge them to be positive about the outcome, and remember that the human body has amazing recuperative and recovery powers."
Dr. Rodriguez then made an interesting comment:  "In my practice I have noticed that surgical patients facing an operation who are positive and confident about the future do much better than patients who are depressed or fearful of the outcome.  Apparently, their faith sustains them in the operating room.  People with a better attitude do better."
The mention of "family" came up several time during this interview with the doctor:  When he speaks of his own family, he is both proud of his children and their accomplishments, but the mention of his beloved wife Margarita evokes a change in his tone for there still exists an underlying sadness.
His wife was also a medical doctor.  They practiced medicine together for many years.  During those years, they raised a fine family of four; Filiberto Rodriguez, Jr. a medical doctor (MD FACS) a cosmetic surgeon; daughters Kiovanna Rodriguez a doctor in Psychology graduated from Stanford & Law Columbia New York and she is a Master yogi and Rickie founder of "East techniques"; and Kendrinna Rodriguez, Economy graduated from Stanford University, Teach of America and Public Policy Harvard School.
His youngest son is Gabriel Rodriguez he is in Accounting and Finance.
He likes to tell how met the late Margarita and fell in love one day when they were both medical students in Monterrey, Nuevo Leon Mexico.  He can still recall how it happened.  He was walking around aimlessly in the Purisima Plaza in Monterrey and just by chance, happened to go into the popular Sanborn's Restaurant.  And, there she was, the girl he was to suppose marry and raise a family with.
It was bliss, but it was not to last.  She died 25 years ago.  The doctor says he honors her memory by immersing himself in their profession and helping people to handle pain and grief by his practice of medicine.  "Medicine is my life and my family, now," he said emotionally.
The doctor laughed a bit when he related an experience about a patient asking for bloodless surgery.  She was not a Witness patient. She asked him to treat her like one, because she was afraid of AIDS.  She had heard that Witnesses had their operations without blood.  "Treat me like one, but just in the hospital," she demanded.
Until that time, we have skilled, conscientious surgeons like Doctor Filiberto Rodriguez-Salinas who are dedicated to treating the whole person including his conscience.
One of the doctor's patients said after his surgery:  "Doctor Rodriguez is a heart doctor with a heart."   What a nice reputation to have. MDN
Written by William R. Keltner, Guest Writer. Edited by Publisher Roberto Hugo Gonzalez. Photo by Roberto Hugo Gonzalez. Text, photos and stories of Mega Doctor News are copyrighted (automatically, under the Berne Convention) by Mega Doctor News editors.