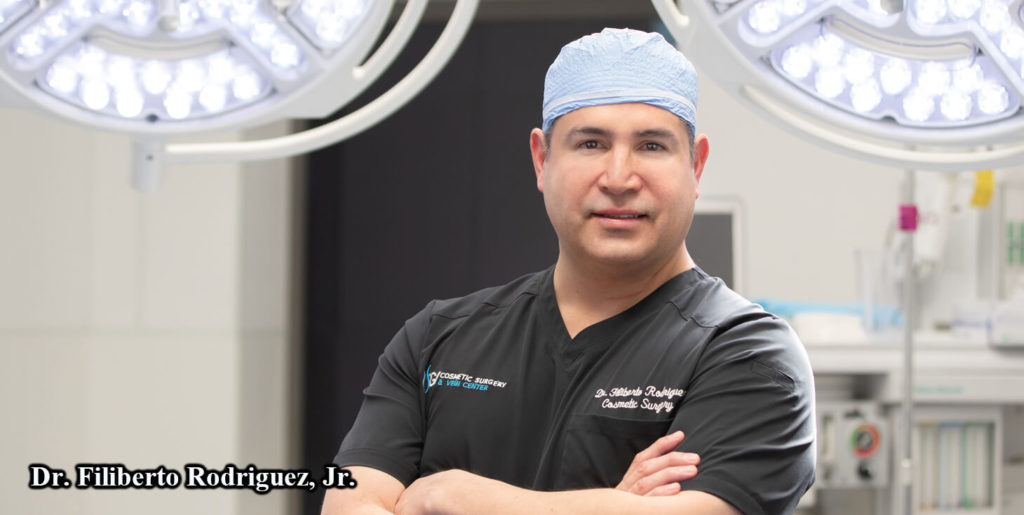 By Roberto Hugo Gonzalez
RGV Cosmetic Surgery & Vein Care owned and operated by Dr. Filiberto Rodriguez, Jr. is indeed one of the most sophisticated doctor's offices you will even find in South Texas in this field. It is a 17, 000 sq. ft. building made to serve the growing community in need of cosmetic surgery and vein care without leaving the Valley.
At the time of this report, Dr. Rodriguez has a little over on month in the new facility and already attending to clients.
For years, the Rio Grande Valley failed to provide many of the specialized medical services including cosmetic surgery and vein care. People would go to larger cities miles away and often out of the state in search for professional care in this field.
The first time Mega Doctor News had the opportunity to interview Dr. Rodriguez was in 2012. He was practicing from the Paseo Del Prado office, also well located and elegant but not as large and sophisticated as his current building on Freddy Gonzalez and McColl.
In this issue, read more about RGV Cosmetic Surgery & Vein Care and its new facility.
More news: Mission businesswoman Dolly Elizondo was elected as member of the Texas Organ Sharing Alliance (TOSA). The selections were approved at a recent Governing Board meeting in San Antonio
In aneffort to cultivate more homegrown health providers, The University of Texas Rio Grande Valley is entering into a new partnership with the Harlingen Consolidated Independent School District.  
UTRGV and Harlingen CISD on Tuesday, Dec. 11, signed a letter of intent to create a pipeline to help students in the Harlingen High School of Health Professions prepare for entering the university's Bachelor of Science in Biomedical Sciences (BMED) program and the UTRGV School of Medicine.
Mile of Hope is here to help. Teri Alarcon is the assistant superintendent for the Brownsville Independent School District, (BISD). She and a group of very caring people decided years ago to fight side by side with breast cancer survivors.
They created Mile of Hope, a non-profit organization that for six consecutive years has brought awareness of this formidable disease to the Brownsville community.
According to Teri, when she was the principal at Hannah High School, one her students wanted to do something. He approached her and said, "Ma'am, we've got to do something. Breast cancer awareness is coming up. Can we do something?" In this issue read the rest of the story.
The Year – 2018
Once again, we bring you each of the exclusive stories that were featured on our front cover throughout this past year. They include a QR code that you can scan with your smart phone so can read the full story.
The Staff of Mega Doctor News and I wish you a Christmas full of peace and love during this holiday season.
Enjoy!