RGV Cosmetic Surgery & Vein Care
By Roberto Hugo Gonzalez
As originally published in Mega Doctor News newsprint edition December 2018.
The growth of the Rio Grande Valley and the demand for better healthcare has opened a window for visionary, talented, and well-trained physicians to reach new goals.
Dr. Filiberto Rodriguez, Jr., a cosmetic surgeon and vein care specialist, made a big decision by commissioning Noble Texas Builders to build a cosmetic surgery facility as sophisticated as those found in Beverly Hills, New York, or Scottsdale Arizona. "Once you become established as a cosmetic surgeon, you almost have to have this kind of a facility because the hospitals can't fit you; my patients want and request more privacy," he explained.
He spoke to Mega Doctor News in exclusivity, even though his schedule is very tight. He operates from two offices; one is in Edinburg and the second in Brownsville.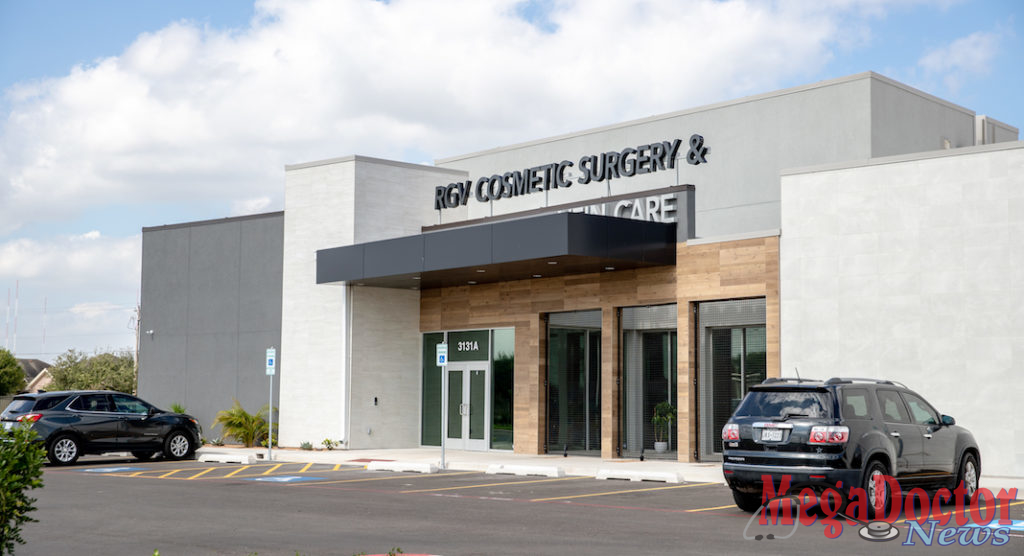 Dr. Rodriguez hired NOMA Design Studio with Claudia Chanin. He pointed out that the design for this building was initially based to a similar office in Scottsdale. He said, "At the time of designing the building, I was introduced to Noble construction; they have a wonderful team that made it possible to accomplish what we have now."
Noble Texas Builders is a local general contracting, design-build and construction, that also offers management services. Dr. Rodriguez went on to say that he saw some of the work being developed by Noble in Brownsville and he was impressed. "They have a great history," he said. "I mean they have a tradition doing this for years, and even though the company Noble might sound new, they have years and years of experience."
The choice he made by going with Noble, resulted in savings of several million dollars. "What I like is that Noble brought in a lot of valued engineering." He continued, "The architect had this design, and I could have easily spent three or four million dollars more to build this building than I had to."
He pointed out that by choosing Noble, it made all the difference. "Important recommendations made by Noble led to considerable savings." "But then even more because this facility is so complicated, that a consulting group from Tulsa, Oklahoma was brought in and became the architect of record."
Dr. Rodriguez said that NOMA continued to work under the direction of the consulting group. Noble brought in vital engineering, and their construction craftsmanship and the rest is history.
He said that he needed the facility finished with operating rooms for the procedures he performs, and with the medical equipment for his office side included. He says that the successful collaboration of both firms made it happen.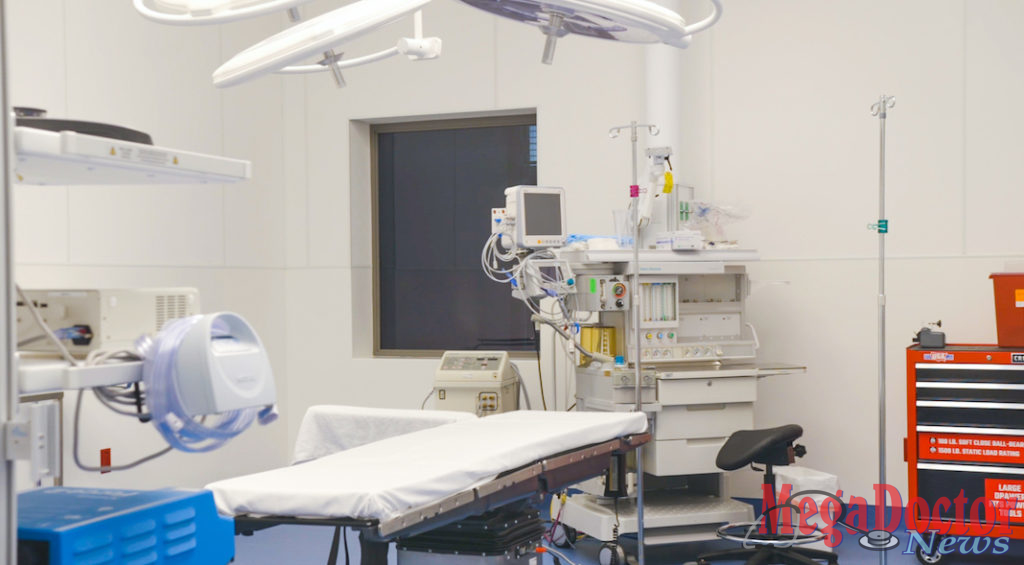 "But I have got to tell you, Noble was extremely professional during the whole time we were building." He said, "Weekly phone calls, following a strict budget and timeline, and everything built to code." He pointed out again that the project was complicated. However, the building passed every inspection.
"I can't say enough about Mr. Rene Capistran. He is the head of Noble construction and who's always available for me." He continued, "It's all been delightful working with them, and I highly recommend them."
At the time of this interview, Dr. Rodriguez had been in the new facility for one month, but it looked like he had been operating there for a much longer time period. RGV Cosmetic Surgery & Vein Center is one of the most sophisticated and beautiful state-of-the-art doctor's offices in the region. It's a 17,000 sq. ft. building with colossal high ceilings and with a breath-taking central courtyard.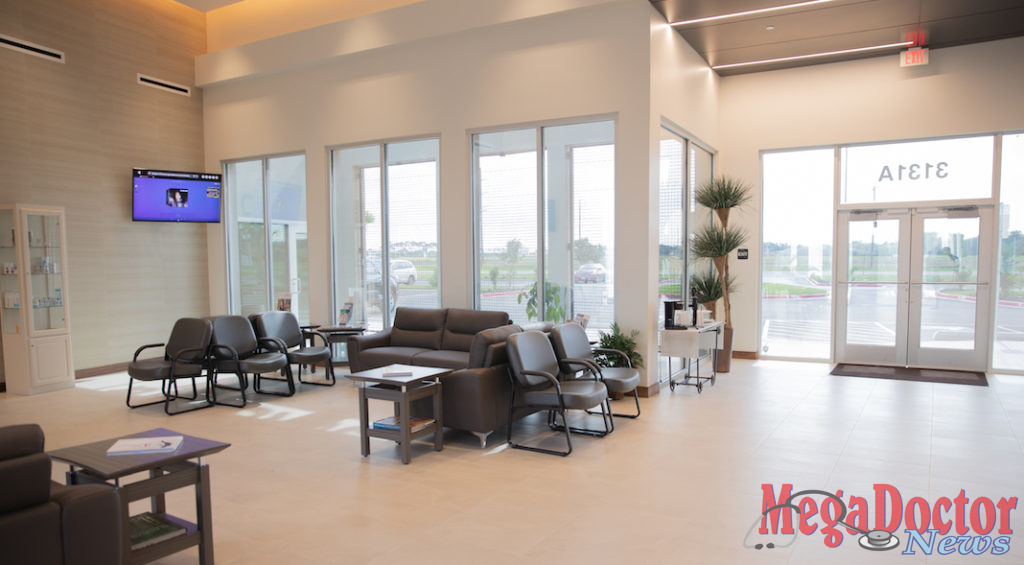 "I have as you can see a beautiful view from my office to the courtyard. I purposely did it in a minimalist-kind of Scottsdale desert." The front lobby also has a beautiful view of the courtyard. He stated that instead of looking out on an empty room or a parking lot, patients or visitors look into the courtyard that can be seen from every direction, it has large windows with reflective mirrors that make it very private.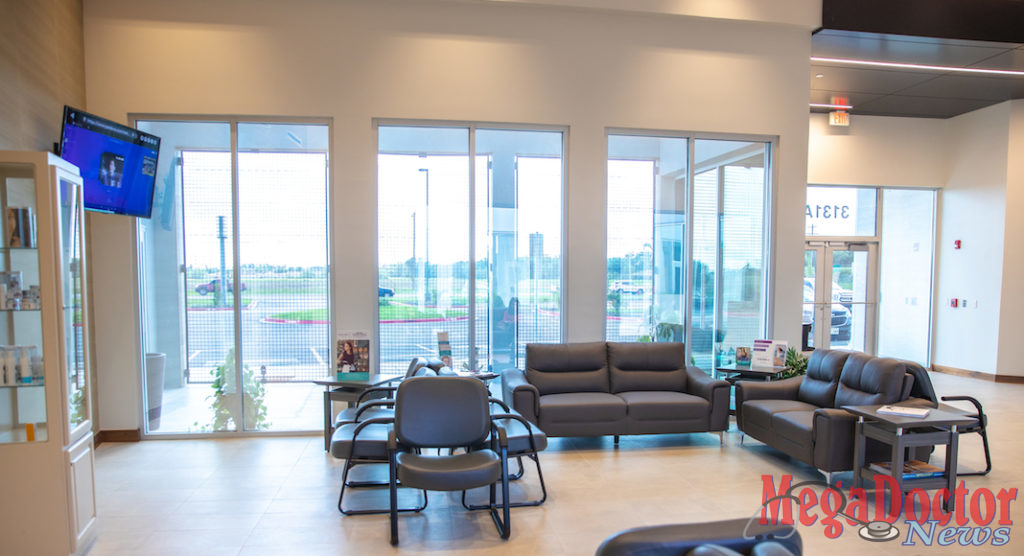 Dr. Rodriguez says that it creates a sense of openness. The thought of calm, combined with the soundproofing throughout the building, makes it a unique facility.
"As I get more into the functional side of the building where my procedure rooms are, the anesthesia staff that I work with, and the nursing staff are pleased because it's built to specification and ultimately with the goal of patient safety in mind." He said, "The facility was basically built to be as safe-equivalent as a hospital would be."
He also said that trainers on new lasers they buy from California, Los Angeles, and Scottsdale have expressed opinions about the new RGV Cosmetic Surgery & Vein Center building, saying, "I've been around the country, I've never seen a building this magnificent, that's so well designed and equipped."
The doctor is often asked, being that he is so good as a cosmetic surgeon, why is he in the Valley competing against Reynosa and Matamoros?
His response is straightforward, "I don't compete with Reynosa or Matamoros, that's not my competition. My competition is in Beverly Hills, Scottsdale, Houston, and Dallas." He continued, "People who go to these places, I can't tell you how many redo surgeries I've had to do from people who have gone to quote-unquote famous fancy doctors in Houston, and they come to me, and I have to fix them."
Dr. Rodriguez said that his dad had the same problem when he started the heart surgery program in 1983. His father is Dr. Filiberto Rodriguez, Sr., one of the best thoracic surgeons trained in Cleveland and the Mayo Clinic. According to his son, people used to tell his dad the same thing, 'if you are so good, why not be in Houston.'
"But after a couple years what happened is that McAllen had the number one heart surgery program in the state of Texas. It was my dad, he did that."
Having this magnificent building where he practices as RGV Cosmetic Surgery & Vein Center puts him above and apart from anyone in this field. The fact that he prefers to be practicing in the Valley is because he likes the area.
"It's nice to live here. It's very comfortable. The beach is nice, people are warm and friendly. It's not crowded. So, there's a lot of nice things here." He said, "People need to just get this out of their head, that to get good plastic surgery or cosmetic surgery, you have to go somewhere else." He would argue that it is not the case anymore. He is referring that people don't have to leave the Valley to get surgeries done.
As he continued, he changed the tone of his voice saying, "What makes this building so special is not just the building or the equipment, it's the people that work with me. You have to have a team. I cannot do this without them."
Dr. Rodriguez specializes in cosmetic plastic surgery and varicose vein disease. He completed the training, examination, and credentials process required for certification by the American Board of Cosmetic Surgery and the American Board of Surgery, to accomplish dual board certification as a cosmetic surgeon.
Dr. Rodriguez is also a Diplomate of the American Board of Venous and Lymphatic Medicine. He returned home to the Rio Grande Valley after 20 years of education and advanced training at some of the nation's most prestigious institutions.
He attended top-ranked Princeton University, where in addition to his premedical studies, he received a double major in Economics and Latin American Politics. Dr. Rodriguez was then awarded a full academic scholarship to attend the University of Virginia School of Medicine – a program famous for its intense hands-on training of medical students.
Dr. Rodriguez was selected into the nationally recognized surgical residency program at Stanford University where he completed nine years of extensive general, thoracic, and cardiovascular surgical training. During this time, he also completed an intensive post-doctoral research fellowship in the Department of Cardiothoracic Surgery. He ultimately chose to pursue training in plastic and cosmetic surgery. He completed one year as a fellow at UCLA Medical Center in Beverly Hills.
He chose to refine his cosmetic surgical skills and experience by undertaking an additional one-year fellowship through the American Academy of Cosmetic Surgery at the Body Sculpting Center in Scottsdale, Arizona, where he personally performed over 1,000 surgeries, with a particular emphasis on beautiful body contouring procedures such as abdominoplasty, breast enhancement, lipo-sculpting, and gluteal augmentation, as well as facial rejuvenation.
He is recognized as a Fellow of the American College of Surgeons and also as a Fellow of the American Academy of Cosmetic Surgery.
Dr. Filiberto Rodriguez, Jr. can be reached at RGV Cosmetic Surgery & Vein Center at 956-622-5707. His offices are located in Brownsville and his new state-of-the-art facility is in Edinburg, Texas.