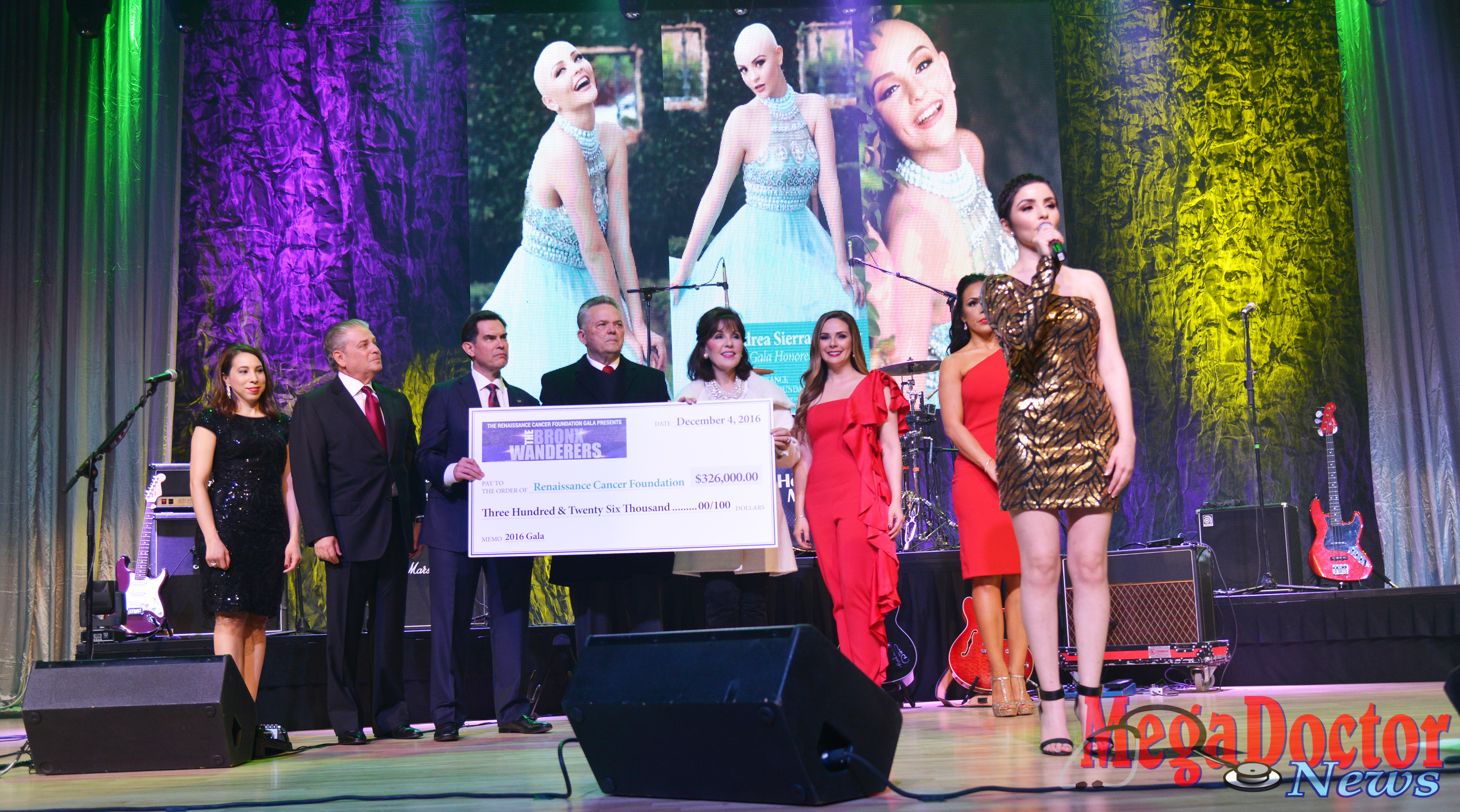 - Advertisement -

Mega Doctor News  
Edinburg, TX— The Renaissance Cancer Foundation hosted its annual holiday Gala on December 4, 2016. The evening consisted of complimentary hors d'oeuvres, drinks, a silent auction and performance by "The Bronx Wanderers," a dynamic family rock group that recreated the magic of the 50's, 60's, and 70's, effortlessly creating the perfect level of synergy between generations and the music.
United by their passion for great music—regardless of the decade—former gold record producer Yo' Vinny and his sons Vinny "The Kid" and Nicky "Stix" form the heart and soul of the Bronx Wanderers. From Frankie Valli and the Four Seasons to Queen and Coldplay, the Bronx Wanderers recaptured the original sound of hits virtually note for note true to the studio versions.
At the gala, generous community members raised $344,000 for the Renaissance Cancer Foundation—funds which will stay here in the Rio Grande Valley to provide services for patients directly.
Such is the case for seventeen-year-old McAllen resident Andrea Sierra Salazar. She was diagnosed with Stage 2 Hodgkin's Lymphoma Nodular Sclerosis in February 2016. Despite her diagnosis she is optimistic and cheerful, even while undergoing medical treatment.
Andrea says, "While cancer is a serious situation for those who receive this type of diagnosis, it can bring with it the opportunity to grow. It depends a lot on your attitude and how you view things. We always have two options in life– to bravely face what we are given and know God will always help us, or we can let it frighten us and only see the bad. Thanks to my experience, I now see cancer in a very different way and I want to help all those who are involved in cancer research, treatment and care."
The high school senior has a very positive attitude and still gets to enjoy her favorite hobby: modeling. Currently in recovery, Andrea has been scouted by several modeling agencies and fashion organizations from around the world.
As someone recently diagnosed with cancer, Andrea understands the struggle that young children and teens with cancer have in regards to self-esteem and confidence. Following her treatment, she wanted to send a message to everyone—posing hairless and without a wig—to convey the importance and value of each one of us, a value that is based on more than appearance. Her message to others is that beauty does not come from our appearance or how we view ourselves, but instead, it comes from within.
- Advertisement -

Andrea stated, "Now I appreciate the small things in life, like being able to enjoy a new day, having food at my table, having my family, having friends and many simple things like that. I have also learned to take better care of myself and to appreciate the care that others give me."
Her message, strong and meaningful to many still resonates, "beauty does not come from our appearance or how we view ourselves, but instead, it comes from within". Words never to be forgotten.
She also pointed out, "This experience has taught me to love and accept myself, regardless of the way I see myself."  "The hair on someone's head does not define who we are as people, but our actions and the way we treat others. All girls are princesses and today I feel beautiful inside and out."
It was these words that accompanied the inspiring photos Andrea shared online that went around the world as a sign of strength, perseverance and the willingness to deal with a disease. A message that was meant to help those who are in similar circumstances.
The photos that are seen throughout this year's Renaissance Cancer Foundation Annual Gala program book, which were taken by local photographer Gerardo Garmendia, went viral after Andrea posted them on social media. The photos were seen by more than 8 million people worldwide!
Speaking of the Renaissance Cancer Foundation Annual Gala, Andrea says, "Even though it is on a smaller scale, I love to support the different activities in my community that raise awareness about cancer and raise funds for this cause. It is events like this that spread the encouraging message of strength, hope, dreams, and the will to fight."
In addition, she said, "I thank God and my family for all their love and support, and all the wonderful people who have supported me during this stage of my life. I am very happy to have known so many beautiful people who have helped me to become who I am today. Thank you."
Since 2008, the foundation has dedicated its efforts to building community awareness while providing cancer education, emotional support, financial assistance and guidance for underserved patients. The Renaissance Cancer Foundation's goal is to provide patients with services to help them during their cancer journey. The foundation is also dedicated to continually expanding programs and services to ensure it meets the health care and social needs of the communities served—today and in the future. In 2015, the Renaissance Cancer Foundation provided over $400,000 in support services and patient advocacy in the areas of patient navigation, financial counseling, monthly support groups, nutritional care packages, a beauty salon for patients who experience hair loss, and household and transportation expenses.
The Renaissance Cancer Foundation is a 501 (c)(3) tax exempt non-profit organization whose purpose is to provide support for cancer patients in the Rio Grande Valley. MDN