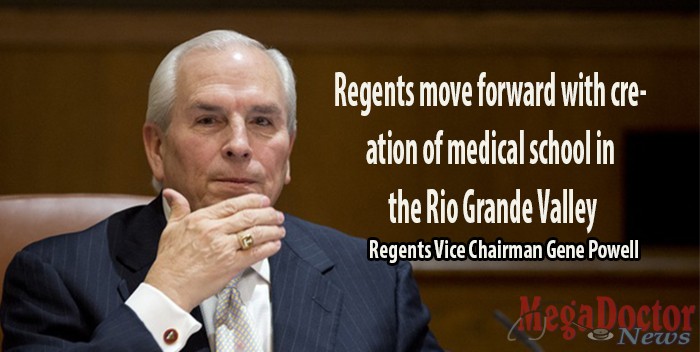 Mega Doctor News
AUSTIN – The University of Texas System Board of Regents unanimously approved two milestones in the establishment of a school of medicine in the Rio Grande Valley at a meeting on Thursday.
The medical school will be a part of the new University of Texas Rio Grande Valley – a single institution that will span the entire Rio Grande Valley and bring limitless educational, economic and medical opportunities to South Texas. Regents approved the design development plans as well as $54 million to fund the construction of a medical school building in Edinburg and also gave preliminary authority for a Doctor of Medicine (M.D.) program at UTRGV.
Medical education programs for first- through fourth-year medical students will take place at several locations in both Hidalgo and Cameron counties, including this new facility, the UT System's existing Regional Academic Health Center in Harlingen, and additional existing and planned facilities. Regents Vice Chairman Gene Powell, who serves as the board's special liaison to South Texas, made the motion to approve both items, which received unanimous support.
"With the approval of funding for the medical school building, this Board of Regents has now dedicated $250 million from the Permanent University Fund to South Texas," Powell said. "It is incredible that just over a year ago this was nothing more than bold idea that came before this board. Now, just a short time later, we are able to tell the people of the Rio Grande Valley that we are delivering on our promise."
The Permanent University Fund, or PUF as it's more commonly called, is a public endowment established in 1876 by the Texas Constitution. The fund draws revenues from oil, gas and land leases to benefit the UT and Texas A&M systems. But state law prevents UT Brownsville and UT Pan American from accessing PUF revenue. However, UT Rio Grande Valley – approved by the Texas Legislature in 2013 – is eligible to receive PUF, and its creation means South Texas can access PUF funding for the first time.
The university, which will merge the assets, resources and talents of UT Brownsville and UT Pan American, is scheduled to open in August 2015. The plan is to matriculate the first class of undergraduates into UTRGV in the fall of 2015 and the first class of medical students into the medical school in the fall of 2016. "This is an important step on the journey to building a new university and medical school that will prepare students for global leadership positions," said Chancellor Francisco G. Cigarroa, M.D.
"This Board of Regents, UT System officers, President Julieta Garcia, President Robert Nelsen and the faculty and employees of UTB and UTPA have turned a dream into a reality." The new medical school will focus attention on the greatest health needs of the community and also will provide more students from the Rio Grande Valley with opportunities to pursue careers in the health professions. Moreover, by training more health care professionals and partnering with local health care providers, UTRGV will improve access to health care for the residents of the communities served.
The medical school building, which will be constructed on the campus of UT Pan American, will house approximately 88,250 square feet devoted to teaching facilities that promote faculty and student interaction. The space will include lecture halls that can be converted into smaller breakout rooms for professional education and simulated patient cases.
It will include an auditorium, digital library, clinical skills center, preclinical labs and a human structure lab to accommodate the shifts in the technology of teaching human anatomy. The building, which will also include the medical school's core administrative offices for the medical dean and roughly 30 faculty members, is scheduled to be complete in time for the first medical school class in fall of 2016.