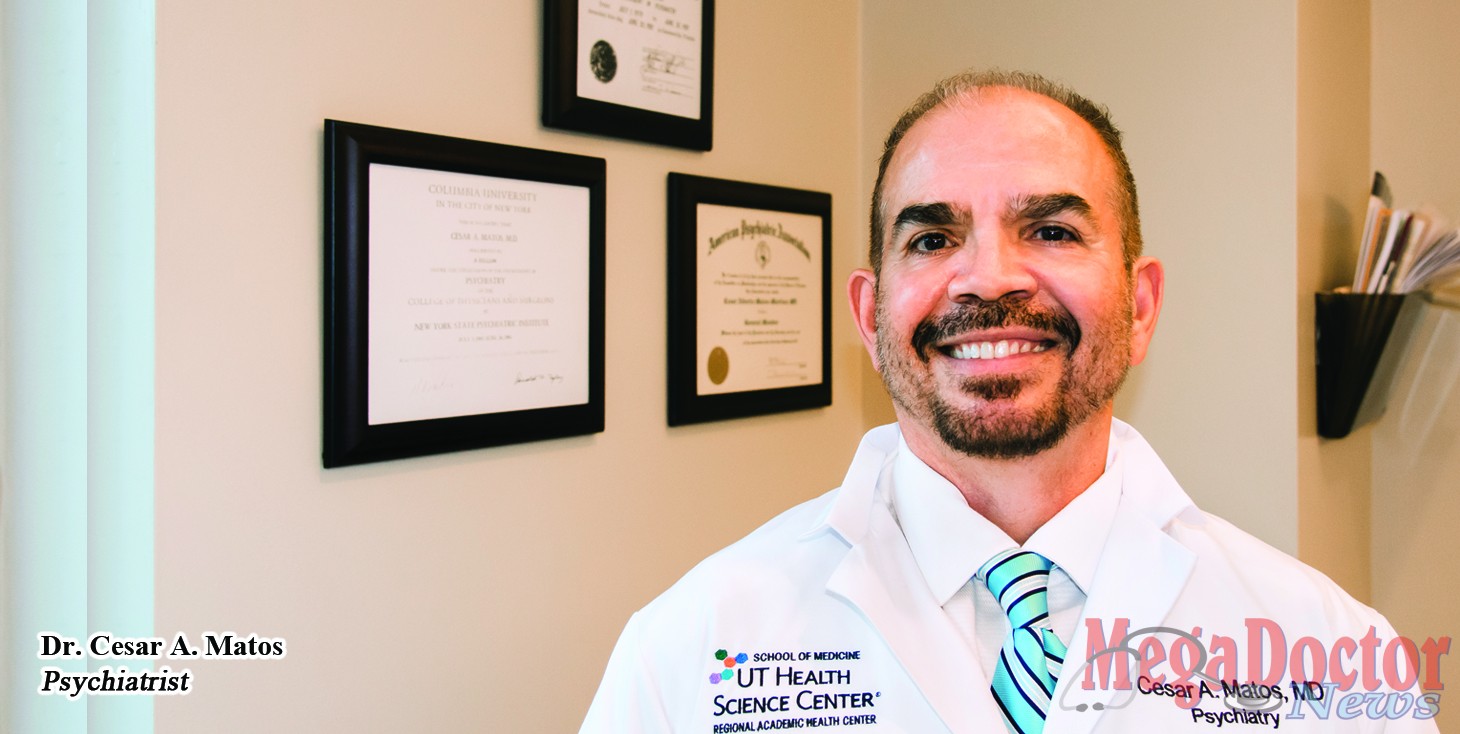 By Roberto Hugo Gonzalez
- Advertisement -

As originally published by Mega Doctor News in its newsprint Edition
The psychiatric profession is not an easy one.  It comes with a big responsibility and requires that you hear heart-wrenching stories from people without getting emotional. In a few words, aside from spending several years in medical universities and fellowships you have to be emotionally strong to be able to handle this profession to start with.
Our Mega Doctor of this month is Dr. Cesar A. Matos, a medical doctor with a specialty in psychiatry. In this New Year, he will be celebrating 33 years in practice in this profession.
He has acquired a vast experience with no parallel in this field. He treats patients suffering with anxiety and mood disorders, as well as panic disorder, social anxiety, symptoms of post-traumatic stress disorder including major depression, and bipolar disorder.
During his long career as a psychiatrist he has served thousands of patients, a volume that speaks for itself. Dr. Matos is a doctor that is truly trusted by more than seven thousand patients that he currently treats.
He also provides medication management for bulimia and premenstrual symptoms, and treats adults and older adolescents who have attention deficit disorder.
Dr. Matos practices adult psychiatry, and cares for all types of patients with dedication to patients afflicted with Alzheimer's disease and their caregivers.  And as in any area where alcohol is available everywhere, he helps patients suffering with alcohol abuse.
- Advertisement -

Dr. Matos was born in San Juan, Puerto Rico, obtaining his medical degree at the Universidad Autónoma de Guadalajara, in the state of Jalisco, Mexico. After his graduation he spent a year in San Juan, Puerto Rico, completing his internship and he was accepted at the University of Florida Medical School for his residency and specialty in psychiatry. Upon the completion of his residency program, Dr. Matos moved to New York where he completed a fellowship at Columbia University.
Dr. Matos is board certified by the Board of Psychiatry and Neurology and was certified in Clinical Psychopharmacology.  He was an attending physician in the Mental Health Department of Columbia University for several years. In 1993, Dr. Matos and his family moved to McAllen and that was almost 21 years ago.
He told Mega Doctor News that his specialty is a fascinating profession. "Years ago this specialty was looked down on and people usually didn't want to train in these areas." He continued, "I wanted to be a psychiatrist even when I was in premed, since then I decided that if I was going to be a doctor it was going to be in psychiatry."
He recalls that one his mentors told him, "We are dealing with the mind and the mind controls everything. If your mind is gone, it does not matter if you have a great heart."
Dr. Matos was eloquent about his profession and drug treatments. Before the eighties there wasn't an available medication to alleviate the suffering of the human mind; after the Food & Drug Administration approval in December 1987, Prozac (Fluoxetine Hcl) became a very effective medication to control depression.
The interest in research by the pharmaceuticals to develop new medications to help people that had mental health issues was there. "So it was a big boom in the eighties," he said.
He recalls that psychiatrists were not important for the pharmaceutical industry but it was a time of discoveries of new treatments and Fluoxetine came to be. He said that pharmacy reps started visiting doctors to tell them about the use of this drug.
Dr. Matos said before this medication, psychiatrists had to deal with mental health based on the teachings of Sigmund Freud, an Austrian neurologist who became known as the founding father of psychoanalysis. Freud's treatments included psychoanalysis and psychotherapy. There were few medications available for the very disturbed patients suffering with schizophrenia that often ended up locked up in an institution for the rest of their lives.
"Another medication was Thorazine (Chlorpromazine)," he said.  But as he explained, Thorazine had many side effects. "This medication alone had between 35 to 37 side effects and if compared to new medications, they also have side effects but not as many," he said.
According to him, the first medications were always used and tested on prisoners and mental patients like guinea pigs. The mental patients of the state mental hospitals were part of the medication trials.
"One time," he said, "they tested a high blood pressure medication called Imipramine and realized that this medication didn't control blood pressure however it made mental patients happier so they discovered an antidepressant."
As new medicines were being discovered that were effective in treating mental illness, there was more opportunity to improve the mental health of the patients.
Dr. Matos is the youngest of a family of seven and the only doctor in the family. "I was born to Antero and Maria Matos, both are deceased," he said.
He remembers his parents as a wonderful couple that instilled in him the value of honesty. "My family never dealt with people who steal and lie, for them, this was unacceptable. They instilled in me, that it was important to be loyal to the family."
But what he remembers and treasures most about his father is that he was a marvelous man that inspired him and taught him to work hard to achieve his dreams.
He ended up in the Rio Grande Valley in part for his family, "My children wanted to come here because they wanted to be close to Mexico. I have a son who is a vascular surgeon, his name is Jesus Matos 35, and I am very proud of him. He has published eleven articles in the surgeon journals. He trained under Dr. Michael Ellis DeBakey. My son, Enrique 33, is a corporate lawyer, and my daughter, Victoria 22, works with us and is studying communications."
The other part of the story as to why he came to the Valley, he got an invitation to come and work for Charter Palms. "I got a nice brochure that described the tropics of Texas. It also showed this beautiful hibiscus and palms. My wife, Laura also saw it and remembered passing through McAllen to visit family in Mexico.  She liked the city so six months after I called Charter Palms and accepted the offer."  McAllen was perfect; he always wanted to work in a small town and practice psychiatry. Today he practices in-care and admits patients exclusively to the South Texas Behavioral Health Center for in-patient, sub-acute treatment of the previously described conditions.
Dr. Matos had decided to become a doctor in psychiatry at an early age when he was being trained to provide orientation to new students coming from large universities.
"I got trained and learned how to lead large groups of people and in that training I found out that there were interesting professions like psychology and psychiatry, so I said to myself that is what I want to be." Later when he became a psychiatrist he learned that like in any other profession, there are always challenges of every kind. His challenge is the ignorance of the community about what mental health is all about and their prejudice about having a mental illness and getting it treated.
Even though he has so many years in practice and has treated thousands of patients, his worries are that his patients might not get well and that they may attempt suicide.
He also said that his practice stands out because he is very compassionate with his patients. "I am genuinely interested in them and I know their stories especially when we have been together for twenty years."
Mega Doctor News asked how he met his wife and he explained, "We met in 1972 in medical school after she was arguing with another guy. I thought that she was putting the guy down and I wanted to make her smile. We have been together ever since then."  Mrs. Matos is also a doctor in Physical Medicine and Rehabilitation and manages their  .
Dr. Matos originally gave up acting for this career, "Well, I was going to be a dramatic actor in the theater," he said. However, the only acting I got to do was just in the university."
When asked if he thought about whether he would have preferred to do something else, he paused only for a few seconds and categorically said, "I don't think so."
"My family is the most important part of my life, and I would hope that someday, I could be remembered as a very good person."
To end this interview, the following is a conversation Dr. Matos had with a patient that came to see him after learning about Joan of Arc's voices.
Patient (Q): "Dr. Matos, how come Joan of Arc heard the voice of God telling her to go and help King Charles VII of France against the English? Don't tell me that she is not crazy. And how come I hear voices and you tell me that I have Schizophrenia?"
Dr. Matos (A): "Joan of Arch's voices had a purpose and that was to protect France against the English. Your voices are telling you things such as that you should kill yourself and this is not right."
Dr. Cesar A. Matos was chosen to become Mega Doctor of this month for his experience and long career in the difficult profession of psychiatry and for his special dedication to patients afflicted with Alzheimer's disease.
For Depression, Anxiety and Panic Attacks you may consult with Dr. Cesar A. Matos M.D., P.A. His office is located at 2110 West Trenton Road, Suite A in Edinburg, Texas 78539. You can also call for an appointment to 956-289-8200. MDN
Written by Roberto Hugo Gonzalez the 2009 SBA Journalist of the Year Award Winner & The 2009 and 2012 Paul Harris Award recipient