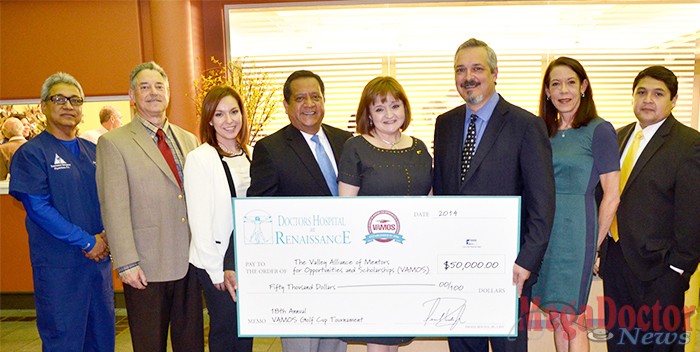 - Advertisement -

Mega Doctor News
Edinburg, TX—2/5/14— Doctors Hospital at Renaissance is excited to announce that it will sponsor the 18th Annual Valley Alliance of Mentors for Opportunities and Scholarships (VAMOS) Golf Cup Tournament.  The tournament, which takes place on Saturday, March 1, 2014 at the Palm View Golf Course in McAllen, raises funds for renewable four-year scholarships of up to $20,000 for graduating high school seniors in the Rio Grande Valley. The VAMOS Golf Cup Tournament is one of the most anticipated tournaments in South Texas, with more than 700 people in attendance each year.
Since its establishment in 1996, VAMOS has awarded over 300 local students with scholarship funding worth more than $7,400,000. VAMOS scholars attend various universities across the country, including Yale, Harvard, Stanford, The University of Texas at Austin, and Texas A&M University. More than half of the VAMOS scholars decide to receive their education locally by attending the University of Texas-Pan American.
"Through our $50,000 donation, DHR hopes to assist VAMOS with providing ample educational opportunities for the deserving students of our community," states Marissa Castañeda, DHR Senior Executive Vice President. "Doctors Hospital at Renaissance is committed to investing in the future of the Rio Grande Valley. It is through higher education that we ensure the future of our community – education propels individuals to become our leaders, our scientists, our professionals and our innovators for the future."
For more information about the 18th Annual VAMOS Golf Cup Tournament, please contact Maritza Rodriguez at 956-631-1273 or via email at Maritza@VamosScholars.org.