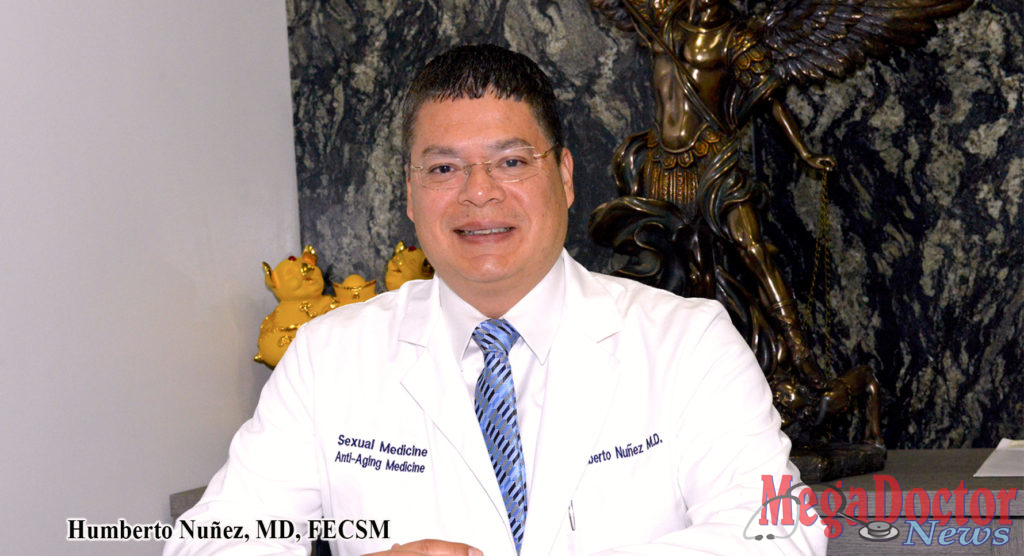 Mega Doctor NEWS
Many think about the problem, but little is said about erectile dysfunction. Yes, I am talking about the inability to have an erection sufficient to maintain satisfactory sexual activity.
It is possible that at this moment, many men are suffering in silence. That they think that the world is over. That there is no hope. Whichis not true because there is a doctor, in McAllen, with a specialized training in sexual medicine who has solutions to return that ability to men.
He is the only physician trained in Europe in sexual medicine serving the Rio Grande Valley. Dr. Núñez practices from his clinic called "Only for Men Medical Clinic" in McAllen, Texas.
If at this time you wonder what are the causes of erectile dysfunction? According to Dr. Núñez, "there are many." The main one is poor arterial circulation. The doctor is right. If there is no good circulation of your blood through your veins, that is not good, because it can be the cause of more diseases, including the problem of not having an erection, or, not being able to maintain an erection to satisfy your partner.
Dr. Núñez is a leader in this field; he went to Europe to specialize in sexual issues. He says it is also convenient to treat the partner, if necessary. But what is essential first is that you decide to do something now and not later. Dr. Núñez has proven solutions in this field of medicine. He has already treated many patients with excellent results.
In the Rio Grande Valley, he is the only one with the specialty to serve men with erectile dysfunction. In this issue of Mega Doctor News, read an article that talks about Dr. Núñez. He explains all the possible causes as to why you cannot have an erection and the desire for sex. He has the solution; however, you are also a vital part of the solution.
We invite you to read it, and also share it with your partner and make an important decision. Your appointment is confidential, in an office where you will find a well-trained team to help you.
Once you visit the doctor, it is the first step to happiness and better health. It also means that when diagnosed and treated, the other important part is up to you, which is to follow Dr. Núñez's instructions to the letter.
On another matter, Americans are increasingly dying of heart disease and strokes as they hit middle age — and the trend is happening across the country, according to a Wall Street Journal analysis of mortality rates.
Why it matters: It suggests "that the underlying causes of cardiovascular disease are universal and difficult to address," the Journal found.
Broken Bones– While traditional fiberglass or plaster casts are an effective, time-honored treatment technique for postoperative immobilization or the treatment of fractures, a new review article published in the January issue of the Journal of the American Academy of OrthopedicSurgeons (JAAOS) sheds light on their complications and reveals evidence behind alternative immobilization methods such as braces or splints.
There is more in this issue, enjoy!
---
Articles mentioned in this story: