Expansion Creates More Access to DHR's Comprehensive Stroke Center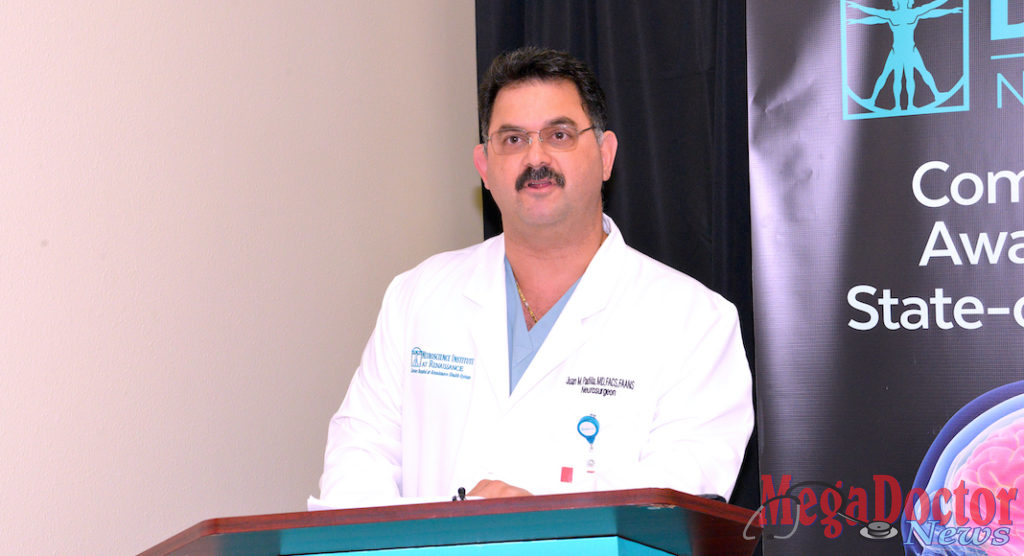 Mega Doctor NEWS
Edinburg, TX – On Friday, Jan. 31, 2020, DHR Health unveiled its 12-bed neuroscience step-down unit giving patients quicker access to DHR's Comprehensive Stroke Center.  Designated as a Level I Comprehensive Stroke Center by the Texas Department of State Health Services, DHR Health's Comprehensive Stroke Center is the first Joint Commission Advanced Comprehensive Stroke Center in the Rio Grande Valley.  
"Thank you Rio Grande Valley for putting your trust in DHR Health for your care. We opened a neuroscience step-down unit that will make it feasible for all neurological cases to be treated at home in our state-of-the-art facilities and with our committed-to-excellence staff," states Juan Padilla, M.D., F.A.C.S., F.A.A.N.S., Chief of Neuroscience.
The unit was renovated to provide world-class neurological expertise at DHR Health's dedicated Neuroscience Intensive Care Unit. Now the unit has cardiac monitoring and state of the art EEG monitoring equipment as well as an epilepsy monitoring room for pediatric patients within the pediatric intensive care unit. The unit provides care to neurology, neurosurgery and epilepsy patients and they will be able to have convenient access to DHR's Comprehensive Stroke Center.
It has administered over 70 cases of Alteplase with zero hemorrhagic bleed complications.
"DHR Health is committed to excelling in quality patient care for all neurological conditions including stroke and spine care. There is no need for patients to leave the Rio Grande Valley when they can get the care they need right here at home", states Padilla.
DHR Health's Comprehensive Stroke Center cares for patients affected by stroke and cerebrovascular disease, epilepsy, movement disorders, brain, and spine-related injuries as well as other neurological issues.  It has a dedicated neuroscience intensive care unit with advanced monitoring and EEG capabilities in each patient room.  A part of the DHR Health Neuroscience Institute, the Comprehensive Stroke Center provides multidisciplinary care, including neurology, neurosurgery, physical therapy, occupational therapy, and speech therapy as well as case management.  
Providing true comprehensive neurologic care, the DHR Health Neuroscience Institute is also home to the region's only Blue Cross Blue Shield of Texas Blue Distinction Center for Spine Surgery with care provided by the regions only fellowship-trained spine surgeons. Hospitals designated as Blue Distinction Centers for Spine Surgery demonstrate expertise in cervical and lumbar fusion, cervical laminectomy and lumbar laminectomy/discectomy procedures, resulting in fewer patient complications and hospital readmissions compared to other hospitals. Designated hospitals must also maintain national accreditation to be designated.
For more information about the DHR Health Neuroscience Institute or to schedule an appointment, please call (956) 362- 8500