By Roberto Hugo Gonzalez
As originally published by Mega Doctor News newsprint edition January 2020
Couples not having sex frequently or not at all, can take comfort; they're not alone. In the world's wealthier countries where the sex lives of citizens are studied in detail, researchers have discovered that people are having less sex.
Statistics show the average adult in the United States has sex about once a week. That's approximately a 20% drop in frequency.
It's a similar story in other countries. Besides, the number of people not having any sex is going up, whether young or old, straight or gay, they are not doing it — not much anyway.
Dr. Humberto Núñez, FECSM was selected as the Mega Doctor this month as he is the only fellowship-trained physician in sexual medicine in the Rio Grande Valley. He practices from his clinic called 'Only for Men Medical Clinic' in McAllen, Texas. We wanted to know what the causes are for having less sex; and more about the solutions he provides.
Erectile dysfunction, in some cases, could make people very unhappy, embarrassed, and insecure; the relationship can be unsatisfactory and even destroy a marriage. As a believer that sex matters and that frequency are a sign that the couple is in a healthy place, this conversation is vital for anyone who wants to know more.
Dr. Núñez is board certified in Family Medicine. It is important to note that Dr. Núñez received training in the European School of Sexual Medicine through a Fellowship granted by the Multidisciplinary Joint Committee of Sexual Medicine as designated by the European Union of Medical Specialists. After successfully passing the board examination, Dr. Núñez is recognized as a Fellow of the European Committee of Sexual Medicine (FECSM).
He treats patients with erectile dysfunction; he also treats low testosterone. "This is very frequent in men after their forties, actually any age now." He said, "I've treated even younger patients with low testosterone at the age of 18."
Dr. Núñez treats patients with premature ejaculation and sexually transmitted diseases. Also, he treats Peyronie's disease, a problem caused by plaque or scar tissue inside the penis. This condition often results in a bent, rather than straight, erect penis.
He said that most men with this disease can still have sex. But for some, it can be painful and cause erectile dysfunction. The good news of this scary situation for any man is that, according to Dr. Núñez, this is treatable.
What causes erectile dysfunction? As we started the conversation, this was the first question. He pointed out several factors, like bad circulation, high cholesterol or triglycerides. "There can also be a psychological factor. Most of the time, the culprits are the combination of organic factors." He said, "I could say the most common causes are diabetes mellitus, hypertension, coronary disease, and high cholesterol."
The factors that he was talking about are indeed part of the problem, but as he says, 'everything is treatable.' The two key elements to treating erectile dysfunction are; first, visit a specialist in sexual medicine, and second, follow the doctor's instructions.
Type 2 diabetes is discovered when patients show high blood sugar in the blood. It opens the door for metabolic syndrome. He continued, "Metabolic syndrome is a cluster of conditions that occur together, increasing the risk of heart disease, stroke, and type 2 diabetes. These conditions include increased blood pressure, high blood sugar, excess body fat around the waist, and abnormal cholesterol or triglyceride levels. As this is cooking in your body, erectile dysfunction becomes prevalent.
"Other factors that are culprits of erectile dysfunction are drug use, heavy alcohol consumption, and smoking. Stress can also produce sexual dysfunction." Dr. Núñez said that the lack of good sleep is also another cause.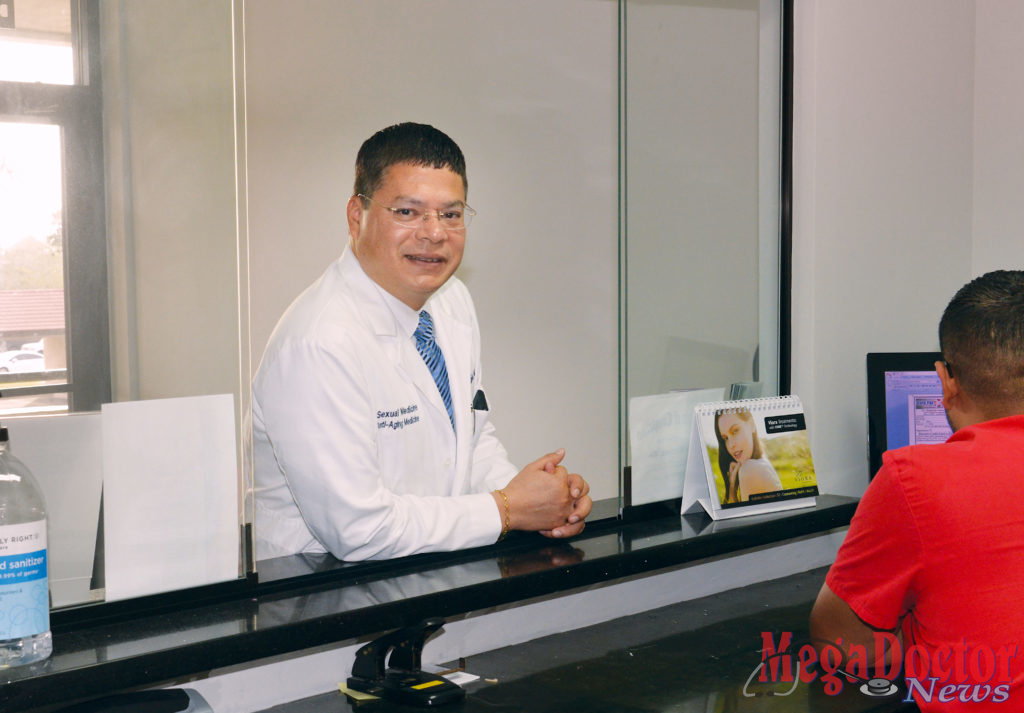 Dr. Núñez said, "Remember, 100% of a healthy erection is due to good blood flow. Erectile dysfunction in men is mainly due to poor blood flow. Every disease that affects the blood flow, as we discussed before, can produce erectile dysfunction. In a few patients, erectile dysfunction is due to neurological disease."
Another question is, how important is sex for you? Yes, to you, the reader, after knowing the common factors affecting your health and the happiness that you no longer have by not having sex. Is it worth it for you to stay in that condition when there are treatments available that will fix the problem?
Dr. Núñez has practiced in this field for years and is successful in treating erectile dysfunction in men, especially when patients follow his advice. Visiting Dr. Núñez with your wife, also makes a difference, by evaluating the couple, he can prescribe the right treatment. Delaying a visit to a physician is just giving more time to the factors that can do their damage.
Dr. Núñez offers several treatments for Erectile Dysfunction, including pills, injectables like TRIMIX, Platelets Rich Plasma (P-SHOT), and other therapies. Now, he is using a cutting-edge technology with GAINSWave therapy, a revolutionary treatment based in shockwave therapy. The principle is using acoustic waves that pass through the erectile tissue and stimulate the formation of new vessels (neovascularization) and clears plaques.
Dr. Núñez is optimistic in saying that erectile dysfunction is treatable, and it is, depending on what the preliminary exams reveal. However, he has the experience and the resources to bring a solution.
One thing he highlights is the conversation he has with his patients, "I will do my part by treating your problem. I will give you medication to improve your sex life. But if you don't do your part, with diet, exercising, being compliant with medication, stop smoking, alcohol, and other things; nothing will work."
Dr. Núñez noted that breaking bad habits in the patient is a challenge for him. He diagnoses the specific causes of erectile dysfunction. He prescribes the treatment that is going to fit your needs for better health, but the bad habits are a big part of the problem, and collaboration from the patient is essential. Good teamwork between the physician and the patients makes for a winning team. Yes, there are lots of changes in your life, but in the end, happier times are around the corner. Plus, there is the satisfaction of becoming healthy by defeating the multiple causes of the dysfunction.
Dr. Núñez is planning to offer Telemedicine services in the next 3 months; it involves the use of information technology and telecommunication to provide health care from a distance. So, you don't need to see him personally, just using your computer or your smartphone you can chat with him to establish a plan of treatment and have subsequent follow up appointments.
Dr. Humberto Núñez practices from Only for Men Medical Clinic located at 110 East Savannah Ave. Bldg. B Suite 203 in McAllen. You can call (956) 213-8590 to make an appointment. For faster results on how to get there, click here, this will give you contact information and a google map that directs you to the location of Only for Men Medical Clinic.