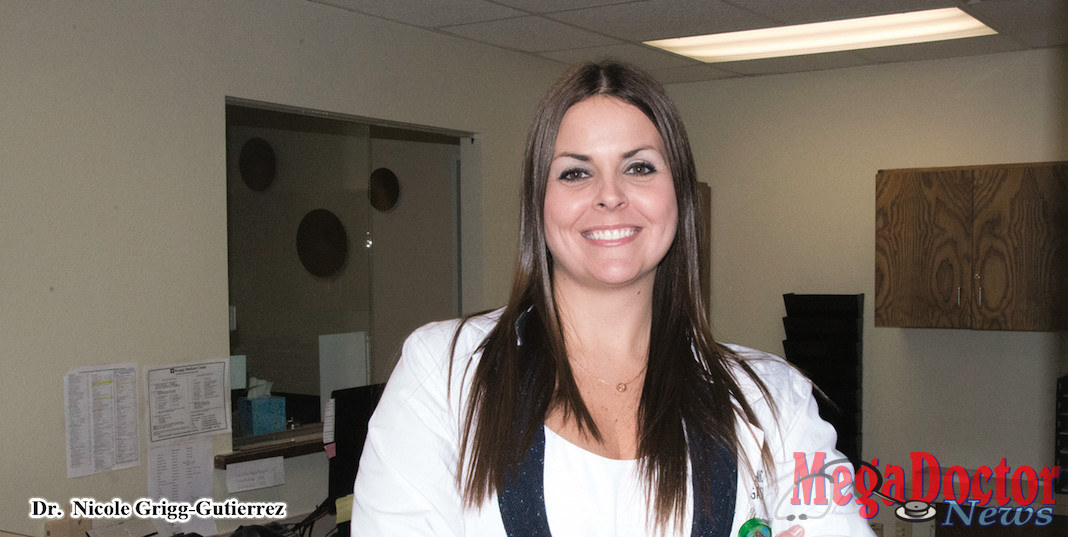 By Roberto Hugo Gonzalez
As originally published by Mega Doctor News in its newsprint edition February 2017.
New Gastroenterologist at Knapp Medical Center in Weslaco inspired to pursue specialized field by medical residency. Our mega Doctor for the Month of February 2017 is Dr. Nicole Grigg-Gutierrez, M.D. whose interest in gastroenterology was sparked in part when her father developed cancer of the stomach.
Dr. Grigg-Gutierrez is now offering potentially life-saving colonoscopies as well as endoscopies and advanced gastroenterology-related services in the Mid-Valley area.
She is originally from Puerto Rico, Dr. Grigg has opened a gastroenterology office in the Knapp Medical Center Medical Arts Building in Weslaco.
Dr. Grigg-Gutierrez is now helping in the fight against the potentially-deadly disease of colon cancer by offering colonoscopy screenings at Knapp Medical Canter's gastrointestinal lab, as well as at Harlingen Medical Center.  Meet her and learn more about her in this issue.
In the Mega Story article, Mega Doctor News brings to you Professor Niels Birbaumer, a pioneer in the use of brain-computer interfaces for patients with neurological disorders.
- Advertisement -

He and his team have designed a brain-computer interface to communicate with people completely locked in after losing all voluntary movement due to Lou Gehrig's disease, or amyotrophic lateral sclerosis.
Birbaumer, a brilliant neuroscientist, said that the brain-computer interface fits on a person's head like a swimming cap and measures changes in electrical waves emanating from the brain and also blood flow using a technique known as near-infrared spectroscopy. Fascinating!
The latest news concerning the Medical School is that Dr. Steven A. Lieberman, interim dean of The University of Texas Rio Grande Valley's School of Medicine, on Feb. 8 gave the Board of Regents' Health Affairs Committee an update on the progress of the UT System's newest medical school. Interesting report in this issue.
The good news is that the practice of Felici Pediatrics announces that Dr. Luis E. Garcia, MD FAAP, is now part of Felici Pediatrics medical team. Dr. Garcia is a pediatrician specialist; he takes care of children from birth to young adulthood.
The 4th Annual Pediatric Conference put together by Doctors Hospital at Renaissance brought the Valley, a distinguished group of panelists. Some of those professionals that spoke to Mega Doctor News are: Neera Ghaziuddin, MD, an Associate Professor at the University of Michigan, Ann Arbor; Janet F. Williams, M.D. FAAP, from the Department of Pediatrics of UT Health San Antonio; Christopher S. Cooper, MD, FACS, FAAP, Professor and Vice Chairman Department of Urology and the Director of Pediatric Urology at the University of Iowa Children's Hospital and Kevin M. Feber, MD, FAAP Associate Professor of Pediatric Urology at the Oakland University and William Beaumont School of Medicine in Michigan.
The Hidalgo-Starr County Medical Society comprised of a group of local physicians that advocate for the success of doctors and the continual improvement of community health.
During one of their regular meeting, they had as guest and keynote speaker Dr. Robert Bredt, a pathologist in San Antonio, Texas with affiliation with Texas Center for Infectious Disease and the Texas Medical Board.
He told the attending physicians that the board does a lot of activities, both inspections as well as disciplinary actions surrounding pain management. And that he was here, to talk about some of the Texas Medical Board rules, how and how they handle pain management, and what some of the outcomes are.
Dr. Bredt also covered pain management clinic inspections and about prescribing to friends and family, which according to him, is sometimes problematic.
The interesting lecture by Dr. Bredt This was very educational and refreshing for all.
As always, I know that you will enjoy this issue! MDN
Related articles:
Dr. Nicole Grigg-Gutierrez: Providing Life-Saving Colonoscopies & Advanced Gastroenterology Procedures for Mid-Valley Residents
Mega Story: A Brain-Computer Interface Records "Yes" and "No" Answers in Patients Who Lack Any Voluntary Muscle Movement