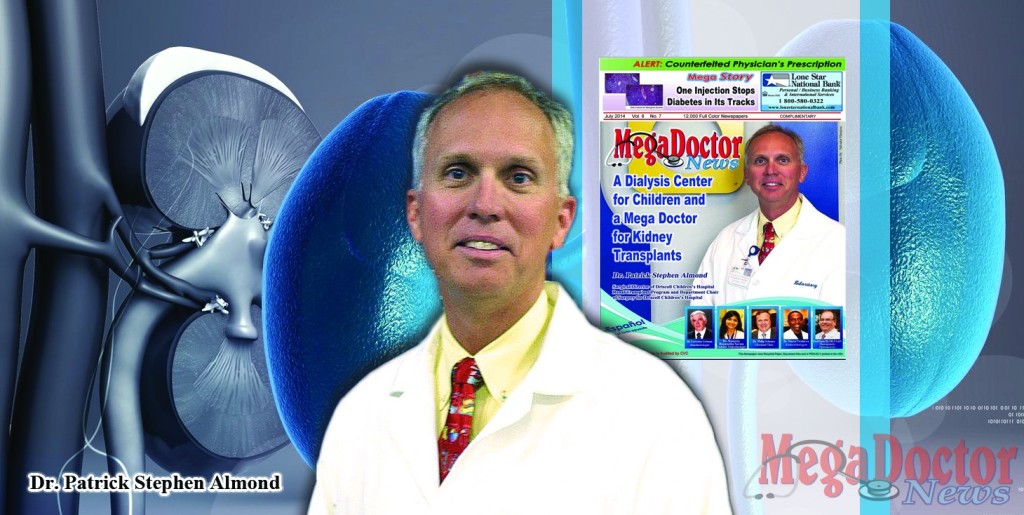 Mega Doctor News – 
By Roberto Hugo Gonzalez
Driscoll Children's Hospital in Corpus Christi has long been the South Texas leader in pediatric kidney care. The pediatric nephrology services began in 1999, dialysis services in 2004, and the first renal transplant in 2007.
The recent grand opening of Driscoll Children's Valley Dialysis Center on July 9, 2014, extends these unique and specialized services to the Rio Grande Valley. Pediatric patients now will receive the same specialized, high-quality care right here in the Valley without having to travel elsewhere.
During this event, Mega Doctor News had an exclusive interview with Dr. Patrick Stephen Almond, Surgical Director of Driscoll Children's Hospital Renal Transplant Program and Department Chair of Surgery for Driscoll Children's Hospital.
Dr. Almond was here to be part of the ribbon cutting ceremony of the Driscoll Children's Valley Dialysis Center. He is one of 35 pediatric subspecialists in a multispecialty group all related to the care of children.
He is certified by the American Board of Surgery in both general and pediatric surgery. He has been a surgeon for almost twenty years performing hundreds of kidney transplants, and 75 in Corpus Christi.
When kidneys fail, there are three-treatment choices: hemodialysis, peritoneal dialysis or kidney transplantation.
Many people feel that a successful kidney transplant provides a better quality of life because it may mean greater freedom, more energy and a less strict diet.
According to National Kidney Foundation statistics, as of May 21, 2014, there were 122,737 patients waiting for a lifesaving organ transplant. Of these 100,602 are waiting for a kidney transplant, and about nine percent of these are children. The organization reported that last year; 14,029-kidney transplants took place in the U.S.; 9,314-kidney transplants from deceased donors and 4,715-from living donors.
One of Dr. Almond's main concerns is avoiding complications. "A good surgeon always thinks and anticipates any potential complication. After every procedure you run through your mind the procedure, any potential and possible complications and you worry about them until you see that patient again and make sure they are well," he said.
He said that the follow-up visits after the procedures are very important. "Most patients follow-up with their doctor, but you'll find that an occasional patient may not," he stated.
For him, that's a concern. So what is your expectation with the Driscoll Children's Valley Dialysis Center? "What I would like to see happen is for the dialysis unit to flourish." He also stated, "The reason is that transplantation is the treatment of choice for patients with renal failure. Dialysis is a treatment option until a kidney becomes available."
He pointed out that growth in the dialysis would lead to growth in the renal transplant program. He stated, "This would probably be a short-term goal for the Valley unit. I would say the next goal would be other organs transplanted, that may be a goal for the next generation, there is a huge need."
What is the range of the children's ages for those possibilities? "The Driscoll Children's Hospital will treat children up until the age of twenty-one. We would estimate from a population base of somewhere between two and three million that will come up to about twenty-six renal failure patients a year. You could see very quickly that this place will be very busy.
While not all of those patients will need a transplant, a significant number of them will." Dr. Almond estimates the new unit may lead to an additional thirteen to fifteen renal transplants per year.
How is it that you ended up in Texas? "I'll give you the short story. I was a practicing pediatric transplant surgeon in Chicago. In January of 2003, a headhunter called me looking for a pediatric surgeon to come to South Texas. I said thank you, but no thank you. About a month later I got a phone call from another headhunter, and he said he was looking for a transplant surgeon for South Texas. I asked, what company are you working for because I just got a call about a month ago for the same area of the country. After a brief conversation with him, we realized it was the same hospital recruiting for two different surgeons. Driscoll needed a pediatric surgeon and they wanted to start a new renal transplant program. We arranged an interview, I came down, brought my wife for a second interview and she said lets do it."
Mega Doctor News published this article on July 2014, to continue reading the rest of the story follow the link that will take you directly to the complete to the article: https://j.mp/dralmond MDN