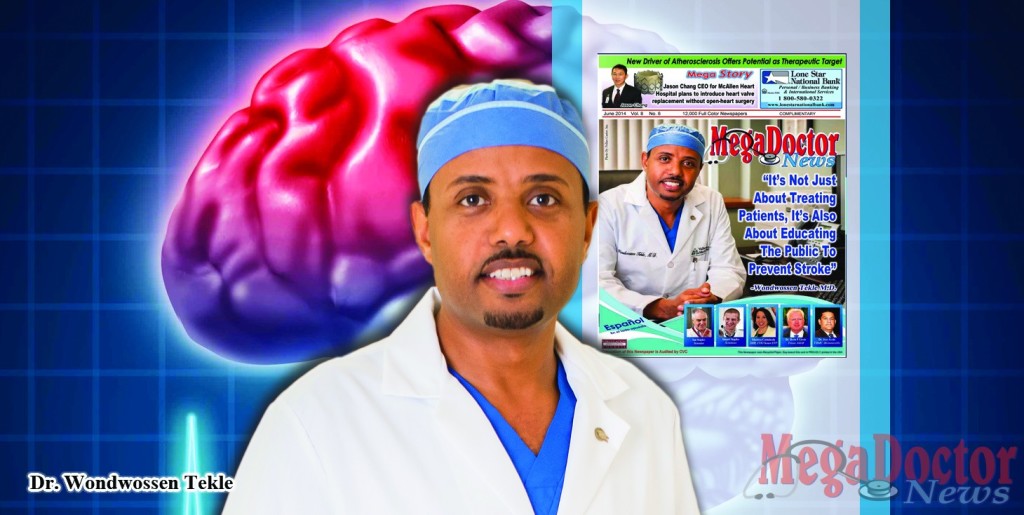 - Advertisement -

Mega Doctor News – 
By Roberto Hugo Gonzalez
Just a few years ago, the medical industry and healthcare services in the Valley were almost stagnant compared with today's activities. To my knowledge there are several principal reasons as to why the activities in this field have increased in just a few years.
Among the many reasons I will mention just three, first is that the Rio Grande Valley has had a demographic explosion. The need for more healthcare services has become the number one priority for the area.
The second is the fact that entrepreneurs have risked an investment to bring the necessary infrastructure to supply the need.
And third is that all these activities are attracting more specially trained professionals from among the best in the world; such is the case of Dr. Wondwossen Tekle, endovascular neurologist at Valley Baptist Medical Center in Harlingen, who is now a member of the medical community of the Rio Grande Valley.
His specialty is of great importance and benefit for the people of the Valley. Dr. Tekle is one of only two endovascular neurologists in the Rio Grande Valley capable of performing advanced treatments for stroke victims in a specialized bi-plane catheterization laboratory.
- Advertisement -

Dr. Tekle, along with Dr. Ameer Hassan, also of the Valley Baptist Medical Center, provide 24-hour coverage for patients needing specialized treatment for stroke in Valley Baptist's two bi-plane neurovascular angiography suites, the only facilities of their type south of San Antonio.
As a result, Valley Baptist has been treating stroke patients who are transferred from other hospitals as far away as Corpus Christi and Rio Grande City.
Dr. Tekle specializes in neurology, stroke/cerebrovascular diseases, neuro-critical care, and neuro intervention. He is now the second specialist of this type in the Valley that has settled in Harlingen, Texas.
Dr. Tekle received his medical degree at Addis Ababa University, a state university in Addis Ababa, the capital of Ethiopia. He did his residency at George Washington University and completed two fellowships at the University of Minnesota. Dr. Tekle has been a neurologist since 2010. He was a U.S. Peace Corps Medical Officer and worked with UNICEF.
It is important to note that Endovascular intervention can more than double the time window for treatment of strokes, and is an important part of a comprehensive stroke service at Valley Baptist.
What brought you to the Valley? "The reason I came to the Rio Grande Valley is Ameer Hassan, my co-fellow and my immediate senior in training, who came here first to start this program. Dr. Tekle explained, "I heard about the need of the people and the burden of the disease, and I decided to settle in the Rio Grande Valley."
Dr. Tekle went to one of the best schools in Ethiopia. He also said that he was fortunate enough to go to southern Africa and work for some of the best humanitarian aid agencies, the United Nations Children's Fund (UNICEF), Médecins Sans Frontières "Doctors Without Borders", and the United States Peace Corps based in Malawi.
He said, "I was able to come to the United States for continued education, for preliminary internal medicine at Howard University Hospital. I then went on to do my residency at George Washington University Hospital in neurology. After that, I went on to do two sub-specialties back to back at the University of Minnesota in Minneapolis."
According to him he first did Vascular Neurology and Neurocritical Care fellowship followed by a second fellowship in Endovascular Surgical Neuroradiology at the University of Minnesota before he came to join Valley Baptist Medical Center in August 2013. He has published his research work at multiple peer reviewed and prestigious medical journals such as Stroke and Cerebrovascular diseases.
"I'm very happy that our program is growing, and we are seeing good patient outcomes. We are working hard to develop and expand relationships with more physicians and other healthcare professionals. We do this in order to introduce the wide range of neurointerventional services, we can provide to help treat the Valley's patients. More importantly, we are actively involved with stroke awareness campaigns to educate the public about stroke and vascular disease in general."
As part of Valley Baptist commitment to this community, Dr. Tekle has done many presentations on "Mini-Strokes" or TIAs and interventional treatment of acute ischemic stroke.
Mega Doctor News published this article on June 2014, to continue reading the rest of the story follow the link that will take you directly to the complete to the article: https://j.mp/drtekle MDN