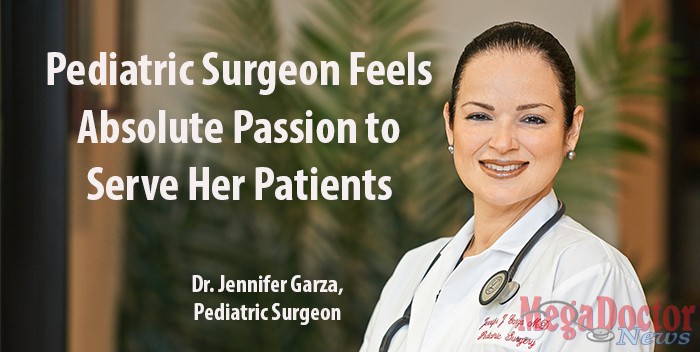 By Roberto Hugo Gonzalez
- Advertisement -

As originally published by Mega Doctor News in its newsprint Edition.
In May of this year, Mega Doctor News met with Dr. Jennifer Garza, she became the Mega Doctor of that month and her story was titled "Pediatric Surgeon Feels Absolute Passion to Serve Her Patients". We are proud that after acquiring all her education and practice she came back to her home area to serve her communities.
Dr. Jennifer Garza is a pediatric general surgeon practicing at Valley Pediatric Surgical Specialists in McAllen and the Rio Grande Valley. She started practicing here in 2007. South Texas is fortunate to have a specialist like Dr. Garza because there are less than 1,000 pediatric surgeons in the country and in 2012 the U.S. Census officially reported a population of 313.9 million. "I am one of two pediatric surgeons south of Corpus Christi," Dr. Garza told Mega Doctor News.
She pointed out that it was a small subspecialty but an excellent example of how there is a place for everyone and how medicine continues to grow.
The world of medicine, hospitals, and patients are not something new for her; she grew up surrounded by medical doctors in her family.
She was born in Edinburg, Texas to Dr. Martin Garza and Palmira Garza.  "My father practiced medicine at Edinburg Medical Center with his brothers Dr. Omar Garza, and Dr. Ben Garza for many years," she stated.  Her mother, Palmira was a teacher and retired in 2012.
In this regard, Dr. Jennifer Garza was very fortunate, her father and uncles instilled in her a commitment and love to passionately serve her patients.
- Advertisement -

"Hands down my father and my uncles, I really believe they were born to do what they do and did. I was so lucky to see the best of medicine through them, in my opinion." She went on to say, "They literally were paid with tamales and chickens at times."
According to Dr. Garza, she worked for them at Edinburg Medical Center at the age of 10 when she was the "head plant cleaner" at Edinburg Medical Center.  "They were the cleanest plants in town," she said smiling.
But soon she complained after finding out she was the only plant cleaner in the clinic. Her father told her, " Your job is very important because you are the head plant cleaner".
Through the years she moved up to filing and organizing medical charts. Today things are very different, she is Board Certified in Pediatric Surgery and General Surgery.
She graduated from the University of Texas Medical Branch in Galveston and began her residency in general surgery at St. Mary's Hospital in Waterbury, Connecticut. This was a program affiliated with Yale University School of Medicine, where she became the recipient of the "Resident Teacher Award" by vote of the medical students. She then completed her general surgery residency at St. Louis University Hospital in St. Louis, Missouri where she was also Administrative Chief Resident and earned the accolade of Resident of the Year. This was after sitting out for two years to do research.
Dr. Garza did two years of research at Children's Hospital Boston (Harvard), where she participated in the development of a new technique for bowel lengthening and helped develop a new formulation for feeding children by vein and who are not able to eat by mouth.
Most recently, she completed her pediatric surgery fellowship at the Children's Hospital of Oklahoma in Oklahoma City.
Dr. Garza's practice focuses on general surgery problems in newborns, infants, children, and teenagers. "We cover various types of birth defects such as gastroschisis (a rare congenital disorder in which a defect is present in the wall of the abdomen) or when babies are born with the intestines on the outside, connections between the esophagus and trachea, lung deformities, and intestine deformities," she said.
Dr. Jennifer has been chosen as a Mega Doctor for her excellent dedication and absolute passion for serving the Rio Grande Valley's pediatric patients. MDN