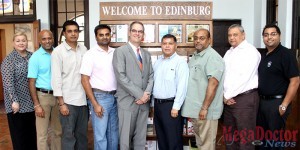 - Advertisement -

Texas Border Business
Edinburg – The Edinburg Convention & Visitors Bureau recently hosted a Hotel Occupancy Tax (HOT) Seminar October 16th at the Historical Southern Depot in Edinburg.
Scott Joslove, President & CEO of the Texas Hotel & Lodging Association (THLA) addressed the matters relating to new laws passed by the 2013 Texas Legislative Session and the use of Hotel Occupancy Tax funds. The seminar was attended by local hoteliers, city officials, and chamber board members.
The local Hotel Occupancy Tax Revenues must follow certain criteria's to be used to promote and draw tourism to Edinburg. Any person owning, operating, managing, or controlling a hotel (includes motel, tourist home, tourist house, tourist court, lodging house, inn, rooming house, or bed and breakfast) must collect  7% City hotel occupancy tax from hotel guests and remit the tax to the City. The tax does not apply if the guest original reservation is made for thirty (30) continuous days or more and stays the entire time.
The Texas Hotel Association (THLA) is a nonprofit trade association representing every aspect of the lodging and tourism industry. Our membership includes all of the facets of lodging options in Texas, from the largest convention center hotel to the smallest Bed & Breakfast, along with full service and limited service operators, convention and visitor bureaus, chambers of commerce, and vendors who work within the hospitality industry. Over the last eight years, THLA has grown from the fourth largest state hotel association in the country to the second largest hotel association in the nation, with over 1,800 members. For more information on THLA please visit www.texaslodging.com  or call the Edinburg Chamber of Commerce at 956-383-4974.